In Their Own Words: Presidents Academy attendees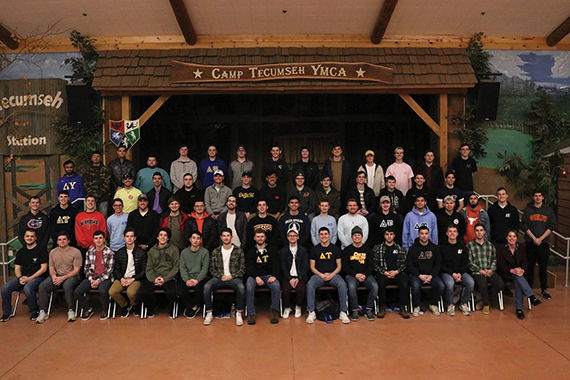 Delta Upsilon hosts Presidents Academy each January to give Chapter/Colony Presidents the opportunity to come together and learn more about leadership and how to utilize DU's mission and Four Founding Principles throughout their term in office. The Fraternity's Membership Outcomes Assessment shows that participants leave with higher senses of accountability, social justice attitudes, belonging and desire for lifelong learning.
The DU Quarterly team met up with brothers at the 2020 Presidents Academy to ask them more about the program and what they learned.
Jack Bell, Missouri '22
I have been to RLA, LI and Presidents Academy, and all three have really taught me how to build our brothers into better men. Without these programs, I wouldn't have a plan for my own chapter. I wouldn't have ideas to offer to my Exec Board. Talking with other Presidents and other members of the Fraternity gets us to come together and remember what we are founded upon and leaves us recharged and ready to kick into action really good stuff back home in our chapter. It makes us excited to come together as one and talk about the next year in DU and how much impact we can have on others.
AJ Fidanzo, Bradley '22
In our small discussions, it is really encouraging and very helpful to be able to bring up very specific situations and problems that our chapter faces and learn how previous leaders in other chapters have overcome them. That is one thing that is extremely helpful to me, being fresh on Exec and a new President. It is really encouraging that there is a way forward and there are solutions to the problems that I want to address.
Cole Buchart, Indiana '21
Personal impact is something that is hard to understand when you are in a leadership position because you don't necessarily know what results your actions are going to have on the chapter. But that just means that every day when I wake up, I recognize the responsibility I have for a chapter of our size, for 170 or so members and 30 new members every fall and spring. It is really important for me recognize the example that I have to set as President to make sure that those men realize the values that are important and that we need to be an example at the highest level of our Fraternity. I think that is most important.
Kyle Kipple, Florida '20
One of the great things about the educational programs that DU offers is allowing us to investigate our strengths and learn what really allows us to work with other leaders. We learn to really capitalize on that, and that allows us to bring it back to our chapter and our fellow Exec Board to work better together.
I want to leave the chapter better than I found it. In any role that I have in the chapter, I want to be able to improve and inspire others to step up and just do a little bit more than they did before, so that it can help us last longer and sustain our chapter.
Christopher Gibson, Western Illinois '21
The work here that I have done at Presidents Academy is going to help me move my chapter forward because I have learned more about my leadership style. I know that if I use that effectively, it can really help move the chapter and also motivate more members throughout the different activities and events that we do to help promote DU.