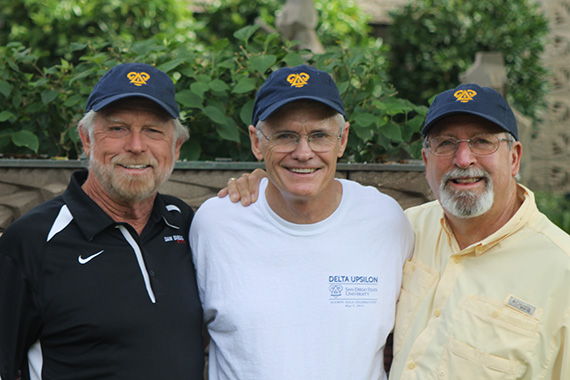 Bruce Howard, '70; Vaughn Jeffery, '69; and John Little, '72, have served as Delta Upsilon chapter advisors at their alma mater, San Diego State University, for nearly a decade. During this time, the men have helped the chapter grow from a fledgling group to a 2016 Sweepstakes Finalist. The DU Quarterly team recently spoke with the men about their advisor experience, how they have seen the chapter grow because of advisor support and what they get out of their volunteer role.
Why did you become an advisor?
Howard: We did not have a chapter advisor until fall of 2009. To that point, our Alumni Board and treasurer/house manager had the primary role of interacting with the undergraduate chapter because we did not fully understand the role of a chapter advisor. After attending DU's 175th anniversary celebration at the Leadership Institute and receiving training as alumni, did we begin to understand the role.
Little: Bruce stepped in and started serving as an advisor in 2009. The reason I came in a few years later was to share the load. It was a crucial time, and we wanted to make sure we were covering all the bases. Bruce was wearing nine hats.
Jeffery: When Bruce approached me about advising, my kids were recently through college, and I really was involved with them when they were in school. I wanted to stay involved with undergrads because I knew how they think and talk because I had two of them at home. I knew it would be a good thing for me.
You have seen the chapter grow in so many ways since becoming its first real Advisory Board. Why do you think having a strong advisory board is so important to the strength of a chapter?
Jeffery: The students need to hear from older brothers to figure out where they belong in the whole Fraternity structure—where they are now, where they want to be in the future. They can feel the culture of Delta Upsilon, not by just a few people in their chapter, but by connecting with the older alumni and those they meet at programs like the Leadership Institute and Regional Leadership Academies.
Little: I would say that the undergraduates are bright people, but they are still 18- to 22-year-old young men who can be immature in many ways, understandably so, and need that guidance.
Howard: We know what happens when you don't have advisors. We almost had to close a second time. [The chapter closed in 1994, re-charted in 2001, but continued to struggle without advisors.] Chapters need alumni guidance to help to set goals, follow up, ensure accountability, and to shape the chapter with DU Principles. Advising has led to a complete change in chapter culture, patience and quality recruitment.
You also attribute much of the chapter's success to what it has learned by attending DU's inter/national programs (Leadership Institute, Regional Leadership Academy, Presidents Academy, DU Emerging Leaders Experience and Global Service Initiative). Why have you continued to encourage participation in those events?
Jeffery: In our case here at San Diego State, we're kind of isolated. There is a physical distance between us and any other local chapter. These kids don't have a lot of surplus money laying around to pay registration fees and airfare. So without alumni support, they won't be connected to DU as a whole, with the Fraternity's strategic plan, or with the rollout of training programs.
Howard: DU leadership training is the most important element in our chapter success, and we want to fund a plan that will ensure that scholarships are available each year for worthy undergraduate brothers. We fundraise for our CEA every year, and we've been very successful in doing that. But that money goes quickly. The Chapter Legacy Plan through the Delta Upsilon Educational Foundation is so important because it sets something in perpetuity so we don't have to scramble every year to keep this leadership going.
Serving as an advisor is mutually beneficial for the chapter and you all as individuals. What have you personally gotten out of being an advisor?
Jeffery: Satisfaction that what we teach and the experiences we provide are truly beneficial in the character development of these young men. To me, if you are a person of good character, all the rest of the Four Founding Principles—friendship, justice, culture—all that comes easy if you are a person of good character. You know how to treat people. You know how to behave. You have respect, loyalty, all those character traits, they really need to be beefed up during that critical year as a freshman.
Howard: Guiding these men, witnessing them grow, and seeing them try to live our motto of Building Better Men. And then the added benefit of working with our close friends from college at a different time in our life.
Little: For me, it's about relationships. As an advisor, it is so fun to see how excited the undergrads are and what potential they have. It's also spending time with Bruce and Vaughn. And, by the way, being an advisor got me more involved at the school. I'm spending more time at San Diego State and meeting other fraternity advisors for other fraternities. It's been a wonderful time to relate and reconnect.
If you had to give an elevator pitch to convince another DU alumnus to become an advisor, what would it be?
Jeffery: Dip your toe in the water, and it will just suck you right in. You'll want to do more and more. It's gratifying to be a part of these smart kids' lives. These are really smart kids, and they need to have some mentorship with the alumni. You'll enjoy it. Just get involved in the smallest way up front.
Little: This is a way to impact the leaders of tomorrow. These guys are going to impact our culture. They are going to impact our country. You can do a lot of stuff. I have charities that I support. I'm involved in church. But my focus is helping these young people who are going to be leaders work against the culture. Because the culture is telling us all these things that aren't great. Here is a way to impact young people with a model, and I love DU's model. I see this as an opportunity to help our kids and our grandkids because we can impact the leaders of tomorrow just by giving up our time and a little bit of our money.
Howard: Well said.