Justice, Our Foundation
DU creates task force aimed to promote our founding Principle
Justice and Delta Upsilon have a long history. When the Fraternity was founded in 1834, our Founding Fathers chose The Advancement of Justice as one of our Four Founding Principles. Then, in 1858, Dikaia Upotheke, meaning "Justice, Our Foundation," was selected as our official motto. That same year, the design of our badge was created using the Δ and Y from the first letters of this motto. From there, the name Delta Upsilon was adopted in 1864.
Throughout the past 186 years, the Fraternity has worked to advance justice in a number of ways. Most recently, in 2016, DU became one of the first fraternities to add gender identity to its non-discrimination policy. Regrettably, there have also been times when we have failed to advance justice. Notably, the Fraternity canceled the 1956 Convention instead of facing the Brown Chapter sending a Black student as its delegate. It took 30 years before Delta Upsilon and Dr. Augustus A. "Gus" White III, Brown '57, would make amends for the Fraternity's racism, and Brother White's forgiveness and compassion are things the Fraternity hopes to never forget. (You can read more about Gus White on pages 33-34 of The Cornerstone at www.deltau.org/cornerstone.)
In the wake of the deaths of George Floyd, Breonna Taylor, Ahmaud Arbery and countless others before them, this summer, Delta Upsilon was once again faced with how justice and fraternity intersect. As the world began to open up discussions about racism and police brutality, the Fraternity, too, realized we need to learn and do more in regard to such injustices. In response, Delta Upsilon has created an Advancement of Justice Task Force to ensure our undergraduates and alumni are actively engaged in creating a just world and are educated on societal issues.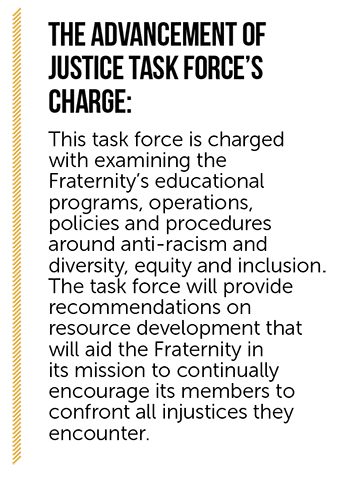 When announcing the task force on social media on June 1, the Fraternity provided an open callout for members to take part. In total, more than 50 brothers—a mix of undergraduates and alumni—expressed interest. Past International Fraternity President Dr. Bernard Franklin, Kansas State '75, and Dr. Craig Franz, Bucknell '75, have agreed to accompany the task force. Brother Franklin served as President of Delta Upsilon from 2006-2014 and is currently the Vice President of Student Life at Mount St. Mary's University. Brother Franz served as Chairman of Delta Upsilon from 1996-1997, is a Trustee of the DU Educational Foundation, and serves as Executive Director of the LaSalle International Foundation. Dr. Andrew Dunham, San Jose '86, will serve as the representative from the Fraternity's Board of Directors and is the Associate Dean of Academic Affairs and Registrar at Albion College. Veronica Moore, the Fraternity's Director of Educational Programs, will serve as the staff liaison.
Still in its early stages, the group held initial meetings this summer to set objectives and goals for the task force. The Advancement of Justice Task Force has identified its charge as: This Task force is charged with examining the Fraternity's educational programs, operations, policies and procedures around anti-racism and diversity, equity and inclusion. The task force will provide recommendations on resource development that will aid the Fraternity in its mission to continually encourage its members to confront all injustices they encounter.
To divide the workload, the task force has been broken up into four review groups, each focusing on a different area: Operational; Educational; Recruitment; and Partnership as it related to diversity, equity and inclusion (DEI) initiatives. The lens from which all work will be done is from a place of anti-racism.
"It is important that, from time to time, we as an organization do our work to make sure our values represent the day we live in, and then begin to reflect on the generations to come," Brother Franklin said. "Our Fathers could not have predicted that I, as an African American man, would serve one day as president of this organization. They no more could have predicted or foreseen that we would have a demographic shift in American citizenship. If we are to remain relevant for today and tomorrow, we must do this work of evaluating and assessing our values. That's the process before the task force."
When looking at the generation of current and future college students, it is no surprise that young people across the globe and within Delta Upsilon are ready to tackle social injustices such as racism. Generation Z students tend to be more socially conscious and action oriented and see injustices from a different lens than older generations. A study this summer by Business Insider, the social networking app Yubo and the online learning platform StuDocu, found that 88 percent of Gen Zers feel that Black Americans are treated differently than others, and 78 percent have used social media to express support for the equality of Black Americans. Seventy-seven percent of respondents noted that they have attended a protest to support equality.
"What this says to me, that unless we recruit uninformed young men—and I don't think we do—we should support their efforts of seeking social justice in our country," Franklin said.
In addition to the policy and program recommendations coming from the Advancement of Justice Task Force, the Fraternity hosted a special Justice In July webinar series, which provided spaces for engagement around topics such as racism, poverty and how to promote The Advancement of Justice during recruitment. To find recordings of these webinars, visit www.deltau.org/program-library.