Delta Upsilon Creates Advancement of Justice Task Force
June 1, 2020
Dear Brothers and Friends of DU,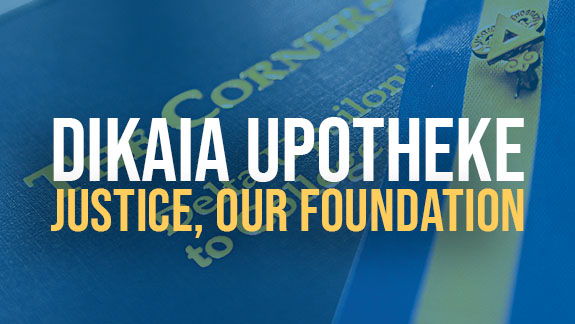 Delta Upsilon's Ritual tells us that "it is our deeds that testify our loyalty to the ideals of our Fraternity," ideals that include our motto Justice, Our Foundation. As brothers of DU, we are called to assess and address the injustices in our communities. Doing so is not always easy or comfortable, but it must be done.
Delta Upsilon condemns racism, bigotry, hate and injustice of all forms. Recent events that have explicitly shown the mistreatment, degradation and violence on Black members in our society have caused us to pause and reflect on the things we do, and haven't done, as a Fraternity to advance justice. We stand proudly with our brothers and friends of color. Our motto and Four Founding Principles call for us to be the leader in the interfraternal world when it comes to building inclusive communities that celebrate diversity. We need to do better. Be better.
There is much work to be done, and we cannot do it alone. But all work must start somewhere. On behalf of the International Fraternity, we are establishing an Advancement of Justice Task Force to ensure that our undergraduates and alumni are actively engaged in creating a just world and educated on societal issues. If you wish to engage, share your thoughts, or are interested in joining this task force, we encourage you to complete our Task Force Interest Form and/or let us know if you would be interested in taking part in a group discussion to process current events.
You have been initiated into "a brotherhood founded upon a principle, which it is our duty to exemplify in our lives—DIKAIA UPOTHEKE—Justice, our Foundation. … In this brotherhood, Justice is our guiding principle, and as Justice is but truth in action." Now is the time to examine how we are putting our guiding principle into action. To help you begin, below are some resources that may help.
"The battles of Justice are infinite, and her champions are ever needed to serve her cause both in the college and in the world beyond. To forward the ends of enlightened equity demands knowledge and sympathy: the broad mind and the large heart." - Rite 1, Delta Upsilon Initiation Ceremony
Dikaia Upotheke,



Thomas F. Durein, Oregon State '92
International Fraternity President