Kansas State Named Sweepstakes Trophy Recipient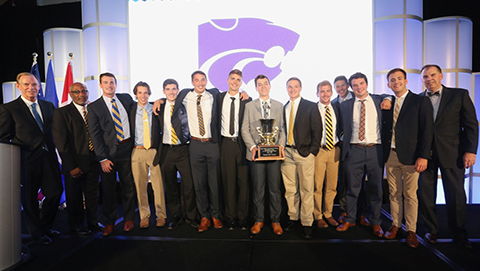 Aug. 9, 2017 - For the fifth time in six years, the Kansas State Chapter has taken home Delta Upsilon's coveted Sweepstakes Trophy. This award is the Fraternity's top honor and annually recognizes the best DU chapter in North America. The award was given Aug. 5, 2017, during the Grand Banquet of Delta Upsilon's Leadership Institute held in Milwaukee.
"The Kansas State Chapter continues to set the standard for excellence, not only in within DU, but for all fraternities," said International Fraternity Chairman Bob Lannin, Nebraska '81, during the announcement. "It is a model fraternity chapter, showing just how valuable fraternity/sorority life is."
The Kansas State Chapter has received the Sweepstakes Trophy in 2012, 2013, 2014, 2016 and 2017. It has been named a Finalist each year since 2011.
During the 2016-2017 academic year, the 114-man chapter boasted a GPA higher than the campus all-men's average and an average of 38 service hours per man for the year. The chapter's philanthropy event, Miss K-State, helped the chapter raise more than $13,000 for DU's Global Service Initiative.
The other 2017 Sweepstakes Finalists include: Alberta Chapter, Boise State Chapter, Bradley Chapter, Iowa State Chapter, Lafayette Chapter and San Diego State Chapter. Together with the Kansas State Chapter, these chapters represent the best in Delta Upsilon. Finalists are determined based on their Men of Merit scores, which look at membership, Chapter Excellence Plan score, fundraising dollars, educational program attendance, Loss Prevention and more.
"The final seven are truly the best of the best in terms of having the best year in DU," said Executive Director Justin Kirk, Boise State '00. "Each of tonight's finalists should understand that their selection as a Sweepstakes Finalist is a major accomplishment. Be extremely proud to be a finalist. You are a shining example of what a great DU chapter looks like."
2017 Leadership Institute Award recipients include:
Sweepstakes Finalists:
Alberta Chapter
Boise State Chapter
Bradley Chapter
Iowa State Chapter
Kansas State Chapter (Sweepstakes Trophy)
Lafayette Chapter
San Diego State Chapter
Most Improved Chapter:
Boise State Chapter
Outstanding Alumni Chapter:
San Diego State
Distinguished Undergraduate:
Walter Oliff, Central Florida '17
Finalists:
Evan Monroe, Christopher Newport '17
Max Purdy, San Diego State '17
Zach Roake, Bradley '17
Tyler Vasquez-Dorn, Rochester '17
Distinguished Delta Upsilon:
Rick Taylor, North Carolina State '82
President's Award: Chapter President of the Year:
Matthew Blossom, Indiana '19
Chairman's Award: Outstanding Alumni Volunteer of the Year:
Gregory Fabiano, Florida '15
Chapter Advisor of the Year:
Jeff Waymack, Oregon State '71
William H.P. Faunce Interfraternalism Award:
Dominic Green, Oregon '99
DU Key Leader Award:
Rick James, Wisconsin '72
CEP Awards:
Friendship: Central Florida Chapter
Justice: Boise State Chapter
Liberal Culture: Alberta Chapter
Character: Alberta Chapter, Boise State Chapter, Central Florida Chapter
Operations: Alberta Chapter
Overall: Alberta Chapter
Innovative Member Development Award:
Central Florida Chapter
Health, Safety and Prevention Award:
Boise State Chapter
Campus and Community Impact Award:
Western Reserve Chapter
Alumni Engagement Award:
Iowa State Chapter
Canada Cup:
Alberta Chapter
David McKeag Award:
Purdue Chapter
GSI Fundraising per man:
Kansas State Chapter
GSI Total Fundraising:
1. Kansas State Chapter
2. Oregon State Chapter
3. Nebraska Chapter