Kaye Schendel Receives Alpha Chi Omega Vision Award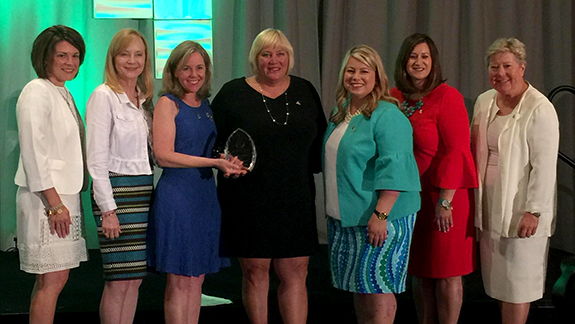 July 5, 2018 - Delta Upsilon is proud to congratulate Kaye Schendel, Director of Global Initiatives, on receiving Alpha Chi Omega's 2018 Vision Award. This award recognizes an individual who is not a member of Alpha Chi Omega for his or her significant contributions to the fraternity/sorority movement.
As part of Delta Upsilon's Global Service Initiative, Kaye also works with the Fraternity's Project Jamaica program. Project Jamaica brings DU's GSI curriculum to colleges and universities, as well as other organizations. Kaye has worked with Alpha Chi Omega for the past eight years to facilitate service trips for Alpha Chi Omega undergraduates and alumnae.
"For the past eight years, you have inspired Alpha Chi Omega collegians, alumnae and professional staff with your passion and dedication for community engagement," Alpha Chi Omega said in it's award announcement letter. "The value service learning plays in the development of lifelong fraternity and sorority members has inspired so many sisters to continue their commitment to service and Alpha Chi Omega."
Kaye accepted the award during the Alpha Chi Omega National Convention in Austin, Texas on Saturday, June 30.
Kaye joined the DU staff in 2012 as Director of Global Initiatives. Prior to that, she worked at the University of Wisconsin-La Crosse as Assistant Director of University Centers and coordinated the school's alternative spring break program to Jamaica each year. Kaye has been instrumental in the development of Delta Upsilon's GSI and Project Jamaica programs.
This award adds to a long list of interfraternal cooperation for Kaye. She is a past National President of her sorority, Sigma Sigma Sigma; serves as President of the Center for Fraternity/Sorority Research; and is a member of the Association of Fraternity/Sorority Advisors and Circle of Sisterhood.
Kaye is a past recipient of Delta Upsilon's Gus White Award and has been named a Sigma Sigma Sigma Woman of Distinction. In 2017, she received the Jack L. Anson Award from the Association of Fraternity/Sorority Advisors, one of its top three individual awards.