Kirk to Receive Award from AFA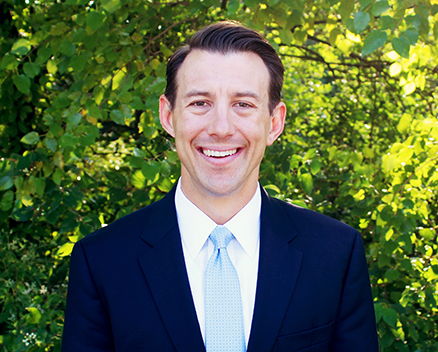 Oct. 2, 2018 - The Association of Fraternity/Sorority Advisors has announced that Delta Upsilon's Executive Director, Justin Kirk, Boise State '00, will receive a Sue Kraft Fussell Distinguished Service Award during its 2018 Annual Meeting. This award recognizes individuals who have exhibited outstanding achievements in one or more of the following areas: service to AFA; programming and/or service that reaches beyond the recipient's campus/organization; development and research activities; and/or service to the college and fraternity/sorority communities.
As Executive Director of both the Delta Upsilon International Fraternity and Educational Foundation, Justin is responsible for the overall leadership of staff, financial management and the development, and implementation of short and long range operational plans. Justin has served as the Fraternity's Executive Director since 2007, and during this time, the Fraternity has experienced tremendous growth and change. The Fraternity's membership has grown by 93 percent and has opened more than 30 colonies. New initiatives have been implemented such as the DU Emerging Leaders program in Williamstown, Mass.; the award-winning Global Service Initiative; a revamped Regional Leadership Academy program; the Membership Outcomes Assessment; Men of Merit Chapter Standards Program; and the Advisors Academy.
Since taking the leadership of the Educational Foundation in 2014, the Foundation has raised more money in each of the last five years than any previous year in history.

"It has been inspiring to watch Justin provide leadership and challenge our Board as we made decisions that affect our core constituents," said Richard Taylor, North Carolina State '82, former Chairman of the Delta Upsilon International Fraternity Board of Directors. "Justin's vision helped shape our decisions in a way that ultimately led Delta Upsilon to be the type of impactful, contributing partner in the Greek community that our values urge us to be."
Outside of his roles with Delta Upsilon, Justin has served in a number of volunteer roles within the fraternity/sorority profession. He has served on the board of directors for AFA on two different occasions. He is also a past board member for the Fraternity Communications Association, the Omega Phi Beta Foundation, Synergos AMC, and the Center for the Study of the College Fraternity (now Center for Fraternity/Sorority Research). Justin also currently serves on the Governing Council for the North-American Interfraternity Conference along with 25 of the fraternity executives/leaders.
"Justin is a strong leader, not only possessing personal motivation, but the ability to lead and motivate others," said Kaye Schendel, Delta Upsilon Director of Global Initiatives. "He is recognized as an expert in the field and is someone that many of us frequently turn to for advice and information. Justin is committed to furthering the fraternal movement and preserving fraternity. His presence and work in our field has enhanced and shaped much of how people think and act."

The Sue Kraft Fussell Distinguished Service Awards will be presented during the AFA Annual Meeting Dec. 1, 2018, in Indianapolis.

To learn more about the Association of Fraternity/Sorority Advisors, click here.