Letter from DU LEadership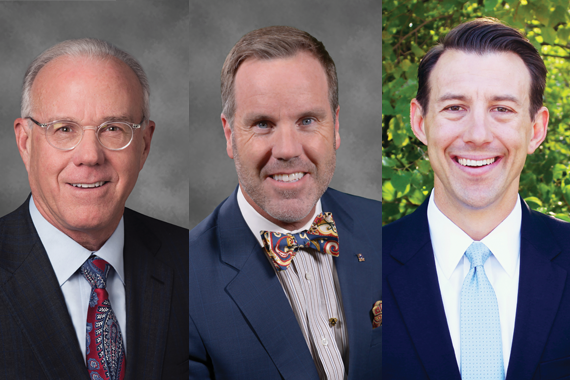 Dear DU Brothers, Parents and Friends:
On behalf of the International Fraternity, Educational Foundation and Headquarters staff, it gives us great pleasure to share this Foundation Annual Report for fiscal year 2020!
As our sacred Ritual states, Delta Upsilon is the tie that binds us all together. This has never been more evident than during these unique times resulting from the COVID-19 pandemic. We continue to hear countless stories of DUs coming together in friendship and brotherhood to support our members and chapters across North America. More than that, the results highlighted in this Annual Report give us unwavering confidence that the Fraternity and Foundation are working together to stay one step ahead in advancing our mission of Building Better Men for a global society.
This year's Annual Report has a fresh new look that includes personal reflections from both our loyal donors and the undergraduates who directly benefit from the educational programs and initiatives made possible each year by the DUEF. Fiscal year 2020 was a remarkable year for the Foundation, as the Annual Loyalty Fund—our most critical funding source—received record contributions of $478,055. This publication pays tribute to the 1,277 alumni, 265 undergraduates and 112 friends of DU who made contributions to the DUEF in fiscal year 2020. Simply put, the generosity from our family of DU supporters is what brings our mission to life each year.
With a new fiscal year well underway, we firmly believe that now is not the time to rest on our laurels. The staff and volunteer leadership of Delta Upsilon are working tirelessly to provide our students, chapters and volunteers with the support necessary to succeed. Although many educational programs, resources and coaching sessions are now being conducted virtually, the impact being made by our Foundation donors remains direct and purposeful. If we have learned just one thing this past year, it is that Friendship, Character, Culture and Justice are more important now than ever before—both for Delta Upsilon and for our world. Together, we celebrate the DUs and friends everywhere who personify our Four Founding Principles for the betterment of our society.
Delta Upsilon truly is the tie that binds, and we thank you in advance for your continued commitment to our cherished brotherhood.
Dikaia Upotheke,
Lewis Gregory, Kansas '75
Chairman
Delta Upsilon Educational Foundation
Thomas Durein, Oregon State '92
President
Delta Upsilon International Fraternity
Justin Kirk, Boise State '00
Executive Director
Delta Upsilon International Fraternity and Educational Foundation