Letter from the President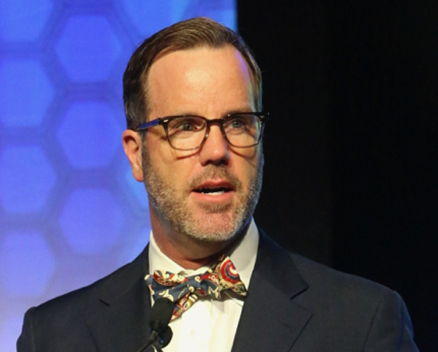 It is with great honor that I sit down to write my first "Letter from the President" in the DU Quarterly. At the 2018 Leadership Institute, I was elected to serve Delta Upsilon at its 42nd President. Over the past eight months, I've been grateful to meet brothers from across the U.S. and Canada, help continue to set the tone and direction for the Fraternity's next strategic plan, and further the incredible progress from our last plan. I cannot wait to see what the coming months have in store!
Prior to putting pen to paper—or in this case, fingers to keypad—I spent some time reflecting on the memories of my 30 years as a brother. I've been lucky to participate in DU in a number of roles: as an undergraduate chapter leader, Headquarters staff member, Trustee to the Educational Foundation, and member of the International Fraternity's Board of Directors. Thinking about all of the roles and the memories they provide me now, I began looking for the tie that binds all of my experiences.
Recently, a beloved brother, Edwin Mosher, San Jose '52, passed away. Ed was 89 years old and had been a figure within the Fraternity for decades. (You can read more about him on page 24.) I met Ed as a staff member, working with the members of his undergraduate chapter. As I continued to think about what the Fraternity has given to me, my mind kept returning to Ed. Here was a man who had served in the U.S. Marines, raised a family, built a successful business, and worked tirelessly to give back to his local community. He had done so much beyond his undergraduate experience, and yet for the entirety of his adult life, he chose to make Delta Upsilon an additional priority. He was a dedicated volunteer for the San Jose alumni chapter and housing corporation, had also been on the Board for the International Fraternity, and made it a point to take time off each year to attend the Leadership Institute. (In fact, he went to LI 37 times!) Up to the day he lost his battle with cancer, Ed derived fulfillment from his membership and worked to better Delta Upsilon.
Ed's passing also conjured up valuable memories of two other DUs I've been fortunate to know and learn from, yet lost too soon: Scott Johnson, Washington '80, and Will Keim, Pacific '75. Like Brother Mosher, these men loved Delta Upsilon so much they dedicated their lives to our mission of Building Better Men. They served the Fraternity at the highest levels, supported their local chapters, received accolades and awards, and were loyal, lifelong supporters of the Foundation. All three of these men left indelible legacies for us to learn from. Having interacted with each over the span of 30 years, it's clear they derived something in Delta Upsilon that didn't just make them feel good, but inspired a commitment in them so much so that they figured out a way to incorporate DU in their lives forever.
Each of us joined Delta Upsilon for our own unique reasons. Something about the Fraternity made us want to know more and to be a part of something greater. For me, it was the opportunity to develop friendships with those I could share interests, values and fun. That's why I stay connected with my own chapter brothers today. I want to help DU provide a space where others can build lifelong, committed Friendships in the name of Character, Culture and Justice. I suppose it's what I hope my legacy will become.
I look forward to continuing to reminisce about my 30 years of membership, as well as contemplating the next 30 years and the passion that drives my involvement. With this letter, I encourage you to do the same. Like Brother Mosher, I challenge us all to think more about the part, or parts, of this great DU experience that make us feel good, that call us to action, and make us want to give back for a lifetime. Because at the end of the day, it's not just about our undergraduate experience, rather it's about working to keep the experience going for generations to come. What will your legacy be?
Fraternally,
Thomas F. Durein, Oregon State '92
President, Delta Upsilon International Fraternity
Email: ihq@deltau.org