Letter from the President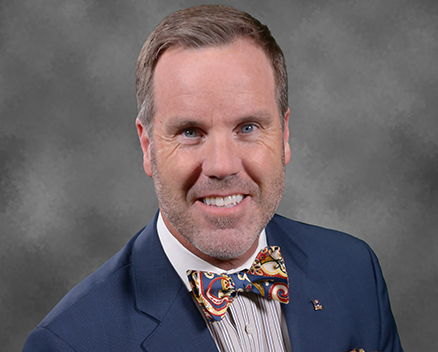 As this issue of the DU Quarterly arrives in your mailbox, Delta Upsilon will have just celebrated its 185th birthday—a truly remarkable milestone! As we honor the Fraternity, our chapters and alma maters this Homecoming season, I'm thankful that Founders Day serves as an annual reminder of how Delta Upsilon has continued to shape the lives of men for nearly two centuries.
A bit of a history buff, I've always been in awe of how institutions remain steadfast through generations of change. Each year, as Nov. 4 approaches, I find myself contemplating how DU has been able to sustain itself for so long. How is it that something created in 1834 continues to have relevance and usefulness today? I think about how society, education and technology have progressed, as well as the parts of these institutions that have either disappeared or become obsolete along the way. Just what is it about DU that enables us to stand the test of time and continue to attract the best and the brightest to seek and join our ranks?
As esoteric as it sounds, I firmly believe it's our Four Founding Principles that set us apart. In 1834, in 1934, and even today, The Promotion of Friendship, The Development of Character, The Diffusion of Liberal Culture and The Advancement of Justice remain timeless. There is nothing outdated about what it means to be a DU!
The Promotion of Friendship and The Development of Character have obvious applications in an undergraduate's life. Human beings are social creatures, and we naturally look to connect with others for companionship and camaraderie. I also believe there's an instinct within each of us to become the best version of ourselves. We do this through self-exploration and character development. I count myself lucky that Delta Upsilon was there to be a part of mine.
Additionally, The Diffusion of Liberal Culture and The Advancement of Justice ring truly unique. These two Principles have always empowered us to be a force for change within our communities and the world. Remember, our Founders lived two centuries ago. How the world looked to them is very different than it looks to us now. But as society has evolved, so have our ideas about culture and justice. No matter the era or challenge of the time, an appreciation for what each member brings to the table, and what it takes to support each other, will always be necessary for growth and prosperity.
The continued relevancy and application of our Principles is also how Delta Upsilon remains a force on college campuses today. Later in the magazine (on page 40), you will read about how our annual Membership Outcomes Assessment is providing statistical data that shows how the four-year DU membership experience is Building Better Men. In short, our Four Founding Principles are helping DU men better understand themselves, think critically and relate to others. How have our Principles continued to manifest themselves in your life?
As the 30th autumn of my membership comes to pass, I find myself thankful. I feel fortunate to have joined an organization whose Founders were men of such great thought, they unknowingly created a vision that would withstand 185 years of challenge, conflict and change. They established a set of values that would carry our Fraternity through war and peace, depression and prosperity—never losing sight of the power of each and every member to make a contribution. Our brotherhood helped them do that, and it is my hope our Four Founding Principles will continue to guide us for the next 185 years.
Fraternally,

Thomas F. Durein, Oregon State '92
President, Delta Upsilon International Fraternity
Email: ihq@deltau.org