Letter from the President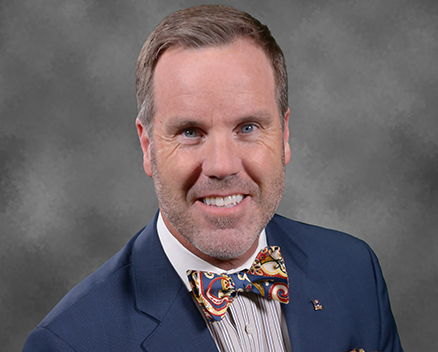 Hello Brothers,
In this issue of the DU Quarterly, we feature an article about Generation Z. This generation includes men and women born from 1996 to 2010. That means that today's college students, as well as those to come in the next several years, are part of this group.
As a forward-thinking leader in the fraternity world today, it's important for us to learn more about this generation so we can tailor our DU experience to meet the needs of this unique population. What are the characteristics of a Gen Z undergraduate? What is it about the Generation Z student body that will set it apart? What do they value? And how do they communicate those values and intentions when interacting with the world around us? These are important questions, and the answers will guide how Delta Upsilon delivers leadership development programming, recruits new members, advises our chapters, and so much more.
At the fall 2019 meeting of our Board of Directors, we had the privilege of spending some time with DU alumnus Doug Ballou, Kansas '75, Founder of Blue Window Consulting, who spoke with us about Gen Z, sharing research and insights so that we might strategically plan as a Fraternity with this generation's specific needs and interests in mind. Eye-opening for sure, Brother Ballou's presentation was a welcome reaffirmation that our Four Founding Principles remain relevant to young men across North America today. Gen Z is full of activists and leadership entrepreneurs who value authentic relationships and want to make their chapters and campus communities stronger—a description that personifies Friendship, Character, Culture and Justice.
As a member of the Board of Directors, I'm grateful for opportunities to travel and visit with our undergraduates. I'm fortunate to attend groundbreakings and chapter meetings, athletic events, and rites of Initiation. I also appreciate speaking with students about our educational programs and how our work impacts their collegiate experience. I've met men who have interned at Fortune 500 companies, developed their own apps, who regularly perform service work abroad, and create campus organizations to promote diversity and inclusion. It is incredible to see the breadth of their work and witness first-hand how our brothers validate the research we're learning about Gen Z.
At a time when the world can appear anything but reasonable, spending time with our brothers serves to ground me and re-energizes my faith in fraternity and our future. These interactions inspire me to do more myself. To our alumni, if you haven't had a chance to visit with an undergraduate chapter or colony this year, please let us know if we can help put you in touch with a group of our amazing young men. I encourage you to take the time to get to know Generation Z. We have so much to learn from this talented and committed group of brothers, and they are eager to share what they know and learn with us. I'm sure you will be just as impressed as I am.
As always, I remain thankful for our fine Fraternity and look forward to our bright future.
Fraternally,



Thomas F. Durein, Oregon State '92
President, Delta Upsilon International Fraternity
Email: ihq@deltau.org