Sweepstakes Finalists
Alberta Chapter
Boise State Chapter
Bradley Chapter
Iowa State Chapter
Kansas State Chapter (Sweepstakes Trophy)
Lafayette Chapter
San Diego State Chapter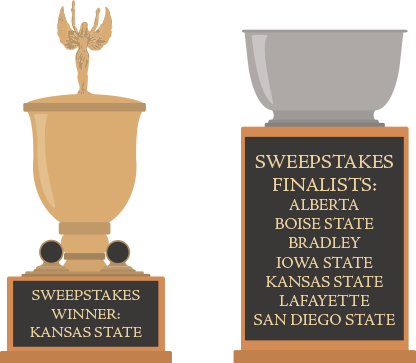 Most Improved Chapter
Boise State Chapter
Outstanding Alumni Chapter
San Diego State
Chairman's Award: Outstanding Alumni Volunteer of the Year
Gregory Fabiano, Florida '15
Chapter Advisor of the Year
Jeff Waymack, Oregon State '71
William H.P. Faunce Interfraternalism Award
Dominic Green, Oregon '99
DU Key Leader Award
Rick James, Wisconsin '72
Canada Cup
Alberta Chapter
Innovative Member Development Award
Central Florida Chapter
Health, Safety and Prevention Award
Boise State Chapter
Campus and Community Impact Award
Western Reserve Chapter
Alumni Engagement Award
Iowa State Chapter
Chapter Excellence Plan Awards
Overall Chapter Excellence Award
Alberta Chapter
Promotion of Friendship Award
Central Florida Chapter
Advancement of Justice Award
Boise State Chapter
Diffusion of Liberal Culture Award
Alberta Chapter
Development of Character Award
Alberta Chapter, Boise State Chapter, Central Florida Chapter
Operations Award
Alberta Chapter
GSI Total Fundraising
1. Kansas State Chapter
2. Oregon State Chapter
3. Nebraska Chapter
GSI $1,000+ Fundraising Level
Alberta, Boise State, Bradley, California, Central Florida, Christopher Newport, Clarkson, DePauw, Embry-Riddle, Georgia Tech, Illinois, Indiana, Iowa, Iowa State, Kansas State, Lehigh, Miami, Michigan Tech, Nebraska, North Dakota, Oklahoma, Oregon, Oregon State, Purdue, Rutgers, San Diego State, San Jose, South Carolina, Texas Colony, Toronto, Wichita, Wisconsin
DISTINGUISHED UNDERGRADUATE OF THE YEAR

WALTER OLIFF, CENTRAL FLORIDA '17
Walter Oliff, Central Florida '17, was recognized with the 2017 Distinguished Undergraduate Award because of his dedication to DU and commitment to leadership. In his chapter at the University Central Florida, Walter has served in a number of roles, including Chapter President, Vice President of Finance and Judicial Board Chairman. During the 2016-2017 academic year, Walter also served DU as the Undergraduate Advisory Board Chairman. He is serving as an Undergraduate Director on the DU Board of Directors for 2017-2018. Outside of DU, he has been an active in a wide range of other activities, including the UCF Service Learning Advisory Board, Tau Sigma National Honor Society, and Summer Ambassador. As a member of the Young Marines, he has facilitated its National Leadership Academy and helped create the Young Marines Alumni Association. Upon his graduation, Walter will begin to work for Lockheed Martin as a financial analyst.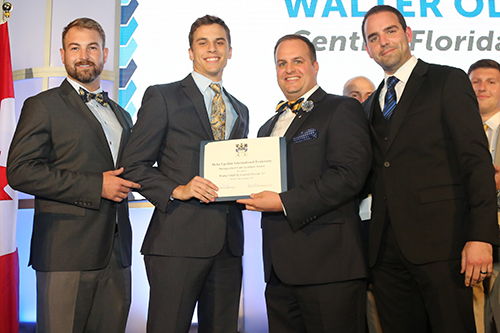 Finalists
Evan Monroe,
Christopher Newport '17
Max Purdy,
San Diego State '17
Zach Roake,
Bradley '17
Tyler Vasquez-Dorn,
Rochester '17
PRESIDENT'S AWARD: CHAPTER PRESIDENT OF THE YEAR

MATTHEW BLOSSOM, INDIANA '19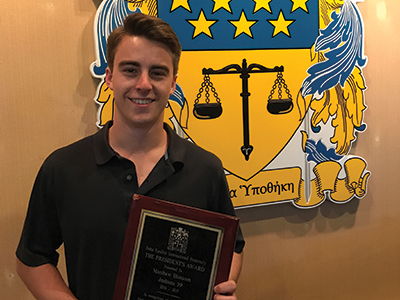 The strength of a leader can often be determined from how he handles a tough situation. Matthew Blossom, Indiana '19, has passed that test. When becoming Chapter President in September 2016, his chapter was on reorganization status with the International Fraternity after a series of Loss Prevention issues had left the chapter on the brink of closure. Under Matthew's leadership, the Indiana Chapter led a resurgence. The improvements were so great that at LI 2017, the chapter was taken off reorganization status, and Matthew was honored as Chapter President of the Year.
"I can think of no better candidate to receive this recognition," said chapter advisor Dan Ladendorf, Indiana '83. "[Matthew] knows DU can be so much more and so much different than what it was when he joined it. I think that says a lot about Matthew's character and the type of leader that he is."
Over the course of the 2016-2017 academic year, the Indiana Chapter saw marked improvement in all areas of operations. Highlights include initiating 44 men, 22 members attending an international DU educational program, and the chapter piloting DU's Home Fire Campaign partnership with the American Red Cross. Multiple philanthropic and service events included DU Doghouse, Safe Halloween, Step Up IU, blood drives and more.
For Matthew, the chapter's success can be attributed to a dedicated Executive Board and a new desire to excel from the undergraduates. Along the way, the Chapter Advisory Board and House Corporation Board volunteers kept the men in check, shared ideas and always made themselves available.
"I wanted to end the cycle of mediocrity and prove that my chapter could be great," Matthew said. "The biggest take-aways are probably the importance of time management, organization and communicating effectively with a variety of different people. I think communication is a main driver of any success."
Matthew finished his term as President at the beginning of the fall 2017 semester as Indiana follows an academic calendar for officer terms. Looking back on his experience, the junior finance major doesn't look at the struggles, but the achievements.
"Seeing my chapter in a redevelopment stage is why I wanted to take on the roll as Chapter President," he said. "It was really important to ensure that we moved forward in a new direction, and I'm happy to say we have."