LI 2021 Registration Open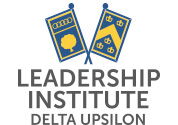 April 28, 2021 - Delta Upsilon International Fraternity is excited to launch registration for the 2021 Leadership Institute, DU's annual Fraternity convention. This year's event will be held in person, July 30-Aug. 1, at the DoubleTree by Hilton New Orleans.
With health and safety at the top of mind, changes have been made to the traditional LI format and occupancy. In 2021, the event will be one day shorter than normal and have a maximum attendance of 200, with the bulk of attendees being undergraduates. The goal is to host a safe, in-person gathering that features Fraternity business, educational programming and award presentations. All attendees will be asked to show proof of a valid COVID-19 vaccination card prior to arrival. Anyone without a completed vaccination card will need proof of a negative COVID-19 test from within the past 48 hours. Additional health and safety protocols will be in place, such as the smaller attendance size.
Each undergraduate chapter will receive one complimentary registration to the Leadership Institute and is encouraged to bring a second attendee. Space for two undergraduates from each chapter will be reserved through the early registration deadline of June 11. After this time, unused second attendee spots may be offered to those undergraduates who have signed up via the LI Waitlist Form. DU advises our Canadian Chapters and brothers to follow all federal and provincial restrictions regarding travel. The Fraternity will continue to monitor the travel and quarantine guidelines. If unable to travel, it will not affect Canadian chapters' performance in the Men of Merit program attendance or Loss Prevention programming expectations.
Alumni registration is limited to 30 individuals (not including Fraternity and Foundation board members) and will be first come, first serve. In 2021, guests will not be allowed at LI functions, including meals, to reserve the limited space for members.

"Delta Upsilon is excited to meet in person for the 2021 Leadership Institute after our virtual event last year," said DU Executive Director Justin Kirk. "While it will be a smaller event than usual, the spirit of the Leadership Institute will be bigger than ever. We are confident this will be a safe, productive event that unites the Fraternity as we move forward into the future."
For more information about the 2021 Leadership Institute and registration information for undergraduates and alumni, visit our Leadership Institute page.
For questions about the event, contact Director of Educational Programs Veronica Moore at moore@deltau.org.