Maryland chapter reinstalled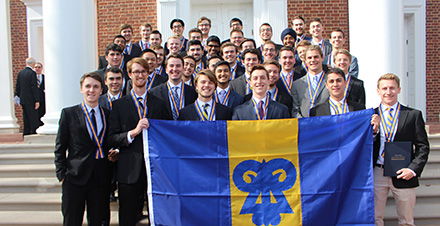 Nov. 4, 2017 – On Delta Upsilon's 183rd Founders Day, the Fraternity had extra reason to celebrate: the Maryland Chapter was reinstalled as an active chapter.
The Maryland Chapter was first installed on May 13, 1972. After closing in 1992, would be another 22 years before the Fraternity would return to campus. In the fall of 2014, DU returned to campus recruit new members and recolonize the group, with the Recolonization Ceremony taking place in October 2014. Over the next three years, the colony would work toward its goals for rechartering. Such goals involved recruitment and chapter operations to ensure the group built a solid foundation and would be a strong, healthy chapter upon reinstallation.
The Reinstallation Ceremony was held Nov. 4, 2017, at the University of Maryland Memorial Chapter along with Rite II of the Initiation Ceremony. Fourty-four undergraduate men and one alumnus were initiated into the newly reopened chapter. DU Educational Foundation Trustee Warren Nesbitt, Wisconsin '76, gave the Charge.
In his address, Nesbitt gave the following advice: "As a college organization, you have to set goals, develop strategies and tactics to achieve those goals, and never lose sight of our Four Founding Principles. And the same goes for your life after college."
A reception was held at the College Park Marriott following the ceremony for members, alumni, parents and guests to continue the celebration.
Congratulations to the Maryland Chapter!
Maryland Chapter Initiates
Trevor Ashmun
Liam Beatus
Acheev Bhagat
Sandro D. Brognara
Jack Bundra
Matthew J. Burns
Chris Castellano
Tiger Chen
Aaron Emalfarb
Andrew D. Forrest
Stephen Frocke
Thomas Furlong
Patrick Green
Bradley Guest
Benjamin P. Harper
Matthew Holman
Arjun Kaushik
Quentin C. Kent
Samay S. Kindra
Jason Krakower
Matthew Laferriere
Luke Landiak
Daniel Markstein
Yann Martinez
Camden Masters
Ryan Mong
Matthew Muccio
Luke Novey
Nathan J. Ostrander
Evan M. Paddison
Adam Paley
Sushrut Pathy
David C. Reddick
Michael Rees
Christopher Rogers-Spatuzzi
Shiv Saini
Abdulai Sei
Todd Spencer (alumni initiate)
Cameron J. Spruill
Logan Strausman
Patrick K. Talsania
Derek Thompson
Thomas Walker
Michael Wong
Jacob Wurman