May and June 2020 GSI Trips Canceled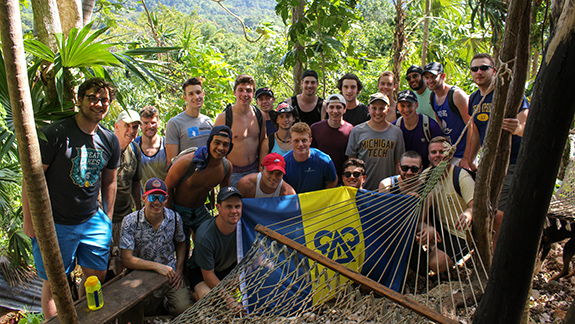 March 18, 2020 - After careful consideration, Delta Upsilon International Fraternity has canceled its Global Service Initiative trips for May and June 2020. This decision was based on the evolving COVID-19 pandemic, the Fraternity's responsibility to ensure that the GSI does not contribute to spread of the virus, and the impracticality of holding the GSI at this time.

The Global Service Initiative is Delta Upsilon's International service project and philanthropy. For the past 10 years, DU and the GSI have taken students to Jamaica for service-immersion trips. Participants have worked primarily with local schools to construct additional classrooms, lunchrooms, playgrounds and more. This work allows them to work directly with those in the Jamaican community including day laborers, teachers and students. Each evening of the trip, DU students meet to reflect on their work, personal and DU values, and what it means to be a global citizen. At the chapter level, all DU chapters/colonies are asked to fundraise for GSI. Money raised goes directly toward the cost of supplies needed to complete the service work, including shovels, hammers, nails, concrete and other building supplies.
All those registered for the May and June 2020 trips have been notified. Those attending on a scholarship or as the result of chapter fundraising reaching a certain level will have access to those funds to attend a future GSI trip. Those who had paid a deposit or full registration fee will be refunded. If any of these students wish to attend a future trip, a spot will be held for them.
"We understand that this is unfortunate news," said DU Director of Global Initiatives Kaye Schendel. "However, as global citizens, this is also a part of doing what we can to serve the greater good. As we continue to navigate these challenging times, the volunteer spirit shown by the men who registered for GSI will continue to be needed at home and abroad."
Despite the trip cancellations, DU chapters/colonies should submit any GSI fundraising dollars to the Fraternity from events that have already taken place this academic year. Future GSI trips will be held, and this money will go toward the building materials for those trips. It is crucial to the future success of GSI that chapters continue to fundraise.
With campus closures due to COVID-19, the Fraternity understands that many GSI philanthropy events for this spring have been postponed or canceled. To help chapters continue to raise funds online this spring, the DU Educational Foundation is working to put together resources for chapters. More information about these resources will be available soon.
At this time, the 2020 DU Emerging Leaders Experience and Leadership Institute are both set to proceed as scheduled. The Fraternity will continue to monitor the situation and make determinations as to if these programs should be postponed or canceled. In the event of a postponement or cancellation, the Fraternity will work directly with registered attendees on how to proceed. It is recommended that registrants refrain from booking travel to these programs for the time being to avoid the hassle of potentially needing to cancel or change a flight. If deciding to book a flight in advance, purchasing travel insurance is recommended.
If you have questions regarding the GSI trips or other DU educational programs, contact ihq@deltau.org.