McQuaid and Oak Circle Scholarships OPen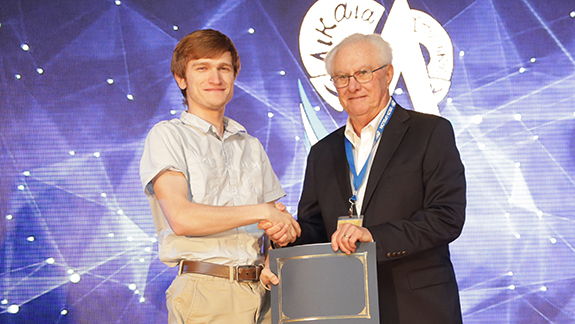 March 10, 2020 - Applications for the McQuaid and Oak Circle Scholarships through the Delta Upsilon Educational Foundation are now open.
McQuaid Scholarships
McQuaid Scholarships are academic scholarships for undergraduate and graduate students who are members of Delta Upsilon. The DU Educational Foundation awards up to 10 McQuaid Scholarships each year. Each recipient receives $1,000 that can be used to fund the cost of his education. Applications are due June 1, 2020. Recipients will be announced at the 2020 Leadership Institute.
Scholarship Qualifications
Must submit a McQuaid Scholarship/Fellowship application.
Must be an initiated member in good standing with the Fraternity as defined in the Fraternity's laws.
Undergraduates must be an enrolled, full-time student in good standing at the college/university at which the chapter is in operation for the academic year following receipt of the scholarship. Graduate students must be enrolled full-time at an accredited college/university for the academic year following receipt of the scholarship
Must have a cumulative 3.0 GPA or better (on a 4.0 scale). Official copy of transcripts must be provided.
Must submit at least one letter of recommendation.
Consideration will be given to men of merit with leadership involvement, extra curricular activities and community service.
Must submit a photo with the application for publication in the Delta Upsilon Quarterly if selected as a recipient.
Oak Circle Scholarships
Undergraduate DUs have the opportunity to receive an Oak Circle Scholarship to fund their registration to the 2020 Undergraduate Interfraternity Institute. UIFI is a 4-day program hosted by the North American Interfraternity Conference in which fraternity men and sorority women come together for leadership development. Students have the option of attending one of six UIFI sessions to be held during summer 2020 in Bloomington, Indiana.
Oak Circle Scholarships are funded by the Oak Circle Undergraduate Giving Club. The Oak Circle Scholarship application deadline is April 17, 2020. After receiving notification of receiving the scholarship, when applying for UIFI, you can note on the registration form that you are receiving a scholarship from DU. The early bird UIFI registration deadline is May 1.