Missouri Chapter REinstalled
Nov. 2, 2019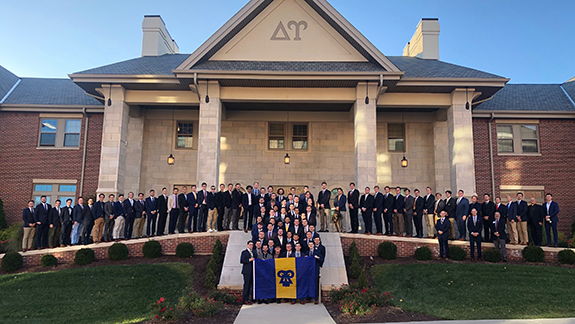 "Forty-two men passed before the Examiner in Delta Upsilon, signed their names in the Roll Book, silently moved on and took their places in line. The Chief Marshal approached them. All was quiet save for the scratching of a pen on the Roll Book."
These words set a vivid scene in the January 1925 issue of the DU Quarterly as Glenn Brill, Missouri 1925, opened his article about the Missouri Chapter's Installation. After 15 years as a local fraternity, the Dana Press Club officially became a chapter of Delta Upsilon with its chartering on Dec. 6, 1924. Nearly a century later, it is special that these same words can be used to describe the moment the Missouri Chapter was reinstalled into the Fraternity. This time, on Nov. 2, 2019, it was 91 men who were initiated and ready to lead Delta Upsilon into the future at the University of Missouri.
"There are a lot of benefits being a Founding Father in a colony," said Eli Chiles, Missouri '21, President of the Missouri Chapter at the time of its Reinstallation, "but everyone is so thrilled to finally have all the benefits that come with being a full chapter and being able to be a full brother of Delta Upsilon."
Since its beginnings, the Missouri Chapter was continually a high-performing group both within Delta Upsilon and the Missouri fraternity/sorority community. It received numerous awards, created lasting friendships among brothers, and propelled its more than 2,000 alumni to success. In recent years, this includes three Sweepstakes Trophies and six years as a Sweepstakes Finalist from 2002-2011.
This impressive history made the chapter's closure in December 2016 even more painful. Despite its successes, close alumni bonds, and a brand new, $6.3 million chapter house that opened just a year prior, a series of Fraternity and university policy violations (mainly regarding alcohol and social events) led to the chapter's closure. At this same time, the chapter was brought into the national spotlight following an altercation among non-Delta Upsilon students in the chapter house's front yard. While this incident unfairly focused on DU and did not play a role in the Missouri Chapter's closure, it caused confusion and anger for many both inside and outside of the Fraternity.
While such events could have turned many people away, they instead fueled the Missouri Chapter's alumni and the International Fraternity to work to re-establish the chapter and rebuild DU's excellence at Missouri. Leading up to expansion efforts that began in fall 2018, alumni and the Fraternity worked closely with one another and university officials to create a plan for success. These plans included leasing the chapter house to Delta Tau Delta during Delta Upsilon's absence, focusing on values-based recruitment, and creating and recruiting a new Chapter Advisory Board (CAB). Like many older DU chapters, the Missouri alumni chapter had previously managed advising roles as opposed to having a separate advisory board.
Following a summer 2018 visit, Fraternity staff returned to campus in August to begin recruitment. Staff and volunteers quickly found success. Within just a few months, on Nov. 11, 2018, the Colonization Ceremony was held as 65 men were pledged into Delta Upsilon.
Under the guidance of advisors and staff, the colony began to make a name for itself on campus and work toward the requirements for Installation. This included continued member recruitment, building brotherhood, participating in campus events, establishing philanthropy and service projects, and more. Each associate member focused on making the Missouri Chapter a model fraternity.
"The Missouri Chapter is extremely dedicated to creating something successful and long-lasting," Eli said. "We are always looking for ways to improve and innovate. I would like to see us become a role model for other chapters on campus as to how Greek life should be."
Chapter Advisory Board Chairman Jeff Kreutz, Missouri '99, also recognizes the standard the chapter is setting for success.
"I feel that this chapter is very much in line with where Greek life is moving," Jeff said. "Beyond the social benefits of a chapter, they also see the value for themselves that comes through personal development, leadership involvement with the chapter and on campus, the service work, etc. All these aspects are giving them a much richer experience during their time on campus that I see fraternity men their age are seeking out. The members came in with a great attitude and have partnered with alumni and the International Fraternity to build the best possible overall experience."
Building on its momentum for the 2018-2019 school year, the colony moved back into the chapter facility in fall 2019 and quickly met the final requirements needed for Reinstallation. Just a year after Recolonization, the Missouri Chapter hosted its Reinstallation and Initiation Ceremonies on Nov. 2, 2019, held at the Stotler Lounge in the campus' Memorial Union.
More than 100 guests attended the event, including alumni, parents, friends and university officials. Notably in attendance were University of Missouri Chancellor Alex Cartwright; Vice Provost of Student Affairs Bill Stackman; Coordinator of Fraternity & Sorority Life Brittany Butler; and Dean of Journalism, DU alumnus David Kurpius, Indiana '86. Several members of the Delta Upsilon International Fraternity Board of Directors and headquarters staff were also on hand as the Board's fall meeting was held just two hours away in Kansas City the same weekend.
The Ritual team consisted of International Fraternity Board Chairman Robert Lannin, Nebraska '81, as Master; Chuck Hatley, Missouri '80, as Examiner; Jeff Kreutz, Missouri '99, as Chief Marshal; and J.C. Emerson, Missouri '62, as Chaplain. The Charge Address was given by Missouri Alumni Board President (and Past International Fraternity President) Bruce McKinney, Missouri '74. During his address, McKinney spoke of the chapter's history, setting purposeful goals and living DU's Four Founding Principles to ensure the future strength of the Missouri Chapter and its members.
"No matter what we do in terms of brick and mortar, programming or alumni engagement, the critical moments for undergraduates will always be linked to their personal development and making good decisions," McKinney said. "Helping them through these moments is how DU's mission of Building Better Men will truly earn its name."