Northwestern Chapter Reinstalled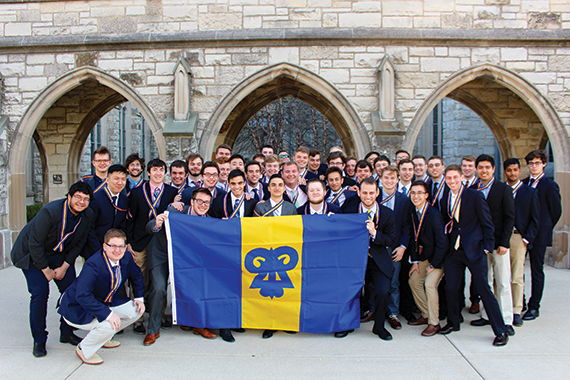 In Northwestern University's 167-year existence, only 32 of those years haven't seen Delta Upsilon on campus. After two years as a colony, the Northwestern Chapter is now officially back as its Reinstallation Ceremony was held May 6, 2018.
Delta Upsilon first came to the Evanston, Illinois campus just 29 years after the university opened its doors when the Northwestern Chapter was installed Oct. 27, 1880. The chapter, Delta Upsilon's 25th, had a long history of success and remained open for 133 years before closing in 2013. Recolonization efforts began three years later in spring 2016 and were led by Leadership Consultants Cale Kaiser, Nebraska '15, and Derek Dauel, Nebraska '15.
"It feels incredibly rewarding to have the opportunity to bring the Northwestern Chapter back to campus given the amount of work that went into building the organization," said Chapter President Jacob Beran, Northwestern '20. "I firmly believe that a Northwestern campus with a thriving Delta Upsilon chapter is better than one without it."
After the group recolonized in 2016, the colony focused on building a foundation for success. With the help of alumni and advisors, the colony moved back into its chapter house and began mentorship relationships with DUs in the Chicagoland area. On campus, the men have been active in Dance Marathon, raising more than $47,000 for local organizations in 2017-2018 with their partner groups Chi Omega and Lambda Chi Alpha. The chapter also hosted fundraisers last year for groups like the Trevor Project, as well as multiple programs on sexual assault prevention and men's mental health.
"The determination to accomplish the goal of receiving our charter was different for every individual member, but the common threads were a passion for our community and a desire to create a positive change on this campus through our fraternity," Beran said.
The Reinstallation Ceremony, Rites I and II of Initiation, and a celebratory reception were held Sunday, May 6, 2018, at the Alice Millar Chapel on campus. The event was attended by alumni, parents, friends and university officials. The Ritual team consisted of Executive Director Justin Kirk, Boise State '00, as Master; DU Educational Foundation Director of Advancement Colin Finn, Iowa State '05, as Examiner; Leadership Consultant Tyler Vasquez-Dorn, Rochester '17, as Chief Marshal; and advisor Jim Kluga, Purdue '13, as Chaplain.
Robert Lannin, Nebraska '81, Chairman of the International Fraternity Board of Directors, gave the Charge address. Lannin spoke to those in attendance about the Fraternity's history and Four Founding Principles, particularly focusing on The Promotion of Friendship. He encouraged the new initiates to look beyond their four-year college experience and toward lifelong friendships.
The 53 men initiated during the Reinstallation join 1,638 other brothers who have been initiated into the Northwestern Chapter through the years.
With the continued help of these alumni, Beran and the other undergraduates see a bright future for the Northwestern Chapter for years to come.
"I see us being a welcoming, inclusive organization on campus that fosters a sense of community and brotherhood between our members," Beran said. "I believe that Northwestern Delta Upsilon can be a positive force for change on this campus both through developing men of outstanding character and pursuing actions that will serve to make this campus a better place."