reinstallation ceremony held for Texas Chapter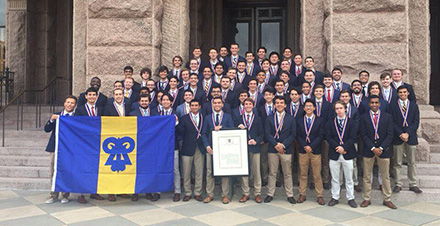 Nov. 12, 2017 – They say everything is bigger in Texas, and that includes Reinstallation Ceremonies. On Sunday, Nov. 12, Delta Upsilon's Texas Chapter was reinstalled as an active chapter in one of Texas' most important buildings: the Texas State Capitol.
Austin, Texas' capitol, is home to The University of Texas at Austin and DU's Texas Chapter. The chapter was first installed on Oct. 29, 1949 and remained open until 2000. Sixteen years later, DU returned to campus to begin recolonization efforts. After a very successful recruitment, the Colonization Ceremony was held in October 2016.
Within just one year, the colony met the requirements necessary for reinstallation. These requirements and expectations are set to help the colony grow into a successful chapter and include benchmarks for recruitment, chapter operations, campus involvement and more.
During the Reinstallation Ceremony, Rite II of the Initiation Ceremony is also held. Sixty-five men were initiated into DU in the State of Texas Capitol Auditorium. Robert Lannin, Nebraska '81, Chairman of the Delta Upsilon International Fraternity Board of Directors, gave the Charge.
A reception for members, alumni, family and guests was held at the chapter house—affectionately call the Duck Hut—following the ceremony.
Congratulations to the Texas Chapter!
Texas Chapter Initiates
Homero Acevedo
Jai Atluri
Patrick Bishara
William Bradley
Nathaniel Briggs
Braeden Brown
Miles Bryant
Evan Canter
Alex Cantrell
Jonathan Castenada
Salvador Castro
Justin Causey
Isaac Chasse
Alec Dickerson
Anthony Edgington
Alejandro Esquivel
Justin Ganiban
Daniel Garcia
Cristhian Gonzales
Michael Guillen
Daniel Hall
Jackson Hayden
JJ Hayes
Joseph Hinton
Matthew Hooper
Brant Hudgins
Javier Huerta
Kieran Irwin-Leventhal
Bryan Jackson
Sam Jain
Remington Kent
Maximillion Knorreck
Nathan Koduru
Caleb Kwon
Jackson Ladgenski
Jake Larrumbide
Edward Layton
William Layton
Anthony Lockridge
Daniel Lopez
Rwendy Luna
Abraham Mebarkia
Aidan Medina
Azarel Medina
Miguel Minick
Kyle Nguyen
Jake O' Shea
Shallom Onoja
Christian Pallotta
Christian Parent
Connor Phelps
Sid Rao
Juan Regalado
Christian Roumelis
Nicholas Salazar
Alex Sanchez
Ahmed Semary
Cameron Silver
Ben Simmons
William Teichman
Patrick Tran
Esteban Trevino
Jared Ucherek
Eric Wang
Andrew Westphal