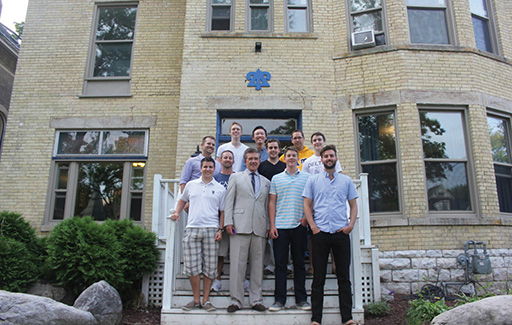 It can be argued that of all the iconic 1980s television dads, Dr. Jason Seaver of "Growing Pains" was one of the best. Played by Alan Thicke, Western Ontario '67, Dr. Seaver was a devoted husband and father who ran his psychiatry practice from home, in large part, to be closer to his family. Relatable, smart, caring, quick-witted and sometimes goofy, Dr. Seaver helped guide his family through seven seasons worth of storylines that ultimately taught a lesson.
In his real life, Alan Thicke was not much different.
Born in Kirkland Lake, Ontario, Alan grew up in a talented family. His grandmother had played piano to accompany silent movies, and his mother was a tap dancer. His brother, Todd, is an Emmy-nominated television writer best known as the executive producer and head writer for "America's Funniest Home Videos." Alan himself was actor, writer and musician. He penned two books, and in addition to his numerous acting credits, he produced and wrote TV specials, and wrote a number of famous TV themes like those for "The Facts of Life" and "Diff'rent Strokes" (which he also sang).
Not only was he talented, Alan was smart. He started classes at Western Ontario University at age 16, having skipped grades four and six. John Eberhard, Western Ontario '69, remembers Alan as a talented, smart, fun-loving man devoted to his friends and family. He recalls many evenings watching Alan charm party guests with his guitar and singing. Alan even became a regular at the Eberhard family dinner table as after a few visits, he had become "the centerpiece at the table with his scintillating sense of humor."
As a student, Alan knew he wanted a career in entertainment. Just as he did as an adult, he used his charisma and ability to make and sustain relationships to give him a leg up in his career. While still at Western Ontario, he landed his own graveyard shift music show at the local radio station. There, he became friends with famed Canadian radio personality Bill Brady who helped set up Alan for success.
Popstar Bobby Darin also became an influential connection for Alan. John fondly recalls the trip that led to the tenacious student meeting his hero. It was after the DU Gala and, while in Alan's gold Volkswagen Beetle, Alan asked John how spontaneous he was. Twenty-four hours later, still in their tuxedos and without a real plan, the two were in Daytona Beach, Florida, to see Darin play in a nightclub.
"That is where I learned of Alan's obsession for the entertainment world. He told me on the way down that he really wanted to set out on this adventure so as to meet Bobby Darin … He loved the music and was fascinated by this pop star. Indeed, Alan not only met him, but they because fast friends. This was one of his main contacts into show business some years later."
After graduation, Alan started with the Canadian Broadcasting Company (CBC) where he worked on a variety of projects and shows. In the 1970s, he eventually moved to Los Angeles. It was there that he started "The Alan Thicke Show," a daytime talk show he hosted from 1980-1983 that remains one of the biggest shows in Canadian television history.
Throughout his time on "Growing Pains," which aired from 1985-1992, Alan would credit the show for helping him in his personal life. On set, others would describe him as charismatic, welcoming and dedicated—descriptions no different than one would give his character, Dr. Seaver. At that time of filming, Alan was raising the two oldest of his three sons, Brennan and Robin, and he would draw many parallels between them and his TV children.
"There was a constant flow and a thin line there between reality and television," Alan once said. "Much of what I was experiencing in my real life was also what was going on in the television show, to the extent that I had to take writers advice and from the counselors around." (Part of why many claim Dr. Seaver was such a great TV dad was that the show hired professional psychiatrists and counselors to make sure Dr. Seaver was appropriately handling his psychiatry patients and family matters.)
Of all his accomplishments, being a father was perhaps what Alan took the most pride in. His two books both focus on parenting: "How Men Have Babies" in 1999 and "How to Raise Kids Who Won't Hate You" in 2004. He made it a point spend as much time as possible with his children, often playing sports and having fun. He believed that playing together brought his family closer together and positively impacted their mental and physical health. Ironically, the heart attack that took his life happened as he was playing hockey with his youngest son, Carter.
"As a father, my first priority is to help my sons set and attain personal goals so they will develop self-confidence and individual strength," Alan had said. "Engaging in regular fitness activities with my children helps me fulfill those responsibilities."
For those who knew Alan, he will be remembered for far more than his career achievements, which include six Emmy nominations. He will be remembered for his caring, light-hearted personality.
"Alan is a good example of one who carried his commitment, confidence and loyalty to DU throughout his life" John said. "The people he met there and along the way continued to be important to him. And we are forever grateful to him and brothers like him."