Remembering Howard Kahlenbeck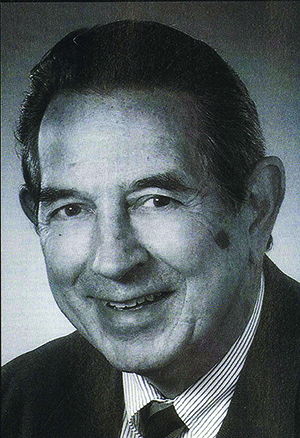 Delta Upsilon mourns the loss of Brother Howard Kahlenbeck, Indiana '52, who passed away Dec. 23, 2017. Kahlenbeck was an influential force in Delta Upsilon, having served on both the International Fraternity Board of Directors and Educational Foundation Board of Trustees, including one term as International Fraternity Chairman.
Born Dec. 7, 1929, in Fort Wayne, Indiana, Kahlenbeck received his bachelor's degree in business at Indiana University, where he also served Delta Upsilon as the Indiana Chapter President. Following his time at IU, he went on to serve the United States Air Force from 1952-1954. He received his law degree from the University of Michigan in 1957, leading to a successful legal career. Kahlenbeck worked at Indianapolis-based law firm Krieg DeVault Alexander & Capehart from 1957 to 2004 and became partner in 1962.
Devoted to Delta Upsilon, Kahlenbeck served on the International Fraternity's Board of Directors for 12 years. He joined the board as a Director in 1972 before becoming Secretary in 1974. He would stay in the role until 1983, when was named Chairman. Following a one-year team as International Fraternity Chairman, Kahlenbeck transitioned to the Educational Foundation's Board of Trustees, for which he served from 1984-1988. As if this significant service was not enough, Kahlenbeck provided pro bono legal counsel to Delta Upsilon for more than four decades, including up to his passing.
"Howard was a wise and caring man who cared deeply for Delta Upsilon and its brotherhood," said DU Educational Foundation Chairman Steve Rowley, Ohio '65, who served on the Board of Trustees with Kahlenbeck. "You could count on him to examine situations thoroughly. He provided an extremely valuable 'guiding light' that included his own point of view as well as his legal counsel. He will be missed."
In 1998, Kahlenbeck was honored with the Distinguished Delta Upsilon Award, the top individual honor a DU brother can receive. In his personal life, Kahlenbeck was an avid IU football and basketball fan who loved to travel. He is preceded in death by his wife of 59 years, Sally, and survived by two children (Kathy and Doug) and three grandchildren.