Remembering John McConnell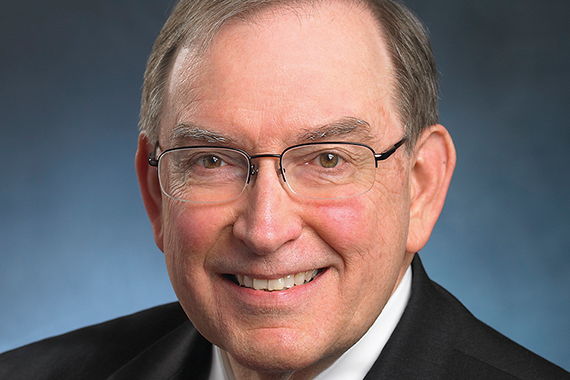 John McConnell, DePauw '66, was a generous man. For decades, fundraising and giving were his job. Giving was also a part of who he was.
McConnell passed away March 27, 2017, at age 72. However, his spirit and knowledge of giving will live on both through his work and his volunteer efforts as the Vice President of Development for the Delta Upsilon Educational Foundation Board of Trustees.
A native of Salem, Indiana, McConnell was born June 4, 1944. While at DePauw University, he joined Delta Upsilon and Phi Beta Kappa honor society, graduating with a bachelor's degree in mathematics and economics in 1966. He later received a master's of arts degree in economics and a certificate in Russian and East European Studies from the University of Michigan.
Using his economic degrees, McConnell spent much of his career working at universities, helping them pioneer new ways of fundraising. He had held senior development positions at DePauw, Purdue University, University of Alberta, and University of Denver. At Bentz Whaley Flessner, a fundraising consulting firm for whom he worked at the time of his passing, he continued to manage fundraising campaign planning and implementation, major gift strategy and staff training for higher education institutions and medical centers. This work was important to McConnell as he had a passion for education. And it carried over into his personal life.
"In the last few years, he had prioritized reconnecting with key institutions in his life and becoming active in causes, particularly relating to education, that were personally important to him," said Matthew McConnell, John's son. "I think after many years helping institutions he admired reach their philanthropic goals in his professional life, he wanted to define a legacy for himself via the organizations that were most important in his own life."
One such organization was Delta Upsilon.
McConnell served on the International Fraternity's Board of Directors from 1987-1988, then joined the Educational Foundation's Board of Trustees in 2014. Because of McConnell's background in fundraising, DU Educational Foundation President Steve Rowley, Ohio '65, and DUEF staff recruited him to join the Board as the Vice President of Development. For years prior, McConnell had been advising DUEF staff, lending his expertise.
"The number one job that the Foundation has is to fundraise to support the educational experiences of the Fraternity, and we knew he had that experience," said Rowley. "Coupled with that, we knew he also had a good knowledge and love of Delta Upsilon. One of John's most visible contributions to the Foundation was the formalization of our major gift program. It is probably our most important program. He also came at a critical time in our staff development and was able to provide valuable training for our staff in fundraising."
McConnell's leadership and guidance will be greatly missed. He served as a go-to advisor and mentor to staff, helping it develop and grow the DUEF's major gift program, which cultivates donors with the capacity to make large gifts. He was also willing to help in any way possible. Rowley describes McConnell as one who truly wanted to help in any way, even if the task was beyond his area of expertise. No question was too small, and nothing was turned away.
"My father was a generous, hardworking leader, and warmly sentimental." Matthew said. "I think his legacy will be how much he did to support causes he believed in, most notably education, but also other organizations dedicated to helping others or the world at large. His satisfaction in doing so is why he found his work so fulfilling."
McConnell is survived by his wife Bettina, son Matthew and daughter-in-law Joanna.