The dU Man
Remembering Past International Fraternity President Terry Bullock, Kansas State '61
By E. Lee Musil, Kansas State '71, and Ashley Martin Schowengerdt, Director of Communications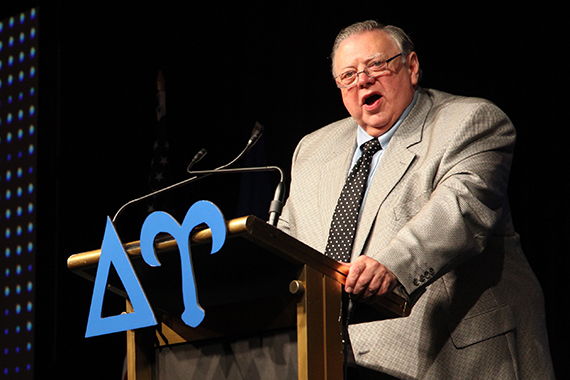 Terry L. Bullock, Kansas State '61, made a profound impact on Delta Upsilon—far beyond the Kansas State Chapter from where he originated. A visionary and a mentor, Brother Bullock set the Fraternity and scores of individuals on a path toward respect and justice rooted in the values and Principles they hold dear.
Brother Bullock was born Sept. 29, 1939, in Herington, Kansas, and died of natural causes on Aug. 2, 2019, at age 79. A Celebration of Life was held Aug. 16 at Grace Episcopal Cathedral in Topeka, Kansas, with his final place of rest at the Wilsey, Kansas cemetery. He is survived by his daughter Susan, son John and two grandchildren.
As an undergraduate at Kansas State University, Brother Bullock had made a clear decision not to join a fraternity for all the usual "Animal House" reasons. When he accepted an invitation to meet a distant relative at the Delta Upsilon house, however, the rest was history. Soon, Terry frequently found himself at the chapter house, so much that one day, the Chapter President told Terry that if he was going to have Sunday dinner with them every week, he should pay dues. Terry said, "That sounds right, but I don't like fraternities." The President said, "Neither do we; welcome home." Terry himself would eventually serve as Chapter President during his senior year.
Terry graduated from Kansas State University in 1961, then went on to law school at the University of Kansas where he served as editor of the Kansas Law Review and graduated with honors in 1964.
As a young alumnus, Terry returned to DU and began volunteering with the Kansas State Chapter's Alumni Board, serving as its first President and as a chapter advisor. During this time, his leadership led to the redesign of the chapter's new member education program using an honor code of non-harassment. In 1967, along with Kansas State Chapter President Dave Parker, Kansas State '67, Terry co-authored a 50-page document titled "The Kansas Report" that outlined the concept of framing member education around the Principles and non-harassment. As a result, the Kansas State Chapter won its first Sweepstakes Trophy that year.
Terry contended that if the goal of a college education is to produce a well-rounded graduate who is competent in his chosen career, then the goal of Delta Upsilon is similar: to take talented men, guide them by the Four Founding Principles, and develop them to their fullest potential. "Delta Upsilon produces only one product and has only one service to sell. That product is men—earnest, principled and mature men of excellence." (Kansas Report, 1967, p. R-3.)
This line of thought led Brother Bullock to join the International Fraternity's Board of Directors in 1970. Over his ensuing 18 years of Board service, the last five in which he served as International Fraternity President, Terry would become known for his passionate defense of the Delta Upsilon experience and Four Founding Principles. He frequently gave emboldened speeches at DU events and was a sought after Charge Address speaker for chapters across North America.
Notably, Brother Bullock would give speeches about "The DU Man," and how chapters must use the Four Founding Principles to create successful, well-rounded men. He encouraged chapters to initiate cultural and diversity programs so that the undergraduate members would become more capable when dealing with the myriad of situations they would encounter in the world's workforce. He reminded them that honest, open discourse, when done in a mature and respectful manner is healthy, encourages growth and clarifies one's thinking. Brother Bullock posited that "The DU Man" would be a cultured, Renaissance Man who promoted integrity, fairness, dependability and belonging.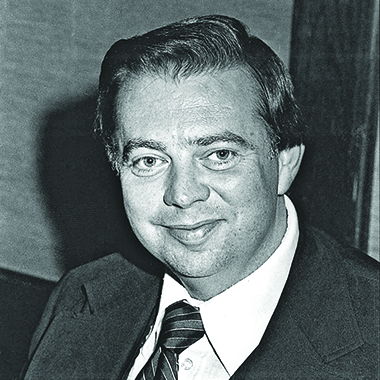 In 1987, the Fraternity printed copies of "The DU Man: A Blueprint for Success," which was written by Bullock and served as a guide for chapters to create a meaningful membership experience.
Toward the end of his term as International Fraternity President, Terry and the Board of Directors also commissioned a Member Manual Committee to carefully consider the needs of young men entering into Delta Upsilon and revise what was then known as Our Record, The Manual of Delta Upsilon. Led by Bullock, this committee wrote and published the first edition of The Cornerstone in 1989.
"Terry was a leader organizationally and philosophically by keeping us true to the Founding Principles," said Craig Franz, Ph.D., Bucknell '75, who served on the Board of Directors and Member Manual Committee with Terry. "He had such an impact on what we do as Delta Upsilon. He had a golden tongue that would spin tales in a way that would not only inspire people but cause them to march forward with those ideas."
Brother Bullock was a powerful mentor to thousands, not only to many Delta Upsilon brothers, but also to scores of those in the courtroom. After more than a decade as an attorney, Terry became a District Judge in the State of Kansas in 1976, a position he held for more than 30 years. During this time, he also served for decades as an adjunct ethics professor at both Washburn University School of Law and University of Kansas School of Law, the only two law programs in the state. For more than three decades, every law school graduate in the state of Kansas had to have taken a course from Judge Bullock. As with Delta Upsilon, Terry made it his goal to set his students on a path toward justice.
"All I ever wanted to do was to encourage people to make good choices," Brother Bullock said.
Based on the indelible footprint the Honorable Judge and Brother Terry Bullock made within DU and the Kansas legal system, he was able to do just that.
Judge Terry Bullock
In addition to his impact on Delta Upsilon, as a trial judge in Kansas for more than 30 years, Terry Bullock left an indelible mark on the state and its residents. Here are some of his career highlights.
Graduated with honors from the University of Kansas School of Law in 1964 and served as editor of the Kansas Law Review.
Began his law career at Cosgrove, Webb and Oman in Topeka, Kansas.
Was appointed District Judge in 1976, a position he kept for more than 30 years.
Served five years as Chief Judge. In this role, he was instrumental in creating the nation's first paperless system for electronic case processing.
Was best known for his constitutional decisions concerning the funding of Kansas' educational system.
Formed Judge Terry Bullock Mediation Services after retiring from the bench where he worked as a mediator and consultant.
Taught more than 10,000 students over three decades as the Washburn University and University of Kansas Schools of Law.
Received lifetime achievement awards from both the Topeka and Kansas Bar Associations.