Rick Taylor ends 8-year Tenure as Board Chairman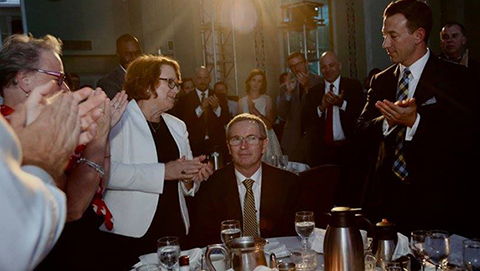 Aug. 9, 2017 - At the 2017 Leadership Institute, Richard X. Taylor, North Carolina State '82, retired from his 13 years of service on the Delta Upsilon International Fraternity Board of Directors. Taylor joined the board in 2004, serving as an Alumni Director until 2009, when he assumed the role of Chairman. He served in the Chairman role until his retirement.
Bob Lannin, Nebraska '81, was elected as the new Chairman by the Assembly of Trustees on Saturday, Aug. 5, 2017. Lannin has served as an Alumni Director since 2013.
During Taylor's tenure on the board, the Fraternity has seen impressive growth. In this time, Delta Upsilon has launched important initiatives such as the Global Service Initiative, its assessment practices, the Men of Merit Chapter Standards Program, the new Associate Member Education Program, and more. He also led the Fraternity to expand its existing educational offerings but putting more resources into programs like the Regional Leadership Academy, Presidents Academy and Emerging Leaders Experience.
Outside of his international service, Taylor has served DU as a Chapter President, Chapter Advisor, House Corporation President and Alumni Chapter President. He was instrumental in the re-establishment of his home chapter, the North Carolina State Chapter; and his brother Paul, his three sons and his father have all been initiated into the chapter. He, along Paul, were the first DU Educational Foundation donors to endow a scholarship for the Global Service Initiative.
In recognition of his service, Taylor was presented with the Distinguished Delta Upsilon Award during Saturday night's banquet at the 2017 Leadership Institute in Milwaukee. Past Distinguished DU recipients Steve Rowley, Ohio '65, and Bernard Franklin, Kansas State '75, presented him with the award.
"Rick is well known for his commitment to DU's Four Founding Principles," said Rowley, who serves Chairman of the Delta Upsilon Educational Foundation. "In my 50+ years of membership, I have not worked with anyone who better exemplifies those values. As a leader, Rick always put Delta Upsilon interests above his own, and he constantly encourages those around him to do the same. He chose Delta Upsilon because he shared DU's values, and he continues to practice our Four Founding Principles every day."
View a video shown at the 2017 Leadership Institute thanking Rick for his service.