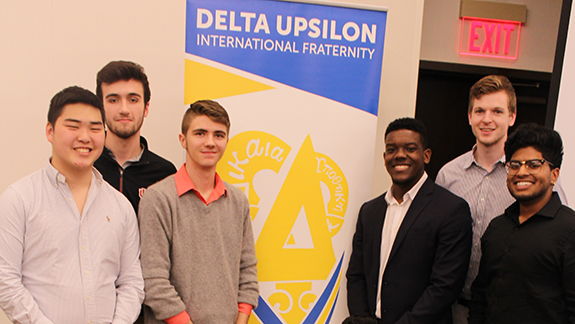 March 2, 2018 - Delta Upsilon wrapped up its 2018 Regional Leadership Academy schedule Sunday, Feb. 25. Each February, the Fraternity hosts RLA in five different cities to train chapter officers in the same geographic region.
RLA West: Feb. 9-11, Portland, Oregon
RLA South: Feb 9-11, Atlanta, Georgia
RLA Northwest: Feb. 16-18, Philadelphia, Pennsylvania
RLA Great Plans: Feb. 16-18, Kansas City, Missouri
RLA Midwest: Feb. 23-25, Chicago, Illinois
In total, 453 undergraduate men attended an RLA in 2018. The Regional Leadership Academy reaches more brothers than any other DU program and is designed as an officer training platform to provide tangible skills needed for success as a defined the Delta Upsilon Officer Core Competencies.
The RLA consists of five general sessions and 25 breakout sessions held Friday evening through Sunday morning. Each session is designed to help attendees sharpen personal skills, understand organizational practices, and learn tips to help brothers in their officer roles. Current and future chapter officers are invited to attend.
"RLA has made me a better leader because it challenges my perspective," said Ben Schweitzer, Miami '20. "Being a leader is meeting people from different perspectives and uniting those perspectives. RLA broadens your scope. You are able to meet guys from all over. You hear their problems and solutions. It is a communal meeting of the minds."
RLA is also the home of two additional DU programs: Recruitment Symposium and Advisors Academy. The Recruitment Symposium is a track of breakout sessions specifically for Vice Presidents of Membership Recruitment and other recruitment officers. Here, they learn skills, plans and tactics to help their chapter with recruitment.
The Advisors Academy made its return to RLA after a one-year hiatus with an updated format and curriculum. On the Saturday of each RLA, members of Chapter Advisory Boards were invited to attend a day-long program designed to help them become better mentors and provide more insight into chapter operations. These advisors also had the option to stay for the rest of the RLA programming. In total, 25 advisors attended an Advisors Academy.
"In addition to providing a chance to discuss best practices and solutions to problems or concerns, it also allowed a chance for all of us to understand that we really all face similar issues," one attendee said.
Dates for 2019 Regional Leadership Academies will be announced this summer.