For Immediate Release
Jan. 14, 2019
Contact: Ashley Martin Schowengerdt, Director of Communications
amartin@deltau.org
Ryan King joins DU Educational Foundation staff as Associate Executive Director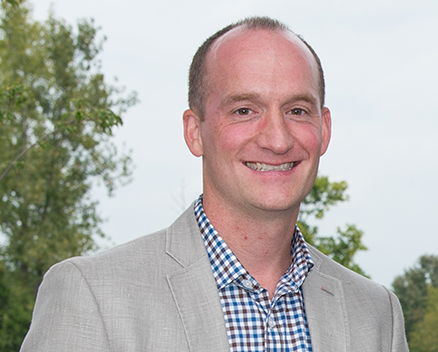 The Delta Upsilon Educational Foundation is excited to name Ryan King as Associate Executive Director. In this role, King will provide strategic and operational leadership for the Foundation's philanthropic initiatives. This will include leading Delta Upsilon's annual, capital and endowment fund efforts, as well as the cultivation and stewardship of high-end major gifts.
King brings a wealth of knowledge and experience in fraternity fundraising to Delta Upsilon. He has spent the past decade with the Beta Theta Pi Foundation, first as Director of Advancement (2009-2015), then as Chief Foundation Officer (2015-2018). During his tenure with Beta, its Foundation experienced great success. Average alumni gifts to the annual fund increased by 55 percent, and the cultivation and retention of premier level donors ($1,500+ annually) significantly increased. King led important foundation initiatives, including the annual fund, capital campaigns, endowment funds, a student giving program, and an alumni engagement program. Most impressively, he successfully led the conclusion of the Promises to Keep Capital Campaign, which resulted in gifts and pledges (cash and estate) totaling more than $20 million.
Prior to joining Beta's Foundation team, King served the fraternity as a Traveling Education Consultant (2001-2003) and Director of Leadership Development (2003-2009). In these roles, he provided chapter support and oversaw Beta's educational and leadership programming.
"We are thrilled to have Ryan join our team," said Delta Upsilon Executive Director Justin Kirk. "His unique experience in both fundraising and leadership programming will help the Delta Upsilon Educational Foundation tell its story and entice support for the DU mission. Ryan is a proven leader in the field, and we are confident he will help Delta Upsilon continue to grow and thrive."
King earned his bachelor's degree in mathematics from Southern Illinois University, a master's of education from Xavier University, and graduated from numerous courses in fundraising from the Indiana University Lilly School of Philanthropy. King will begin his role as Associate Executive Director of the DU Educational Foundation Jan. 14, 2019.
"There is no question that great things are happening at Delta Upsilon, and it is an honor to join a team committed to Building Better Men," King said. "I look forward to helping the Delta Upsilon Educational Foundation invest in the lives of young men who are ready and eager to lead our society."
Established in 1834, Delta Upsilon is an international men's college fraternity with 76 chapters and colonies across the United States and Canada. The Fraternity, founded at Williams College in Williamstown, Massachusetts, is the oldest, non-secret, Greek-letter society and is committed to Building Better Men for a global society through its four founding principles: friendship, character, culture and justice. More than 135,000 men have joined the Delta Upsilon Fraternity since its founding more than 184 years ago.
The Delta Upsilon Educational Foundation was formed in 1949 and is its own 501(c)3 organization. Its mission is to raise tax-deductible gifts that support and further Fraternity leadership programs, provide scholarships, and support additional educational opportunities.
###