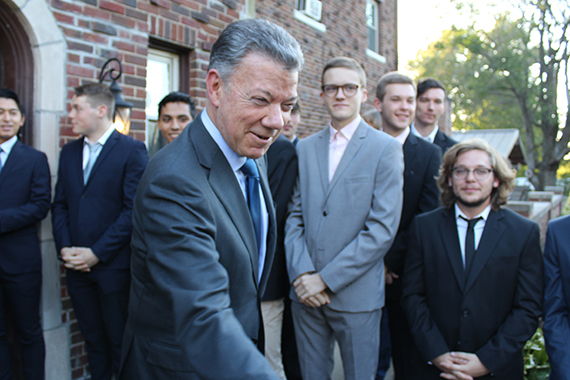 It wasn't the Colombian national anthem as he's likely accustomed to hearing when making a special appearance, but for Juan Manuel Santos, hearing "Hail, Delta Upsilon" during his Oct. 22 trip to DePauw University was perhaps just as meaningful. On the front lawn of the chapter house, surrounded by his DU brothers, Santos, Kansas '73, beamed with pride as he was serenaded with the beloved Fraternity song.
Santos, former president of Colombia (2010-2018) and the 2016 Nobel Peace Prize recipient, was on campus as a featured speaker in DePauw's Ubben Lecture Series. During his speech, Santos would talk about his experience ending Colombia's 50-year civil war and the conditions needed to make peace, but not before a stop at the Delta Upsilon house. Upon hearing the DePauw DUs wished to meet with him, Santos requested that a brief stop at the chapter house be added to his schedule.
Though the visit was just 10 minutes long, the DePauw Chapter members made the most of their time with the influential world leader. Dozens of brothers greeted Santos on the front porch as he made his way from the back of the house and out the front door. Each undergraduate brother was met with a handshake, a hello, and sometimes, an inquiry about their major and year in school. In exchange, the chapter presented Santos with not only a song, but also a gift bag consisting of a recruitment jersey, Delta Upsilon hat and a signed copy of the chapter's most recent composite. A few brothers then had the opportunity to join Santos for dinner at The Elms, home of the DePauw University president.
"President Santos' visit was truly special," said Chapter President Paulo Aco, DePauw '20. "All the brothers were honored to be in presence. He took the time to shake every brother's hand while he greeted them or initiated small conversations. It was a moment no brother will forget."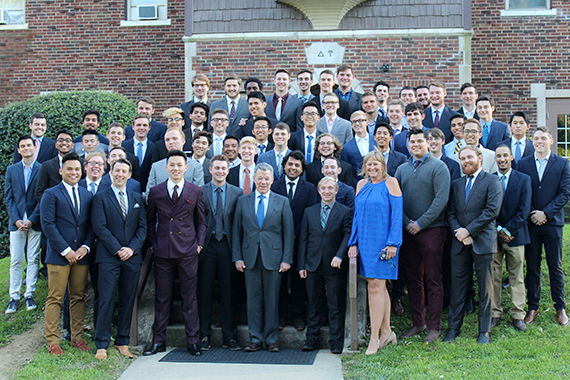 Santos joined Delta Upsilon while an undergraduate at the University of Kansas. Following graduation, Santos went on to earn additional degrees from the London School of Economics, Harvard and Tufts. His vast professional experience includes positions in business, journalism and government, as well as time in the Colombian Navy. From 1991-1994, Santos served as Colombia's Minister of Foreign Trade, a time during which he also served as president of the United Nations Conference on Trade and Development. He then served as Minister of Finance and Public Credit from 2000-2002, Minister of Defense from 2006-2009, and President from 2010-2018. His tenure as president was marked by his success negotiating peace with the FARC rebel group, effectively ending the country's decades-long civil war.
To begin his lecture later that evening, Santos stated that some world leaders retire with aspirations to continue a life in politics. Others retire and tell stories. "I come here to tell you a story," Santos said, "a story of making possible the impossible."
During the speech, Santos discussed his personal motivation for wanting peace in Colombia, setting the goal for peace years before becoming president, the work that lead to peace negotiations, and the current "reconciliation" within the country. He explained that Colombia has an "imperfect peace because no peace is perfect because it's the product of a negotiation between human beings. You give and take. The most difficult decision in any peace process is where you draw the line between peace and justice." He talked about the difficulties of peace building as it requires persuasion, forgiveness, and recognizing your similarities and differences with others.
The DePauw Chapter brothers who attended the lecture took great interest in learning how Santos approached handling conflict with peaceful measures. For the men, it was a good lesson in how to handle conflicts within their lives and chapter with peace and understanding.
During a Q&A session following his speech, Santos touched on a number of other topics including trade wars, immigration, the conflict in Venezuela, and his belief that climate change is the current biggest threat to the world. One Delta Upsilon undergraduate also asked Santos how his fraternity experience influenced the man he is today.
"I'm a DU!" Santos exclaimed with pride before explaining how DU membership taught him the values of friendship, personal relationships and compassion. Just as his military service prior to college taught him love and discipline, his DU experience did the same. "Values in fraternities are values that will be with you all your life."
"Brother Santos is man of purpose and integrity," said DU Executive Director Justin Kirk, Boise State '00, who was on hand for Santos' visit to the chapter house. "It was clear seeing him interact with the DePauw Chapter members that Delta Upsilon has a special place in his heart, and I like to think DU's Principles of Friendship, Character, Culture and Justice have played a role in making him the man he is and all he has accomplished."