So It Goes
Brother Kurt Vonnegut's "Slaughterhouse-Five" Celebrates 50th Anniversary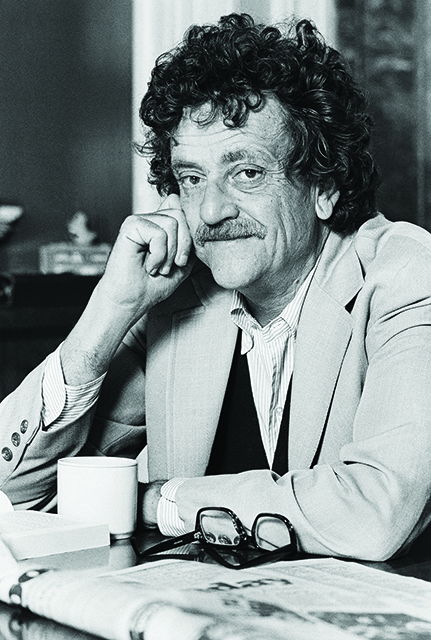 "Slaughterhouse-Five," written by Kurt Vonnegut, Cornell '44, is one of America's classic novels. The wild, part sci-fi, part historical fiction novel draws on some of Vonnegut's own experiences during World War II and is hailed by many as of one of the greatest anti-war novels of all-time. For many in the United States, it was required reading in school, but it has also been banned or challenged by many other libraries and schools throughout the country.
"'Slaughterhouse-Five' bookeneded the turbulent and growing anti-war sentiment of the 1960s, which began with Joseph Heller's 'Catch-22,' published in 1960," said Bill Briscoe, Purdue '65, who serves as Delta Upsilon's historian and the historian for the Kurt Vonnegut Museum and Library. "Suffering with the trauma of World War II, it took Vonnegut over two decades to finish his most famous novel. Published in 1969, at the height of the Vietnam War, it had a significant influence on the legions of protestors of that war."
The youngest of three children, Kurt Vonnegut Jr., was born Nov. 11, 1922, in Indianapolis. His grandfather and father, Kurt Vonnegut Sr., Technology 1908, were both architects who played significant roles in building many historic Indiana buildings, including Shortridge High School, which the young Vonnegut attended.
After high school, Vonnegut left Indiana to attend Cornell University and major in biochemistry. It was a major he didn't necessarily want, rather one his family thought would lead to a more practical career. Before long, however, Vonnegut became less interested in his studies and more involved in the student newspaper, first serving as a staff writer, then as editor. At the paper, many of his articles touched on politics, his support of pacifism, and his stance that the U.S. should not intervene in WWII. In May 1942, just months after the attack on Pearl Harbor, Cornell placed Vonnegut on academic probation, and he subsequently dropped out of school at the start of 1943. Then ineligible for student deferment from the war, Vonnegut enlisted in the United States Army in March of the same year knowing he would inevitably be drafted in the war he didn't support.
Vonnegut trained as a mechanical engineer and scout for the Army at various locations in the U.S. before being deployed as an intelligence scout with the 106th Infantry Division in fall 1944. He fought in the Battle of the Bulge and was captured on Dec. 22, 1944, along with 50 other soldiers. On their way to a prison camp outside of Dresden, Germany, the railcar he and other prisoners were in was bombed. Then, once in Dresden, he survived the February 1945 Allied attack that destroyed the city that killed 25,000 civilians. Just two months later, Vonnegut was rescued and returned to the U.S. where he later earned a Purple Heart for his service. Through his experiences, Vonnegut came to view WWII as a justifiable war and would revere all veterans and active service members for the rest of his life. However, he also became a vehement anti-war activist.
Much of "Slaughterhouse-Five" is drawn from Vonnegut's experiences in the war, his views on war and struggles with what, today, is called post-traumatic stress disorder. The novel's main character, Billy Pilgrim, is an American soldier who had experiences similar to Vonnegut in the war, particularly the railcar bombing and surviving the attack on Dresden. Pilgrim then becomes "unstuck in time" as a result of the experiences and is forced to relive moments of his life over and over again. It was Vonnegut's way of showing readers humans don't have to continue to make the same mistakes.
"In his writings, he did not attempt to give answers to life's problems but, rather, attempted to motivate his readers to actively participate in working on the problems of the world regardless of whether their opinions agreed or disagreed with him," Briscoe said. "Standing on the sidelines and watching the world go by was not an acceptable way to live, in his view."
To celebrate the 50th anniversary of "Slaughterhouse-Five," the Kurt Vonnegut Museum and Library (KVML) partnered with Penguin Random House, the Indiana State Library and others to give up to 86,000 complimentary copies of the novel to high school sophomores in Indiana, as well as to schools and public libraries in the state. In its day-to-day operations, the organization also provides resources on teaching Vonnegut in the classroom; offers writing workshops; travels to schools, prisons and other museums to present programs about Vonnegut; shares resources with veterans; publishes an annual literary journal; and more.
In 2019, KVML is finalizing the purchase of a building near Indianapolis' cultural trail and the Indiana University-Purdue University Indianapolis campus for a new Vonnegut museum. Here, visitors will view Vonnegut artifacts and memorabilia, a permanent "Slaughterhouse-Five" exhibit featuring information about the war, artwork from veterans, an exhibit on the First Amendment and freedom of expression, a classroom, a Vonnegut-themed Bluebeard café, and more. To learn more about KVML and its programs or to make a donation, visit www.vonnegutlibrary.org.
"The new building will give us space to adequately honor Vonnegut, as well as give us a gathering space to exchange ideas and thoughts," Briscoe said.
"Slaughterhouse-Five" turns 50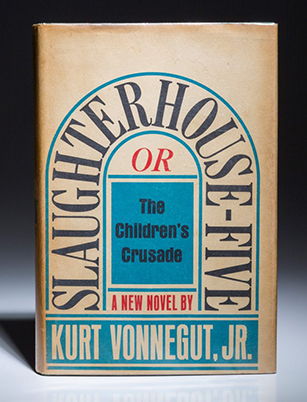 "Slaughterhouse-Five" was first published March 31, 1969, and authored by Delta Upsilon Kurt Vonnegut, Cornell '44. While his most recognizable work, "Slaughterhouse-Five" was not his first. In total, Vonnegut authored 14 novels, more than a dozen short fiction collections, as well as several works of nonfiction. Here is a list of Vonnegut's novels and the years of their release.
Player Piano (1952)
The Sirens of Titan (1959)
Mother Night (1961)
Cat's Cradle (1963)
God Bless You, Mr. Rosewater (1965)
Slaughterhouse-Five (1969)
Breakfast of Champions (1973)
Slapstick (1976)
Jailbird (1979)
Deadeye Dick (1982)
Galápagos (1985)
Bluebeard (1987)
Hocus Pocus (1990)
Timequake (1997)