Steve Rowley Retires After 22 Years at Helm of DU Educational Foundation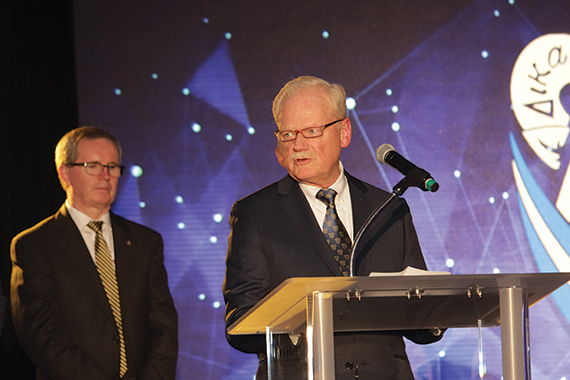 In 1992, a simple donor visit changed the trajectory of the Delta Upsilon Educational Foundation. In this visit, then Foundation Development Director Richard Holland, Syracuse '83, met with alumnus Stephen Rowley, Ohio '65, to talk about Delta Upsilon and ask for Steve's support. Little did either man know at the time, that ask would turn into nearly three decades of financial and volunteer support for the DUEF. At the 2019 Leadership Institute in Indianapolis, Brother Rowley retired after 26 years of service on the DU Educational Foundation Board of Trustees, with the last 22 years as Chairman of the Board.
"I realize now that all we needed to do to deepen Steve's involvement in DU was to simply ask him to help," Rick said.
Just a year after that initial fundraising ask, Steve joined the Board of Trustees in 1993. He was quickly appointed Treasurer of the Board, then became the ninth Chairman in the history of the DUEF in 1997. Over the next 22 years, the DUEF would grow in size and scope, increasing its fundraising totals and expanding its endowment funds, which now includes more than 40 different funds for educational programs and tuition scholarships.
For Foundation Board and staff members, Steve served as a constant source of inspiration and guidance. He was known for his kindness, warmth and integrity. In addition to his leadership, he provided coaching to staff on an almost weekly basis on how to strategically and operationally advance the mission of the Foundation. As a business executive, Steve drew on his experiences in strategic planning, direct marketing, sales, general management and business organization to guide and coach. Now retired, Steve has served professionally as the President and CEO of Paragon Holdings, Inc., as well as CEO of Day Timers, Inc.
Recognizing that the work of the Educational Foundation and International Fraternity go hand in hand, during his tenure, Steve worked to strengthen relationships between the two entities, which in the past, had not always worked closely together. Steve was a frequent facilitator at DU educational programs, would lead joint strategic planning sessions for both the Fraternity and Foundation Boards, and was integral in overhauling the structure of the staff in 2014 to put the Fraternity and Foundation under one Executive Director.
"Of all the people that I can think of that are related to the DUEF, Steve has probably had the greatest impact on us," said Foundation Vice-Chairman Craig Franz, Ph.D., Bucknell '75. "He is an executive coach who brings all of his experience to the table. He is someone who has really enabled us to move forward as an organization."
During the 2019 Leadership Institute's Grand Banquet, Delta Upsilon took time to specially recognize Steve for his service, presenting him with a brief tribute video, a DU charm for his wife Sharon, and a gift basket including notes from more than 20 individuals. It was also announced that more than $10,000 in gifts to the Foundation were made in recognition Steve's work and that the Foundation for Fraternal Excellence would be honoring Steve as the 2019 recipient of its Outstanding Volunteer Award. FFE, formally known as the NIC Foundation, is an organization that exists to help fraternities and sororities grow their foundations.
Always one to put student development first, it was fitting that in his remarks to the LI crowd, Steve gave a final thank-you to Delta Upsilon's undergraduates.
"And thanks to all of you and those who have come before you because you are the reason that DU volunteers do what we do," Steve said. "We are trying pay back—and pay forward—for the Principles and values that we learned and we live, and for the leadership skills we developed as undergraduates in Delta Upsilon."