Steve Rowley Retires as Educational Foundation Chairman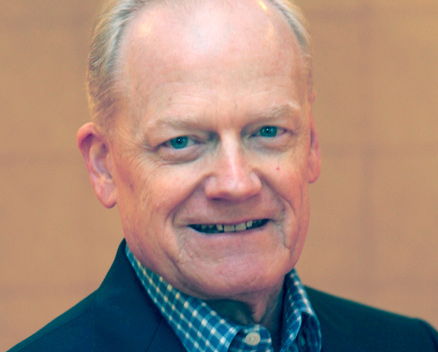 July 30, 2019 - After 22 years as Chairman of the Delta Upsilon Educational Foundation, Steve Rowley, Ohio '65, has retired from service on the Foundation's Board of Trustees. Lewis Gregory, Kansas '75, will now helm the organization.
Brother Rowley joined the Educational Foundation's Board of Trustees in 1993, soon becoming the Foundation Board Treasurer. Then, in 1997, he became Chairman of the Board of Trustees. During his 22-year tenure in the role, Steve left an indelible mark on Delta Upsilon. His leadership helped garner more gifts each year and led to the creation of more than 40 endowment funds to support educational programs and tuition scholarships. Other accomplishments include growing and strengthening the Foundation board and volunteers; expanding the partnership between the Fraternity and the Foundation, including merging the staffs of the entities; increasing the Annual Loyalty Fund by 100 percent; establishment of a permanent endowment; and a 380 percent increase in the Foundation's overall net assets.
"Steve's humility, his quiet confidence, strong character and level-headed manner, have had an incalculably positive effect on the way the Foundation functions. It's no surprise that his tenure as Chairman spans two decades – a testament to his enduring popularity as a leader and a friend," said Richard M. Holland, Syracuse '83, former Foundation Trustee and Delta Upsilon Headquarters staffer.
Brother Rowley is a retired business executive who specialized in strategic planning, direct marketing, sales, general management and business organization. He served as President and CEO of The Paragon Holdings Inc., as well as CEO of Day Timers, Inc. Steve and his wife, Sharon, reside in Scottsdale, Arizona.
During the 2019 Leadership Institute, Steve's outstanding leadership was recognized. Delta Upsilon presented him with more than 20 letters from individuals thanking him for his service, a special DU charm for his wife, and the announcement of more than $10,000 in gifts to the DUEF in his honor. It was also announced at the Leadership Institute that Steve will be named a 2019 recipient of the Outstanding Volunteer Award from the Foundation for Fraternity Excellence. FFE is an organization that exists to help fraternities and sororities develop and grow their foundations through programming, networking, and research sharing.
With Steve's retirement, Brother Lewis Gregory will take over the role as Chairman of the Board of Trustees. Lewis joined the Foundation Board in 2002 and has served the organization as Secretary. Prior to his involvement with the DUEF, Lewis served the Fraternity as a Leadership Consultant after graduation, as an alumni chapter President and Treasurer, a Province Governor, and a member of the International Fraternity's Board of Directors.
Brother Gregory lives in Kansas City, Missouri with his wife, Laura, and serves as a Senior Vice President and Private Client Advisor for U.S. Trust, Bank of America Private Wealth Management.