Strategies to Optimize Your Giving
By: Lewis Gregory, Kansas '75
When it comes to charitable giving, there is no shortage of options for the causes, organizations or people you can support. For many, the decision to give involves a number of complex choices. Giving is more than dropping a crumpled bill or loose change into a bucket. There are many opportunities to contribute to causes and organizations that align with your philanthropic goals while also being conscious of your financial contributions.
In my line of professional work, I work with donors and families to develop strategic giving approaches that balance both philanthropic and financial goals. As Secretary of the Delta Upsilon Educational Foundation, we hope that our members choose to give back to Delta Upsilon. However, we also know that Delta Upsilon is just part of our donors' larger strategy. If you are looking to create or refine your philanthropic giving strategy, here are some great places to begin.
Balance philanthropic and financial goals: Ideally, your life goals and personal values should be integrated into your overall financial plan. To ensure that, you should discuss with your financial advisor what those goals and values are so that your advisor can be sure that your financial plan is set up appropriately. This will help you balance your desire and capacity to give with your long-term financial goals.
Evaluate your giving options: Find a cause or organization that aligns best with your personal values and interests. For many of us, that can include Delta Upsilon or organizations within our hometowns. It is important to consider these localized options as well as those throughout the U.S. and abroad.
Choose the best vehicle for giving: According to the 2016 Bank of America Study of High Net Worth Philanthropy, 35 percent of those who rated themselves as knowledgeable about charitable giving either currently or plan to use multiple giving vehicles—such as foundations, donor-advised funds, planned giving mechanisms and charitable trusts. These vehicles provide alternatives to donating directly to a charitable organization or cause, with each vehicle operating differently in the terms of tax benefits, the degree of control over grant-making and regulatory requirements. Sit down with your advisor to determine which vehicle works best for you. Many organizations, including the Delta Upsilon Educational Foundation, have a number of vehicle options.
Donate your expertise: Another growing trend in philanthropy is the donation of time or human capital. This can include participating in service days, volunteering as a guest speaker, serving as an advisor or mentor, and more. It can also include serving on a nonprofit board. If you're considering joining a nonprofit board, be sure to do your homework before agreeing. You should inquire about the mission and programs, financial status, board structure, member qualifications and responsibilities, governance, administration, and legacy.
Contribute within your estate plan: According to the 2016 U.S. Trust Wealth and Worth survey, 63 percent of respondents do not have a comprehensive estate plan. But through an estate plan, you can name an organization as the beneficiary of property—such as a bank account, life policy or retirement plan. Many of these options also provide tax benefits.
No matter your long-term goals, work with a dedicated philanthropic solutions team to identify specific goals and create a program that ensures your charitable vision is achieved. As Delta Upsilons, philanthropic giving is a testament to our character. Big or small, every gift has the ability to leave a lasting impact.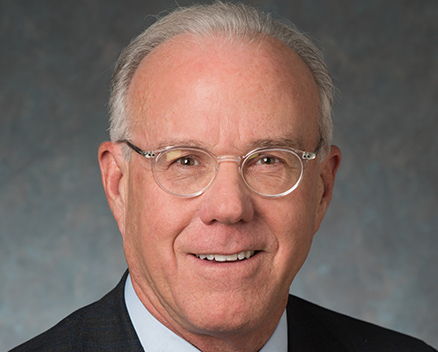 Lewis Gregory is an Institutional Client Advisor at U.S. Trust, Bank of America Private Wealth Management. He has obtained the Chartered Advisor in Philanthropy (CAP) designation. A 1975 University of Kansas alumnus, he is a past member of the Delta Upsilon International Fraternity Board of Directors. He has served on the Educational Foundation's Board of Trustees since 2002 and currently holds the position of Secretary.