On May 16, 2018, the Delta Upsilon International Fraternity Board of Directors announced the rollout of a substance-free housing policy, which will take effect Aug. 1, 2020. Letters were sent to all DUs, parents and university officials for campuses with active DU chapters. The policies are designed to create a healthy atmosphere for Building Better Men by creating safer events and living environments.
Dear Brothers and Friends,
Since Delta Upsilon's founding in 1834, we have prided ourselves as being a forward-thinking organization. Time and time again, we have made decisions based not on tradition, but on the application of our Four Founding Principles toward member development. That is why Delta Upsilon is the oldest non-secret, non-hazing fraternity. That is why we are viewed as an innovator among our peers.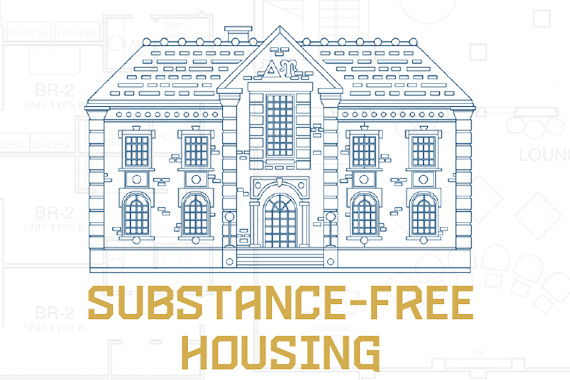 Today, the International Fraternity's Board of Directors announces the adoption of new policies aimed to further enhance our mission of Building Better Men. After careful consideration, the Board of Directors has passed a substance-free housing policy that will take effect Aug. 1, 2020. This means that within two years, no alcohol, tobacco or other drugs will be stored or used in a DU chapter facility, regardless of a member's age. To help chapters ease into this transition, beginning Aug. 1, 2018, all hard alcohol will be removed from chapter housing, and there will be stipulations on where beer and wine may be stored, consumed and distributed within a chapter house.
For more specifics on the policies, please view our Substance-Free Housing Overview and FAQ found at www.deltau.org/substance-free.
For the past year, the Board of Directors has been working to develop Delta Upsilon's next strategic plan. As a Board, it is our responsibility to position Delta Upsilon for success and ensure the Fraternity remains a relevant part of both our members' lives and the higher education landscape. In our recent discussions, we have spent considerable time addressing the culture of the fraternity/sorority community. It is no secret that is has been a trying few years. Even though we build leaders, prepare men for life and serve our communities, serious tragedies at prominent institutions have put fraternities under the microscope. While the major headlines were not about Delta Upsilon, we are not immune to such criticism and need to lead change. As a Board, our discussions kept coming back to how this culture impacts the environment within which our brothers live and grow. Delta Upsilon's past strategic plans have focused heavily on the educational programming needed for Building Better Men. The next plan must continue those efforts, but now more than ever, we must also address the environment in which we aim to build better men.
Delta Upsilon chapter facilities must be safe, productive places to live and learn at all times. While we understand these policies will not eliminate all risk, we firmly believe improving our environment will create long-term culture change that will benefit our chapters, members and campus communities in many ways. In the months and years ahead, the International Fraternity will work one-on-one with our chapters to implement these policies and address their concerns. We will hire a new staff member dedicated specifically to help with this transition. We have also been in consultation with substance abuse experts including Jason Kilmer, Washington '91, to develop resources and educational programming. In addition, we will join our peer fraternities with substance-free policies to advocate that other fraternities and campuses join us in this effort.
As we have been for 184 years, Delta Upsilon is committed to serving as a positive force in the lives of our brothers and the communities we call home. Removing alcohol from our facilities sends a clear message about our purpose, values and commitment to make campuses safe for all students. Should you have questions or comments regarding the substance-free housing policy and direction of the Fraternity, please email ihq@deltau.org.
Thank you for your support and continued dedication to Delta Upsilon's Four Founding Principles. Together, we are Building Better Men.
Dikaia Upotheke,


E. Bruce McKinney, Missouri '74
International Fraternity President


Robert S. Lannin, Nebraska '81
Chairman of the Board
Why Substance-free Housing?
The implementation of a substance-free housing policy is a pivotal moment in Delta Upsilon's history. For decades, fraternities and alcohol consumption have been viewed as synonymous in North American culture. Alcohol abuse has become part of the fraternal community's identity that must change for fraternities to survive.

Each fraternity in the North American Interfraternity Conference was founded with the purpose to provide space for thoughtful discussion, the exchange of ideas and the betterment of society. However, because NIC fraternities are known as "social fraternities"—Delta Upsilon was actually first named The Social Fraternity—many misinterpret the use of the word "social" and connect it with parties and socializing with others. Instead, "social" refers
to an interest in bettering society through group action, not being the center of the campus entertainment scene. The presence of alcohol in fraternity houses over time has masked the true purpose of fraternities and created a subculture of parties and substance use.

Understandably, many DU members feel the substance-free housing policy is an attack on the DU experience they know and love. However, what can be hard to see is that campus culture and student behaviors have changed dramatically from what most alumni remember. For a number of environmental, societal and generational reasons, alcohol and other substances now fuel the college environment, creating toxic cultures on many campuses.
The National Survey on Drug Use and Health's most recent report in 2016 shows that not only do college students consume alcohol at higher rates than those of the same age not in college, 1 in 7 young adults aged 18-26 suffer from an alcohol or substance use disorder. The National Institute on Drug Abuse also reports that the use of amphetamines in college-aged people has increased more than 30 percent in the last decade.
Alcohol also continues to play a role in other risky behaviors on college campuses. Many of the recent high-profile hazing and assault incidents involving fraternities have also involved alcohol abuse. In these cases, over consumption has led to serious injury, even death. Looking at Delta Upsilon alone, 86 percent of Loss Prevention violations in the 2017-2018 academic year involved alcohol, and 100 percent of the Fraternity's insurance claims since 2013-2014 have involved alcohol.
Because of this risky behavior, fraternities are under attack. Beyond media coverage, colleges and universities have taken bold actions against entire fraternity/sorority communities. In the past year, more than 30 campuses have implemented some type of temporary suspension on Greek communities. Some institutions have questioned the need for single-gender organizations, while others have cut funding for their Greek Life offices. At the state and federal level, legislation has been proposed to curb students' right to associate, with the potential to dramatically impact fraternities and sororities.
"The Fraternity's decision to move toward substance-free housing is not a knee-jerk reaction to negative press or minor incidents," said Bob Lannin, Nebraska '81, Chairman of Delta Upsilon International Fraternity's Board of Directors. "This decision is about student safety and providing our brothers with the best environments in which to learn. The Greek community has long had issues that must be faced. Fraternities and sororities have tremendous value, but at this moment in time, if we do not fix what is wrong in the fraternal culture, our futures hang in the balance."
The substance-free housing policy also draws on the Fraternity's founding purpose and mission: Building Better Men. Since 1834, Delta Upsilon has existed to supplement one's college education by providing additional personal and leadership development opportunities, whether through involvement in one's chapter activities or the International Fraternity's educational programs. While beneficial, these efforts alone are not enough. To enhance learning and development, the Fraternity is now turning its attention to the environments in which that learning takes place.

As of Oct. 30, 2018, 53 of DU's 76 chapters/colonies have chapter houses, with 85-90 percent of residents being under the age of 21. Removing alcohol from chapter facilities makes the living environments for these men safer, freer from distraction and more conducive to learning.
Feedback the Fraternity has received since making the substance-free housing policy announcement includes the notion that alcohol is a part of the college experience, and learning how to handle oneself and situations when consuming alcohol ties to DU's Founding Principles of The Development of Character and The Diffusion of Liberal Culture. The Fraternity wholeheartedly wants to provide brothers with the opportunities to develop character and learn about how to care for others. DU also wants that to happen in safe and healthy ways that follow the law.
"Through the DU educational programs that touch all members—like GreekLifeEdu and the Associate Member Education Program—as well through other chapter activities, our brothers are able to learn about accountability, bystander behavior and safe drinking practices," said new International Fraternity President Tom Durein, Oregon State '92. "These young men do not need to be put in dangerous situations that often violate the law, to learn these necessary skills. The Fraternity should not put our brothers in those situations."
The Fraternity recognizes that substance-free housing will not eliminate all risk. Students will still be able to access alcohol in other places. However, DU's strategy is rooted in prevention and creating long-term culture change. The Fraternity believes having chapters full of men who joined a substance-free chapter will lead to better decision-making in all areas of Loss Prevention.
Delta Upsilon's Substance-Free Housing Policies
By Aug. 1, 2018:
All chapters shall eliminate the presence, consumption and use of hard alcohol within chapter housing at all times.

The presence, consumption and use of beer and wine shall be limited to the private bedrooms of members who are of the legal drinking age. No alcohol will be allowed in common spaces of a chapter facility.

During a social event, alcohol possession and distribution must be restricted to common spaces of a chapter facility for the duration of the event. There will be no consumption of alcohol in private living quarters during social events.

Hard alcohol can only be provided and served by a licensed, third-party vendor at an off-site location. This means not at the chapter house or any chapter-related facility (e.g., annex).

By Aug. 1, 2020:
All chapters will have completed the transition to substance-free housing, including the removal of all alcohol and substances from private bedrooms.

Alumni will have the opportunity to host up to six pre-approved events in common areas of the chapter facility per year with licensed third-party alcohol vendors.

It is important to note these new policies do not mean that chapters cannot hold events with alcohol. They mean that by fall 2020, no alcohol will be present in chapter housing. Until then, the policies that took effect in August 2018 will help in the transition to substance-free housing. All events must remain in compliance with DU Loss Prevention Policy; national, state and local ordinances; host institution policies; and third-party guidelines.
"Hard alcohol" is defined as any distilled beverage containing more than 0.15 alcohol by volume (ABV).
"Substance-free" is defined as the elimination of the possession, use, distribution or consumption of all illegal and illicit substances, alcohol, tobacco, marijuana (regardless of state law) or controlled substances without an appropriate prescription issued to the user by a licensed professional.
When making the decision to implement a substance-free housing policy, the Board of Directors analyzed statistical data of DU chapters/colonies to inform the decision.

Utilizing chapter data from the 2017-2018 academic year, data shows DU chapters that already have substance-free facilities are some of the Fraternity's strongest chapters. They remain competitive with other groups and excel in numerous areas. Last academic year, two of DU's seven Sweepstakes Finalists, including the Sweepstakes winner, had substance-free facilities. Two more of last year's Finalists have early-adopted the full substance-free housing policy beginning in fall 2018.


The Board of Directors wanted to ensure that a substance-free housing policy would not hinder chapters' ability to remain competitive on campus. While each university's culture is different, and competitive parity cannot be standardized, the Board was satisfied with the statistics from DU's chapters with current alcohol-free housing policies, which reflect a variety of campus types.

Educational Programming
The International Fraternity recognizes that chapters are not equipped to transition to substance-free housing or address substance use/abuse overnight and that policy-making alone will not change member behavior when it comes to alcohol. As such, Delta Upsilon is developing resources to not only help chapters with the transition, but also new curriculum to address alcohol and substance abuse.
During the 2018 Leadership Institute, the International Fraternity began its educational programming around the substance-free housing policy. A panel discussion was held with all LI attendees, and multiple breakout session offerings for undergraduates and advisors addressed implementation techniques and best practices. Subsequently, at all future DU educational programs, similar sessions will be held regarding policy implementation.
The International Fraternity has also committed to developing new educational curriculum regarding alcohol and substance use. This new programming will supplement existing Fraternity programs, including GreekLifeEdu, and will be designed in consultation with subject experts including DU alumnus Jason Kilmer, Washington '91, one of the top minds on alcohol education in the fraternal community.
Resources and Support
Because each chapter has its own unique traditions, history and campus culture, DU understands transitioning to substance-free housing will not take a one-size-fits-all approach. Tailored approaches to each chapter will yield the greatest success.
To spearhead this effort, Delta Upsilon has hired Dominic Greene, Oregon '99, to serve as Director of Health & Safety Initiatives. In this role, his focus will be on policy implementation and working one-on-one with chapter members, advisors, alumni and campus officials to assist with the Fraternity's new policies. This includes helping chapters adjust or phase out current activities or traditions taking place in the chapter house prior to fall 2020. Greene will also assist advisors and house corporations in revising leases and repurposing any existing event space within chapter facilities.
Greene has an extensive background in higher education and the fraternity/sorority community. He has served as a campus-based professional, a past DU staff member and longtime volunteer, Vice President of Campus Operations for the North-American Interfraternity Conference, and as a trained speaker on alcohol education.
"With his background in higher education and familiarity with Delta Upsilon, Dominic is well-positioned to improve the health and safety of our members and guests," Lannin said. "We want all chapters to know they are being heard and supported as they transition to substance-free housing. Dominic will ensure that happens."
During the 2018 Leadership Institute, chapters had the opportunity to meet individually with Greene to discuss the policy and implementation. This fall, Greene has been developing resources and traveling the country to host focus groups with chapters.
As resources regarding policy implementation and educational efforts are developed, they will be shared with all chapters and available on the DU website at www.deltau.org/substance-free.
Values-based Recruitment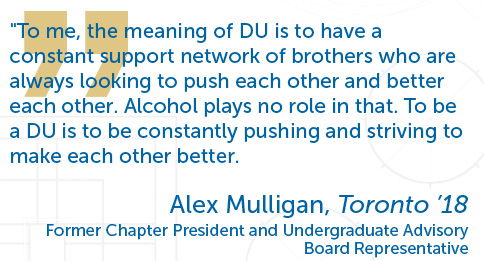 For many years, Delta Upsilon has promoted values-based recruitment to members. This means selecting men for membership who reflect the core values and Principles of Delta Upsilon and choosing recruitment activities that mirror those values. For chapters to be successful in implementing substance-free housing, values-based recruitment will be more important than ever.
"Recruitment is key," Durein said. "We cannot expect our brothers to accept DU's Principles as their own or understand our commitment to health and safety, if we aren't showing that to them from day one. From the start of the recruitment process, we need to sell them the experience they are going to get. When we do this, we will have brothers who are bought into the mission of the Fraternity and are here for all DU has to offer, not just a social experience."
Thankfully, the attitudes and beliefs of Generation Z (those born from 1995-2010) will be attracted to a values-based recruitment model and substance-free housing environment. Studies show that Gen Z students are coming to college less likely to engage in dangerous drinking activities, are more globally-minded and conscious, and are entrepreneurial, thus looking for a personal and professional development experience.
"It is important to note that the chapter leaders who will be tasked with implementing substance-free housing are likely men we have not yet recruited," Greene said. "A crucial part of planning in advance for substance-free housing is recruiting the right men to lead the charge."
Community Change
Delta Upsilon is not alone in focusing its attention on providing healthy and safe environments for students. Several other fraternities (including Sigma Phi Epsilon and Beta Theta Pi) have also implemented or announced substance-free housing policies, and on Aug. 21, 2018, the North American Interfraternity Conference adopted a standard that will ban hard alcohol from all NIC fraternity houses by fall 2019.
"At their core, fraternities are about brotherhood, personal development and providing a community of support. Alcohol abuse and its serious consequences endanger this very purpose," said Judson Horras, NIC President & CEO, in a press release regarding the policy. "This action shows fraternities' clear commitment and leadership to further their focus on the safety of members and all in our communities."
Community-wide changes will only enhance DU's policymaking and educational efforts as more fraternities remove hard alcohol and other substances from chapter housing. Additional Health & Safety Standards from the NIC are currently being piloted and will soon be implemented on campuses across North America. Even non-NIC member fraternities, like Tau Kappa Epsilon, have announced hard alcohol bans that mirror the NIC standard.
"It is clear that the fraternal community is seeing the need for change," Durein said. "Delta Upsilon and our peer fraternities understand that we cannot operate in a vacuum. For campus cultures to truly change, all fraternities must work together to ensure our members and friends are safe. We must also have the support of our host institutions to help us enforce policy and reaffirm our educational efforts. DU must, and will, take an active role in this advocacy."
DU Success Story
Delta Upsilon currently has 19 housed chapters that are implementing the substance-free housing policy. Data shows that these chapters are some of the Fraternity's top performing groups. In fact, two of DU's perennial Sweepstakes Finalists are thriving with substance-free housing policies within Greek communities that are not substance-free. The Kansas State and Iowa State Chapters prove that not only can DU chapters can still be competitive on campus (in recruitment, GPA, fundraising and more) with substance-free housing, but also that creating and maintaining a healthy environment are key ingredients to that success.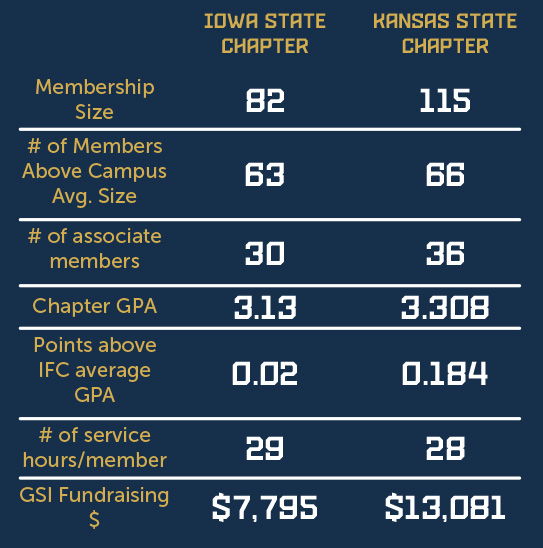 Chapter President Joshua Robinson, Kansas State '19, talks about the benefits his chapter has seen from having substance-free housing.
What are some of the benefits the Kansas State Chapter has seen from being substance-free?
I think the biggest benefit would be the environment it allows us to operate in. Our house is a place that allows us to study at any given time of the day. We don't have to worry about people being overly rowdy on a random week night. It has also allowed us to keep our house in a lot better condition since we don't have hundreds of college students over on the weekends.
How has being substance-free has helped the chapter with recruitment?
Typically, the first thing that potential new members and their parents point out is how much nicer our house is in comparison to others. We have a lot of PNMs complain about how bad other houses smell, stains on their carpets, holes in the walls, etc. Another thing that has helped with recruitment is the overall perception of the chapter. We try and recruit well balanced men: smart, athletic, motivated, and easy going. These guys usually appreciate the fact that they don't have to be around alcohol 24/7 and feel pressured to drink. This way, they can focus on the reason why they came to college, to get an education.