On Jan. 28, 2017, the Colonization Ceremony was held for the Delta Upsilon's colony at Syracuse University. Originally installed in November 1873, the new colony has seen fast success in large part thanks to a dedicated alumni base. Sixty men were pledged into the Fraternity during the Colonization Ceremony, and as of our publication date (Feb. 27), the group aims to recruit 20+ members this spring.
The Colonization Ceremony was held in beautiful Hendricks Chapel on the Syracuse campus with a reception following in the Hall of Languages. Nearly 100 alumni and guests were in attendance.
In January 2017, Delta Upsilon's expansion efforts at Florida International University officially began. Located in Miami, FIU is the city's only public research university. With 54,000 students, it is also the 10th largest public university in the country. As of our publication date, the colony had 35 members and is steadily increasing in size. The group's Colonization Ceremony was March 3, 2017.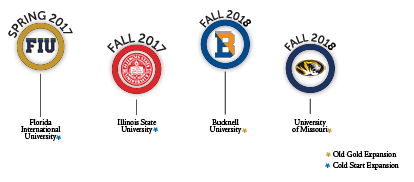 If you would like to be involved in helping with a DU colony, contact Senior Director of Chapter Development Dominic Greene at greene@deltau.org.