Syracuse Chapter to Reinstall Jan. 27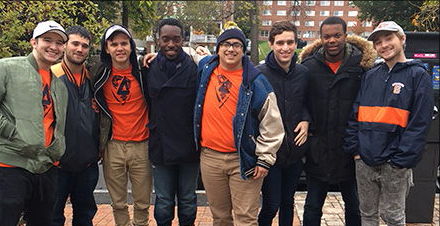 Delta Upsilon's Syracuse Chapter is set to Reinstall Jan. 27, 2018, at the Hendricks Chapel on campus.
Last fall, Delta Upsilon began the expansion process at Syracuse. Quickly, the group reached its recruitment goals, and the Recolonization Ceremony was held Jan. 28, 2017. The Syracuse Chapter was originally installed Nov. 14, 1873. It remained open for nearly a century, closing in 1971, then reopening in 1976. It closed again in 1996.
The Syracuse Colony members and alumni invite those interested in attending to the Reinstallation Ceremony, Rite II of Initiation and a celebratory reception.
Syracuse Reinstallation Ceremony
Date:
Jan. 27, 2018
Time:
7 p.m.
Location:
Hendricks Chapel on the Syracuse University campus. A reception will follow in HoL Room 500. Parking will be available at the Hendricks Chapel
Please RSVP by Jan. 15,2017 to Alumni Outreach Chairman Andrew Marques at amarques@syr.edu.
For those attending from out of town, lodging is available at the Sheraton Hotel on campus Jan. 26-29 at a special rate of $119 per night. Call (315) 475-3000 and ask for the "Delta Upsilon Block" to secure that rate.