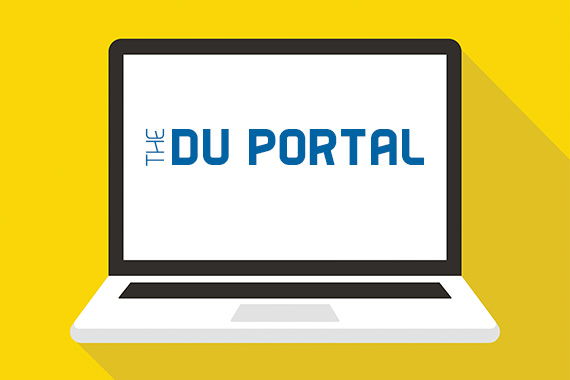 In a groundbreaking announcement at the 2023 Leadership Institute in Kansas City, Delta Upsilon unveiled a transformative new tool that is set to redefine the Fraternity's operations. With the help of technology and strategic partnerships, the DU Portal is set to automate numerous aspects of DU's operations, enhance the member experience, and bolster educational programming.
The DU Portal will serve as a membership hub for Delta Upsilon. Through the DU Portal, all members and volunteers will be able to view and update their contact information and communications preferences with the International Fraternity. On the chapter level, each DU chapter and associate chapter will have access to view and update their membership roster, view and update chapter officers and advisors, pay dues and other invoices to the International Fraternity, and even track recruitment leads and prospects through a recruitment pipeline tool.
Previously, all contact information changes and chapter membership updates—like associate member and initiate reporting, as well as other roster updates—were collected through a basic online form and then had to be manually entered to the Fraternity's database by a member of the International Headquarters staff. Because the DU Portal integrates with the Fraternity's new Salesforce database, not only are the reporting forms and processes more streamlined, but also all updates made in the DU Portal are now made in the Fraternity's database in real time, saving significant staff time and allowing members to see the updates as they happen, ensuring receipt and accuracy.
Executive Director Justin Kirk expressed the Fraternity's excitement, stating, "Delta Upsilon is proud to partner with ChapterSpot to launch the DU Portal. For several years, we have worked to find a system that would integrate our chapter reporting to our database so we could ease the workload of our staff and also provide a better user experience for our members. Post-pandemic, we have seen a growing need and want from our membership to have a better online experience, and the DU Portal is the first step in providing that experience."
Features for all members
The DU Portal is designed to cater to the needs and interests of all Delta Upsilon members, whether they are an associate member, undergraduate, alumnus or DU volunteer.
1. Manage Personal Information
The DU Portal will allow all members and volunteers to view and update their personal information with the Fraternity. This includes their contact information, education history and employment history. In the future—fall 2024 being the goal—you will also be able to view your individual giving history to the DU Educational Foundation.
2. Membership Directory – coming in fall 2023
A Membership Directory or Brother Search as long been a wanted feature for DU alumni. The DU Portal will include a comprehensive membership directory, making it easy to find and contact other DU brothers.
3. Event Registration – coming in fall 2023
Attending an in-person DU educational program is a highlight for any undergraduate or DU volunteer. Soon, event registration for all of DU's in-person programs will happen through the DU Portal's event registration system.
Key chapter reporting features
While the DU Portal caters to all members, it offers a wealth of features specifically designed to empower chapter officers and advisors, helping them lead their chapters more efficiently and effectively.
1. Chapter Reporting
Streamlining chapter reporting has long been a goal for DU, and the DU Portal delivers on this front. At any time, an undergraduate member can now log into the DU Portal and view their chapter's current membership roster, and certain chapter officers are able to make updates in real time. That includes noting if someone has graduated or resigned, as well as adding new associate members and reporting when they have been initiated. This functionality ensures that chapters maintain accurate records and meet national reporting requirements.
2. Recruitment tools
Recruitment is a cornerstone of fraternity/sorority life, and the DU Portal equips chapters with powerful recruitment tools. Any undergraduate member can enter a new potential new member (PNM) into their chapter's recruitment pipeline and offer notes about the individual. Chapter officers can then manage PNMs, schedule recruitment events, and track recruitment metrics, making the recruitment process smoother and more data-driven.
3. Enhanced Financial tools
Chapter Vice Presidents of Finance will appreciate the advanced financial tools within the DU Portal. Chapters can now make payments to the International Fraternity directly through the DU Portal and view their invoices and balances in real time.
Virtual Programs
In addition to the Fraternity's partnership with ChapterSpot for the DU Portal, Delta Upsilon has also partnered with Plaid, a virtual education platform, to offer online educational programming. The Plaid portal can be seamlessly accessed through the DU Portal, offering members a wealth of educational resources under one user login.
1. Tightrope/Highwire
All associate members will complete Plaid's Tightrope program before initiation. This program covers essential topics such as alcohol and substance abuse prevention, hazing prevention, sexual assault prevention, and mental health awareness. It equips new members with the knowledge and skills they need to navigate fraternity life responsibly and safely. Highwire is a sister program to Tightrope and is geared for students who made need additional health and safety programming.
2. Big Brother Training Program
Developed by the North American Interfraternity Conference and Plaid, the Big Brother Training Program ensures that experienced members are well-prepared to guide and support their newer brothers.
3. Cultural Competencies program
With the Diffusion of Liberal Culture as one of Delta Upsilon's Four Founding Principles, Delta Upsilon is committed to equipping its members with cultural competencies. DU will pilot this program with certain chapters in 2023-2024 to help members understand and appreciate diversity, fostering an inclusive environment within DU.
How to access the DU Portal
All DU members and volunteers with a valid email address on file with the International Fraternity will receive an email invitation to the DU Portal with instructions on claiming your account. These email invitations will be staggered.

Week of Aug. 14 - International Fraternity volunteers, undergraduate chapter officers, advisors, alumni chapter officers
Week of Aug. 28 - All undergraduate members and associate members
Week of Sept. 11 - All alumni
All new associate members will receive their invites as soon as they are reported to IHQ by the chapter through the DU Portal.

If a member does not have an active email on file with the International Fraternity, they can manually claim their account by going to https://portal.deltau.org and clicking "Sign Up." From here, the individual will be asked to provide information (such as first and last name, chapter, birthday, etc.) that can be matched to their record in DU's database. They will then provide an email that can be added to their account and be used to send the DU Portal email invitation.
To log into the DU Portal, all users will register for an FSID, which will be used to log into the DU Portal. FSID stands for Fraternity-Sorority ID. Our partners at ChapterSpot also manage portals for a variety of interfraternal services. Your FSID would work as a universal login (also known as single sign-on) for other sites using FSID, including Plaid.
Once logged into the DU Portal for the first time, all users will be promoted to update/confirm their preferred contact information.