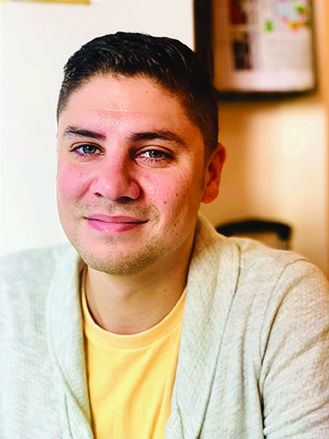 The New Year's resolution was vague: Money. The outcome was financial literacy and a way to pay it forward.
At the start of 2018, Frankie Calkins, Washington '07, found himself in a situation similar to many of today's 30-somethings. He was at a time in his life where he'd once thought he would be more financially stable. Yes, he had a full-time job, was making ends meet, and living fairly comfortably. However, he was also saddled with student loan and credit card debt he didn't know how to get out of. Thanks in part to lack of financial education and the Great Recession, which hit right after he graduated college, Frankie was in a tough financial spot. By 2018, he knew something needed to change with his money, but he had no idea where to begin. … Enter his resolution.
Frankie began by doing some research, much of it online. From there, he started documenting the steps he was taking to set himself on the right path via a string of simple entries in his iPhones Notes app. Lists of what he did in January. Lists of what he did in February, and so on. It was a way to both inspire himself to keep going and hold himself accountable.
By the end of the year, Frankie had come a long way. As he looked back on all his notes, he thought to himself, "This is really good stuff." He wished he'd had these notes when he started his journey. So, in mid-December 2018, Frankie took his notes and began to organize them into categories to document his stories and tips. Two months later, in February 2019, Frankie's self-published book, "The Money Resolution: 101 Ways to Save Money, Make Money & Get Out of Debt in One Year," hit Amazon.
"It's the book I wish someone else had written for me," Frankie said.
"The Money Resolution" is categorized by topic with chapters on investing, insurance, travel, frugality and more. Each chapter lists the things Frankie tried related to the chapter's topic and chronicles his stories with them. In total, the book details the 101 steps Frankie took, even offering a complete checklist at the end to help readers follow along and take action.
"The one thing I want to make clear is this is not a promise to get out of debt in one year," Frankie said. "What it is, is 101 tips, skills, ideas and strategies that you can actually execute in a year. I challenge the reader at the very beginning. I say, 'Here are 101 things I did or tried. I didn't succeed at all of these things, but here is what I learned and recommend.'"
Throughout his money journey, one of Frankie's biggest takeaways was that you have to be able to look your financial self in the mirror, understand where you are at, and take action. Everyone's situation is different. It's about not being scared to look up your credit score, track your debt and net worth, or learn about the interest rates on your loans. According to Frankie, when you educate yourself and set lots of small, attainable goals, you will start to see results.
"For the first time ever, I have learned what freedom feels like," Frankie said. "I no longer feel stuck. To be able to see a light at the end of the tunnel, not just a light at the end of the work week, has really changed everything."
A former high school teacher turned marketing professional, Frankie has now resolved himself to become a life-long learner about finances and continue to help others along the way. In addition to his book, Frankie has set up themoneyresolution.com with blog posts and videos that provide more tips and insight. Later in 2019, he hopes to publish two more books. One will dive deeper into topics like student loans, home buying and investing. The other will be geared toward high school students.
"As a society, we don't talk about money, and it's become such a taboo subject," Frankie said. "I want people to start feeling comfortable in talking about money in a transparent way. I think it is all about learning, sharing and not being ashamed of your personal finances. You have to know there are resources and ways to get out of your hole, and you will."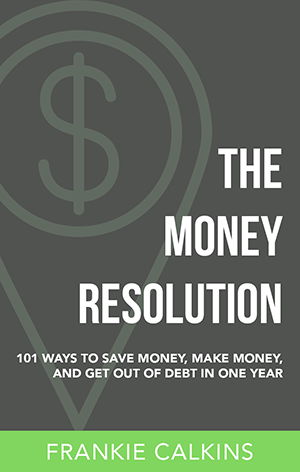 In "The Money Resolution: 101 Ways to Save Money, Make Money & Get Out of Debt in One Year," Frankie Calkins, Washington '07, shares his journey toward financial freedom and the steps he took along the way. The book offers 101 tips, skills, ideas and strategies someone can actually execute in a year.
Frankie knows each person's situation is different and there isn't a single silver bullet or tip everyone should use. However, if you want to start to take hold of your financial future, here are some of Frankie's top tips.
Set your financial goals and revisit them frequently.
Ask for a raise or get a new, better paying job.
Find out your credit score and create a plan to improve.
Get completely out of credit card debt using the snowball approach.
Save 3 months worth of expenses into an easy-to-access emergency fund.
Open up and max out a Roth IRA annually. Be sure it's invested.
Max out your 401(k). Start with a "match" and increase 1% monthly.
Chose a HDHP (High Deductible Health Plan). Max out your HSA (Health Savings Account). Invest funds over $1,000.
Find a side hustle – active and/or passive income.
Pay it forward with your time and/or money.
Find "The Money Resolution: 101 Ways to Save Money, Make Money & Get Out of Debt in One Year," on Amazon. Check out themoneyresolution.com and "The Money Resolution" on YouTube.