The Sports Issue
Coaches. Athletes. Team Executives. Delta Upsilon brothers can be found all across the world of sports. Take a look at a few of the many DUs who are succeeding on and off the field.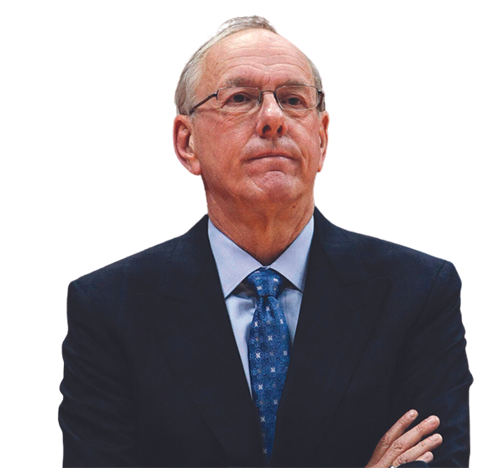 In sports, there are names that are synonymous with certain teams. Jim Boeheim and the Syracuse Orange are one of those pairs.
For almost six decades, Jim Boeheim played a role for Syracuse University's men's basketball team. He spent three years as a player (1963-1966), seven years as an assistant coach (1969-1976), and the past 47 years (1976-2023) as head coach. Though he announced his retirement in March 2023, Boeheim's legacy will live on as part of college basketball lore.
During his time as head coach, Boeheim led the Orange to 33 NCAA Tournament appearances, including 20 Sweet Sixteens, seven Elite Eights, five Final Fours, three national title games, and one national championship. Boeheim was named Big East Coach of the Year four times, as well as Naismith College Coach of the Year in 2010. Though not without scandal (the team had 101 wins vacated and Boeheim was suspended for the first nine games of the 2015-2016 season for NCAA infractions), Boeheim retired with 1,015 wins for Syracuse, which places him second on the NCAA Division I men's basketball list behind Mike Krzyzewski from Duke University.
In addition to his work in college athletics, Boeheim has been a coach for several USA national teams, including as an assistant for the 2008 and 2012 men's basketball Olympic teams, which both took home gold medals. He served as chairman of the USA Basketball Men's Junior National Committee from 2009-2012 and as president of the National Association of Basketball Coaches from 2007-2008.
"I can't think about basketball without thinking of Jim Boeheim," said college basketball analyst Jay Bilas following Boeheim's retirement announcement.
For those in the Syracuse community, Boeheim has meant much more than merely a basketball coach. He's a neighbor. Boeheim has lived in Syracuse his entire adult life and plans to stay post-retirement. Boeheim was a regular at campus events, often being found in the stands supporting other athletic teams. Boeheim even served as Syracuse's men's golf coach from 1967-1973. A prostate cancer survivor, he and his wife also give back through their own Jim and Juli Boeheim Foundation that focuses on child welfare, as well as cancer treatment and prevention.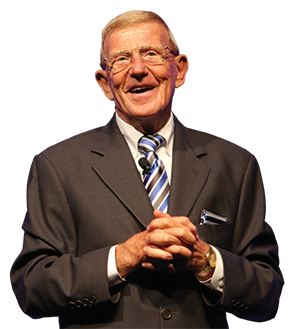 For generations of college football fans, Lou Holtz is a household name. Most known for his 11 seasons leading the Notre Dame Fighting Irish, Holtz spent nearly every year from 1960-2004 on the sidelines serving as an assistant coach for five schools and as the head coach for six more. (Plus one year in the NFL as coach of the New York Jets.)
Over the course of his college head coaching career, Holtz racked up a 249-132-7 record, a national championship in 1988 with Notre Dame, 12 bowl wins, and seven national coach of the year awards from various entities. In 2014, he was enshrined in the College Football Hall of Fame and was presented with the U.S. Presidential Medal of Freedom in 2020.
In addition to his work on the field, Holtz has worked as a college football analyst for both CBS Sports and ESPN. He has also written or contributed to 10 books.
Hall of fame coach, broadcaster, author. Lou Holtz has done it all.
Thurman Munson
Kent State '69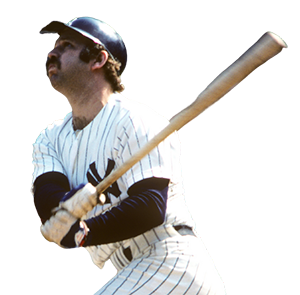 There are many accolades one can receive in baseball. World Series Champion, Most Valuable Player, Gold Glove winner. Thurman Munson received each of those during his career. He also has a distinction only 15 other players have ever received—serving as captain of the New York Yankees.
Munson was selected by the Yankees with the fourth overall pick in the 1968 Major League Baseball draft and made his major league debut in August 1969. It didn't take long for the catcher to become a star. He won the American League Rookie the Year Award in 1970, made his first of seven All-Star games in 1971, and won three consecutive Gold Glove Awards from 1973-1975. At the start of the 1976 season, Munson was named Yankees captain (the first captain since Lou Gehrig retired in 1939), and he ended that season as the American League MVP. Munson then led the Yankees to World Series championships in 1977 and 1978.
Munson's career was cut short following his untimely death on Aug. 2, 1979, after crashing his airplane near his home in Ohio. Upon his death, the Yankees immediately retired Munson's number, and he is enshrined in the Yankees' Monument Park.
Holtz-Munson Award of Merit in Sports
Delta Upsilon's Awards of Merit are presented to esteemed members of the Fraternity who have exhibited excellence or notoriety in their profession. The Fraternity has created 10 different Award of Merit categories, and each is named for one or more alumnus in that field. In 2015, Delta Upsilon presented the inaugural Holtz-Munson Award of Merit in sports, named after Lou Holtz, Kent State '58, and Thurman Munson, Kent State '69.
Peter Ueberroth
San Jose '59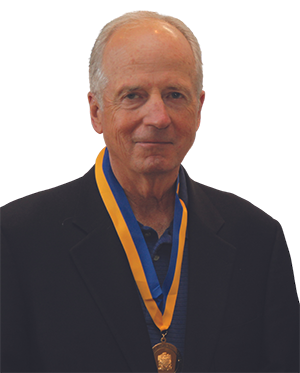 Peter Ueberroth is one of the United States' most well-known sports business executives. He served as President of the Los Angeles Olympic Organizing Committee for the 1984 Olympics, Commissioner of Major League Baseball from 1984-1989, and President of the U.S. Olympic Committee from 2004-2008. Ueberroth is also a part of a group that owns Pebble Beach Golf Links.
While heading the 1984 Summer Olympics in Los Angeles, Ueberroth lead a committee of more than 150 members to plan the games and create a sponsorship program that is credited as the framework for today's Olympic sponsorship program. It was the first privately-sponsored Olympic Games in history. Due to the success of the 1984 Games, he received the Olympic Order from the International Olympic Committee and was named TIME magazine's Man of the Year.
As the sixth commissioner in the history of Major League Baseball, Ueberroth was instrumental in bringing an end to the 1985 strike, increasing minority hirings, and signing lucrative TV contracts.
As a student at San Jose State University, Ueberroth was a member of the water polo team, in addition to Delta Upsilon. Prior to his work with the Los Angeles Olympics and Major League Baseball, he served as vice president and shareholder for Trans International Airlines and founded his own successful travel company, First Travel Corporation.
Delta Upsilon honored Brother Ueberroth with its Distinguished Delta Upsilon Award in 2013, the highest Fraternity honor for an alumnus.
Colgate Chapter
45 members on 2022 Football Roster
The Colgate Chapter currently has 54 members, 45 of whom were a member of Colgate University's football roster this past academic year. That's 83% of the chapter and 45% of the football team. (Plus an additional member who is a part of the track and field team.)
For years, the Colgate Chapter has had a large number of members as part of the university football team. While the time commitment for being both a student athlete and a fraternity man can be significant, Chapter President Connor Augusta, Colgate '24 (a tight end on the team), says the brotherhood built on the field is an easy transition into the chapter.
"Most of the qualities that are found within an ideal DU potential new member are already found in the recruits our football program attracts," Augusta said. "Colgate finds ways to seek out those who want to improve themselves and each other, and our members simply highlight those efforts made by both the athletic program and our admissions staff."
With so many members on the team, the chapter has a unique respect for one another's time that is helpful when planning chapter events. It allows members to hold each other accountable as teammates and as brothers.
"Every busy day is worth its weight in gold to make sure that our chapter continues to grow and gather success both on and off the field," Augusta said, "and I feel like the role I play in that has allowed many of my closest friends to maximize their Colgate experience in a way that might not have been possible without DU."

Chuck Arnold
Washington State '93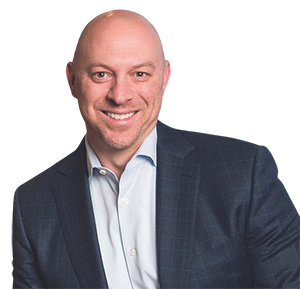 It takes a lot of work behind the scenes to run a successful sports franchise. For the past three decades, Chuck Arnold's work off the playing field has been vital to the Seattle Seahawks' success.
Arnold currently serves as president of the Seattle Seahawks and First & Goal, Inc. In this role, he is responsible for all financial and business operations, sales and marketing, and administration for the Seahawks, as well as the management of CenturyLink Field, CenturyLink Field Event Center, First & Goal Hospitality, and WaMu Theater. Basically, from the time a fan thinks about buying a ticket through when they leave the stadium on gameday, Arnold and his work has impacted almost very part of that person's Seahawks experience.
Arnold started his career with the Seahawks as a public relations intern and worked his way to president. Over the years, he has helped bolster ticket and merchandise sales, corporate sponsorships, concessions offerings and services for the Seahawks. Arnold was also instrumental in the construction of CenturyLink Field and the launch of the Sounders FC Major League Soccer franchise.
Rick Sund
Northwestern '73
When the Dallas Mavericks joined the National Basketball Association (NBA) in 1980, the brand new organization was full of fresh, young faces—including its general manager Rick Sund, who was just 28 years old. Sund held the role of Mavericks GM for the next 12 years, helping the team establish its footing in the league and build a roster that would reach the Western Conference Finals in 1988.
Following Sund's time in Dallas (where he also served vice president of basketball operations from 1992-1994), Sund moved on to roles with the Detroit Pistons (vice president of basketball operations from 1995-1998 and general manager from 1998-2000), Seattle SuperSonics (consultant from 1994-1995 and general manager from 2001-2007), and Atlanta Hawks (general manager from 2008-2012 and senior advisor of basketball operations 2012-present).
Rick Venturi
Northwestern '68
For 35 years, Rick Venturi called the sidelines of the football field home. The long-time assistant coach worked with three different college teams (Purdue, Illinois and Northwestern) and four different NFL teams (Baltimore/Indianapolis Colts, Cleveland Browns, New Orleans Saints and St. Louis Rams), holding head coaching roles for Northwestern (1978), the Colts (1991) and the Saints (1996). Today, Venturi is at home behind the microphone, serving as the Colts' radio color analyst and host of the team's online series "Inside Football with Rick Venturi."
Chad Little
Washington State '85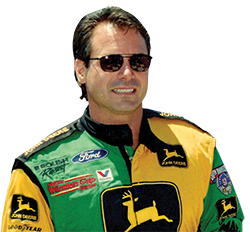 Not long after earning his law degree from Gonzaga University, Chad Little's career took a sharp left turn—into a career full of left turns—when he turned his hobby of autoracing into a career in NASCAR. Little made his NASCAR debut at the 1986 Budweiser 400 at Riverside International Raceway and finished his driving career with 217 NASCAR Cup Series races over 16 years (1986-2002) and 134 NASCAR Xfinity Series races over nine years (1992-2002). Today, Little serves as NASCAR's managing director of officiating and events where he helps manage race events as well as the penalty and appeal processes.
Darrell Royal
Oklahoma '49
You know you've had a successful career when a stadium gets named for you. From 1957-1976, Darrell Royal served as the head coach for the Texas Longhorns football team, leading the team to three national championships and 16 bowl appearances. In addition to serving as coach, Royal was Texas' athletic director from 1962-1980. He is a member of the College Football Hall of Fame and is the namesake of the Darrell Royal Texas Memorial Stadium.
The Rose Parade has been an American tradition since 1890 with millions of people watching the ornate, flower covered floats grace the streets of Pasadena, California either in person or on television. But as David Eads can tell you, there is so much more that is involved in the event. As the executive director and CEO of the Tournament of Roses since 2017, Eads leads the team that plans the Rose Parade; Rose Bowl football game; and more than a half dozen other events throughout the year including a youth forum, golf tournament and more.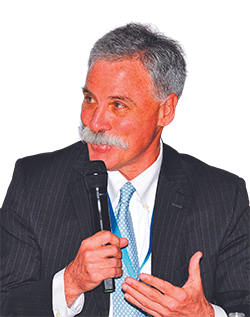 Televised sports are some of the most watched programs, and Chase Carey can be credited for getting more sports on your TV screen. As an executive with Fox, in 1994, he helped launch Fox Sports as the company acquired the broadcast rights for National Football League (NFL) games. Today, the Fox Sports division is responsible for games broadcast on Fox, Fox Sports 1, Fox Sports 2 and Fox Sports Radio.
Following his time with Fox, Carey served as co-COO of News Corporation and the CEO of DirecTV. From 2017-2020, Carey was the CEO and Executive Chairman of Formula One Group where he is credited with establishing a cost cap for the first time in F1 history.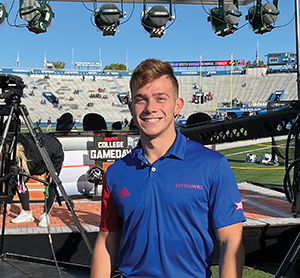 You have probably heard coaches and players talk about "watching film," but have you ever stopped to think about what that entails? Logan Matzke, a member of DU's associate chapter at the University of Kansas, can tell you. As a video student for the KU football team, he is part of a team of 12-15 individuals who are tasked with filming the team's practices, training and games so the film can be used for training, development and recruitment purposes. Each member of the video team has their own role filming different positions on the field.
"I think one of the most important things people should know is how important our role is to the team," Matzke said. "We may not directly be the ones winning or losing that game, but we are making an impact on the backside. That is secondary, but it definitely makes a major impact on the entire program."
Matzke landed his role thanks to his older brother who had also worked on the video team as a student at KU. When he graduated, Logan "slipped into that position" as a freshman. Now a junior, he has filmed countless practices and home games. He has even been able to travel with the team to games at Baylor University, University of Oklahoma, Oklahoma State University, Duke University and more. During the regular season each fall, Matzke works with the team around 4-5 hours per day, Monday-Friday, and occasionally on weekends. In the spring, the time commitment is 4-5 hours per day, three days a week.
"It's a lot," Matzke said of the time commitment. "Time management is really something I've developed over the last couple years. But it's fun. I enjoy doing it, and I wouldn't give it up for anything."
OTHER DU SPORTSMEN
There are far more DU brothers in sports than those featured in this issue of the DU Quarterly. It would be impossible to list them all. In our winter 2000 issue, the DU Quarterly featured "Delta Upsilon Sportsmen of the Century." Here are a few brothers from that list not featured in this issue. (You can find that back issue of the DU Quarterly at issuu.com/deltaupsilon.)

John Anderson, Cornell '31
1932 Olympic gold medalist in discus
Horace Ashenfelter, Pennsylvania State '49
1952 Olympic gold medalist in steeplechase
Danny Fortmann, Colgate '36
Linebacker for the Chicago Bears (1936-1943) and member of Pro Football Hall of Fame
Clark Graebner, Northwestern '65
1966 French Open doubles champion and 1969 US Clay Court champion
Randy Gregg, Alberta '79
5-time Stanley Cup winner and two-time Canadian Olympian
Robert Kenney, Kansas '53
1952 Olympic gold medalist in basketball
Harvey Kuenn, Wisconsin '52
Major League Baseball infielder/outfielder and manager
Jim Sundberg, Iowa '73
16-year Major League Baseball star and winner of six straight Gold Gloves (1976-1981)
Mark Van Eeghen, Colgate '74
Two-time Super Bowl champion for the Oakland Raiders (1977 and 1981)
Delta Upsilon Student Athletes
Each year, more than 480,000 college students compete as an NCAA athlete. The following Delta Upsilon brothers participated as a student athlete during the 2022-2023 academic year.
This is not an exhaustive list. These names were given to the DU Quarterly team via social media callouts, Chapter News submissions or by DU staff. If you were an NCAA student athlete this year and are not mentioned, let us know by emailing ihq@deltau.org.
Baseball
Connor Brala, Tufts '24
Henry Fleckner, Tufts '25
Conner Podeszwa, Tufts '25
Todd Stawiecki, Tufts '24
Bowling
Zachary Lanz, Culver-Stockton '23
Golf
Will Garvin, Tufts '25
Lacrosse
Samuel Frisoli, Tufts '25
Swimming
Johnathan Wu, Rochester '25
Track & Field
Jacob Bailey, DePauw '24
Max Carroll, DePauw '24
Nicholas Emanuelson, DePauw '25
Cole Hetzel, DePauw '25
Nicholas Johnson, Colgate '24
Joshua Kaluwasha, DePauw '23
Sam Prendergast, DePauw '23
Martin You, Tufts '25
Football
Gio Arquilla, Tufts '23
Connor Augusta, Colgate '24
Michael Berluti, Tufts '25
Andrew Bonanni, Colgate '25
Rory Boos, Colgate '23
Drew Breggren, Colgate '23
Michael Brescia, Colgate '25
Jackson Butler, Tufts '23
Michael Butler, Tufts '23
Brendan Cassamajor, Colgate '25
Ryan Cekay, Colgate '23
Edward Comerford, Tufts '24
Ryan Corbett, Colgate '25
Phil Covil, Tufts '25
Matthew Crowley, Tufts '24
Dominic DeCrescenzo, Tufts '25
Joseph Dellumo, Tufts '25
Andrew Desantis, Colgate '23
Matt DiLullo, Tufts '25
Ryan Doyle, Tufts '25
William Duncanson, Tufts '25
Tucker Dunn, Colgate '23
Jack Elliott, Tufts '25
Jonathan Faber, Tufts '24
Brady Feeney, Colgate '25
Henry Ferrelli, Tufts '25
Tyler Flick, Colgate '23
Andrew Frankel, Colgate '24
Samuel Frisoli, Tufts '25
Victor Garza, Tufts '24
Bardhyl Gashi, Colgate '24
Brendan Greaney, Colgate '25
Drew Guida, Tufts '24
Elijah Hamilton, Colgate '25
John Hartman, Colgate '25
Christopher Heckel, Colgate '24
John Hillinski, Tufts '25
Brody Hock, Colgate '25
Blair Horning, Tufts '23
Joseph Hurle, Colgate '23
Maxwell Hurleman, Colgate '24
Edward Iuteri, Tufts '24
Michael Jarmolowich, Colgate '23
Jacob Jaworski, Colgate '24
Dylan Johnson, Tufts '24
Evan Jones, Colgate '24
Gary Kazanjian, Tufts '23
Jason Kcehowski, Colgate '23
Harrison Kirk, Colgate '24
Jackson Leak, Colgate '23
Lucas Leongas, Tufts '25
Beau Luther, Colgate '24
Sage Luther, Colgate '24
Phillip Lutz, Tufts '23
Mac Marrone, Colgate '25
Nicholas Marsh, Colgate '24
Austin McCleandon, Colgate '24
William McCreery, Tufts '23
Matthew McGeary, Colgate '24
Connor Meyer, Colgate '23
Caden Moore, Tufts '25
Robert Moret, Tufts '24
Chance Neisner, Colgate '25
Cameron O'Brien, Tufts '23
William Parker, Colgate '24
Matthew Paske, Colgate '24
Zachary Pelland, Colgate '23
Jaden Pena, Tufts '23
Jackson Price, Colgate '23
Tank Pritchett, Colgate '25
Shelby Pruett, Colgate '25
Jack Racine, Tufts '23
Shane Reiner, Tufts '24
Javier Rios, Tufts '24
Kristian Rosario, Tufts '24
Jacob Ryan, Colgate '24
Christopher Sweeney, Colgate '24
Andrew Taddeo, Colgate '25
Louis Timmins, Tufts '25
Patrick Walsh, Tufts '23
Nicholas Wamp, Colgate '24