Undergraduates Benefit from record Annual Loyalty Fund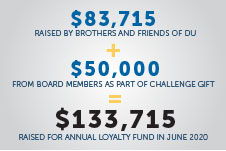 In early June, the Delta Upsilon International Fraternity and Educational Foundation leadership faced several challenges given that gifts from some of our loyal donors might not have been possible due to COVID-19 and its effects on jobs and the economy. Because of the unique times, members of both the Fraternity Board of Directors and the Educational Foundation Board of Trustees decided to match—dollar for dollar up to $50,000—all gifts to the Annual Loyalty Fund through the end of the fiscal year on June 30. Not only was the full $50,000 match achieved with $83,715 raised in June, but a record $478,055 was raised for the Annual Loyalty Fund from 1,325 loyal alumni and friends of DU in fiscal year 2020!
How Your Gifts are Making A Difference
Despite COVID-19 upending the spring 2020 semester and forcing the cancellation of DU programs, the Fraternity and Foundation were able to provide valuable virtual programming and resources to our brothers. Continued support of Delta Upsilon helped make this possible and will allow for the development of future virtual resources.
461 chapter officers received quality leadership training at the Presidents Academy and Regional Leadership Academy this winter.
112 men attended the virtual membership education webinar series this spring and summer.
3 virtual Initiations were held this spring.
52 virtual recruitment sessions were hosted by the Director of Chapter Development & Growth.
$10,000 in academic scholarships were given to DU brothers.