Updo
App created by DU alumnus to provide at-home beauty and grooming services.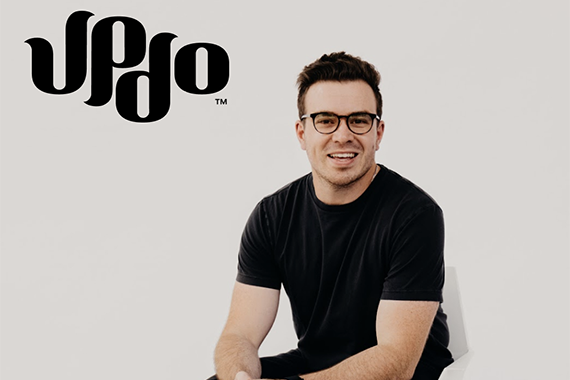 Empowered. That is how Max Mussell, Iowa State '17, wants people to feel when they use his app. Empowered to support themselves and their communities and empowered to have more ownership in how they spend their time.
Max's brainchild, Updo, is set to launch this spring as an at-home grooming service. The idea is that app users can find local beauty/grooming providers (think hairdressers, make-up artists, nail technicians, etc.) and have them come to their door.
Take hairstyling for example. It can take a village for a young parent to find the time and childcare to visit a salon or barbershop. It can also be difficult for someone with limited mobility to make it out to an appointment. What if the hairstylist came to them? And what if that hairstylist was someone who had the skill, was looking to make a little extra money but couldn't afford to rent a chair at the local salon? Updo is designed to empower both the consumer and service provider.
"That's really what I find myself centering on the most, is this idea of empowering the individual," Max said. "Empowering folks, of course, to enjoy the services and control their environments, but even more so on the service provider side. … My hope, my goal, is to empower them to be able to provide additional income for themselves and their families."
The idea for Updo was born about three years ago, with much of the app and business development happening in the last year and a half. After graduating from Iowa State University in 2017 and working in tech sales, Max began to reflect on recent innovation, particularly in the growth of the rideshare and grocery/meal delivery industries. He kept wondering if a similar opportunity existed in health and beauty. Soon, a late-night brainstorming session with a friend would shine light on Max's concept.
For the next several months, Max spent much of his spare time whiteboarding his idea of democratizing the grooming and beauty industry, thinking through the logistics and working on a business plan. This work was put on hold, however, for about a year as a new role in his full-time job gave Max less time to spend on the project. It wasn't until early 2020, when Max accepted his current role as an Enterprise Account Manager with Google that he was able to once again focus on bringing the project to life. The move was a homecoming on multiple levels. It brought Max back to his hometown of St. Paul, Minnesota, and returned him to the passion project he was so excited about.
"This was something that I thought about every day, every evening," Max said of the project. "It would keep me up at night. I ultimately decided if I don't lean into it now, if I don't build the business now, I'll always regret not doing it."
And while during the middle of a pandemic may not seem like an ideal time to start a business, it actually increased Max's motivation to create Updo. The business idea had always seemed viable to him, and the pandemic only reinforced the need for this type of service.
"If there's anything that the pandemic has put in perspective, it's quality time spent at home, folks really being able to lean in on controlling their environment, but also offering folks additional sources of income and ways to provide for their family," Max said. "It's this idea of empowerment."
So, for the past year, Max has once again reserved most of his free time to Updo, and has made the project a family affair. His father actually came up with the company name, and his Iowa State and Delta Upsilon families have helped bring the app to life. He has worked with friends from the Iowa State honors program to build the app's design interface, and DU brothers have served as photographers, models and business development associates.
Max Dugan, Iowa State '20, has served as photographer for the project. Dugan and Mussell met during Dugan's freshman year at Iowa State, and the two have remained close since. Drawn by Mussell's passion, Dugan was happy to jump on board.
"I saw great potential in Max's vision, and I wanted to honor him for taking a risk and believing in these dreams he has had to impact people in a creative way" Dugan said. "Basically, my goal was to help brand his company in a way that would attract people to something new and different. We wanted to portray Updo as a bright and welcoming company determined to serve everyday people."
Having bright, passionate people on his team is something Mussell loves about Updo. Inspired by the quote, "If you want to go fast, go alone. If you want to go far, go together," this idea of a team effort is essential to the overall idea of Updo, not just on the business development side. By empowering both the consumers and service providers, Updo users will work as a team to build their communities.
In the initial stages of launch this spring, Updo will focus its efforts on one geographic location—Madison, Wisconsin—to grow the business. Max and the Updo team plan to spend about a month in Madison, digging into what makes a quality experience and what service providers and end users are looking for. From there, the team will make any necessary adjustments and begin adding additional cities. With each new city, Max wants to ensure that specific community is featured in all promos and advertising.
"I want folks to know that when they move forward with the transaction on Updo, that they are directly contributing to the local economy where they are, whether it's their own personal local economy—maybe it's their home or hometown, where they're from—or maybe they're traveling and they're out of town and they're looking to get their nails done," Max said.
With this approach, Updo is beauty and grooming on multiple levels. From the actual services rendered to the empowerment that will drive individuals and communities forward.
For more information on Updo and to sign up for updates, visit updo.co. You can also follow Updo on social media or listen to the Updo podcast on Spotify, Apple Podcasts or YouTube.