$77k Raised During DU's Founders Day of Giving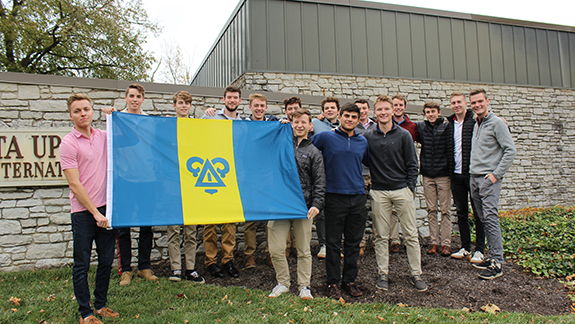 Nov. 5, 2019 - The Delta Upsilon Educational Foundation hosted its fourth annual Founders Day of Giving with resounding success. During the 24-hour campaign held in conjunction with the Fraternity's 185th Founders Day, donors gifted $77,125 to the DUEF. This marks DU's most successful Founders Day of Giving to date.
"We are so very grateful to our alumni, students, family and friends who participated in the 2019 Founders Day of Giving," said Justin Kirk, Boise State '00, Executive Director of Delta Upsilon International Fraternity and Educational Foundation. "Their gifts have a direct impact on our students. We cannot achieve our mission of Building Better Men without the generosity of our donors."
All donations to Founders Day of Giving benefit the Annual Loyalty fund, the DUEF's general fund that provides academic scholarships, scholarships to attend DU and NIC educational programs, and support for all Fraternity educational initiatives.
The 2019 Founders Day of Giving was record-setting in a number of ways. Not only did the $77,125 fundraising total more than double that of 2018, in total, 372 individuals made a gift, up from 152 the year prior. Nineteen nonmember donors participated, 51 different chapters were represented, and there was 100 percent participation from staff and Fraternity and Foundation board members.
As in years past, in 2019, the chapter with the most donors and the chapter with the most money raised received a scholarship for a member to attend the 2020 Leadership Institute in Orlando. The Indiana Chapter took home both scholarships for the second consecutive year. Indiana Chapter brothers also traveled to Delta Upsilon International Headquarters in Indianapolis on Founders Day of Giving to write handwritten thank-you notes to all donors. (Photographed above)
Founders Day of Giving donors also unlocked a $10,000 challenge gift from Brother Dave Franzetta, Michigan State '70. All donations from new donors and donors returning for the first time since 2016 were matched by Brother Franzetta, up to $10,000. In total, new and returning donors gifted more than $11,000 on Founders Day of Giving.
The fifth annual Founders Day of Giving will be held Nov. 4, 2020.