INAUGURAL FOUNDERS DAY OF GIVING IS A SUCCESS
Delta Upsilon prides itself on innovation and its willingness to create a modern fraternity experience. The DU Educational Foundation is no different. On Nov. 4, 2016—the 182nd anniversary of Delta Upsilon's founding—the DUEF hosted its inaugural Founders Day of Giving.
Days of Giving have become popular fundraising initiatives for many nonprofits. These one-day campaigns offer the challenge of raising as much money as possible at one time, creating enormous buzz, and making these days wildly successful for many organizations. When looking for ways to better generate funds to support the needs of a growing Fraternity membership, the DUEF chose to try a Day of Giving.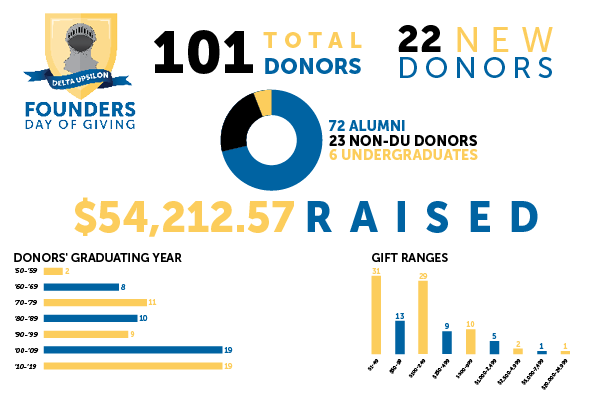 "Delta Upsilon's undergraduate membership has doubled in recent years," said DUEF Director of Advancement Colin Finn, Iowa State '05, who spearheaded the Founders Day of Giving efforts. "With this, our award-winning educational programs have attracted increased participation; however, more than 60 percent of our undergraduate brothers are still missing out on these leadership development opportunities. The gap between where we are and the vision of every brother attending a DU program is purely and simply financial support."

In advance of the day, the DUEF staff worked to design an event logo, set up a special purpose website to manage online donations, promote the day, and identify undergraduate and alumni brothers to share the impact of their DU membership and the Fraternity's educational programs and initiatives. All donations on the Founders Day of Giving went toward the DUEF's Annual Loyalty Fund, which serves as a general fund supporting all areas of DUEF funding. This includes academic scholarships, scholarships to attend DU and NIC educational programs, and support for all Fraternity educational initiatives.
On Nov. 4, the International Headquarters board room served as the command center for staff. From here, donations were tallied, phone calls were made, mass email and social media updates were sent, and more. Six members of the Indiana Chapter also spent the afternoon handwriting thank-you notes to each Founders Day of Giving donor.
In total, the DU Educational Foundation raised $54,212.57 during the Founders Day of Giving. (See the infographic for more statistics.)
"It was so great to see new donors from all generations participating in the first Founders Day of Giving," Finn said. "The social media presence on Nov. 4 was overwhelming. Thank you to all those who helped promote the day and encourage their brothers to donate."
Mark your calendars for Founders Day of Giving 2017 to be held on Nov. 4.