Alberta
The Alberta Chapter had a successful fall recruitment, welcoming seven new members into the chapter. Throughout the fall, the chapter focused on brotherhood and philanthropy, celebrating members with a fall formal banquet at the Edmonton Country Club, and successfully surpassing its goal of raising $2,022 in a bikeathon for MS research.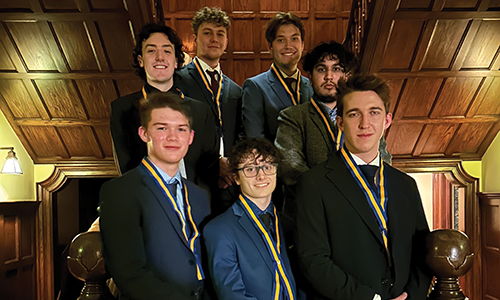 Arlington
Arlington Chapter members have been teaming up with South Davis Elementary School in a number of ways this year. The men participated in Read Across America Day to read books to the students and volunteered at the school's annual Turkey Run. They have also hosted fundraisers to help the school purchase new outdoor equipment to be used at recess.
In October, the chapter hosted its annual faculty and staff appreciation event as a way to thank those on campus for creating a better student environment. UTA faculty and staff were invited to join the men in a room on campus for conversation and refreshments.
California
In an effort to raise more money, the California Chapter hosted a Homecoming Tacos event on Homecoming gameday. During the event, the men sold tacos to hungry fans, as well as gameday parking spots at the chapter house. The chapter was able to donate $600 to the Surfrider Foundation, which helps protect the world's oceans and beaches.
This fall, the men were also happy to revamp the house gym. Through deep cleaning, de-rusting and organizing weights, replacing broken cables, and buying more safety clamps, the chapter now has a safer, cleaner exercise environment.
Carthage
On Dec. 9, 2022, the Carthage Chapter welcomed eight new brothers into the chapter. They look forward to what Joe Monnig, Carthage '25; Carter Schlegel, Carthage '25; Eli Powers, Carthage '25; Josiah Flager- Hearan, Carthage '25; Patrick Caugh, Carthage '25; Reece Greenwald, Carthage '25; Andrew Thomas, Carthage '24; and Jonathan Villa, Carthage '23, will bring to Delta Upsilon.
Clarkson
This fall, the Clarkson Chapter hosted a week of philanthropy events called the Global Cup, a play on words with the FIFA World Cup and Global Service Initiative. During the week, the chapter sold baked goods, raffled off custom cornhole boards, cleaned up trash on campus, and sold popcorn. All proceeds went to GSI, and the men raised more than $3,600.
On the service front, chapter members participated in biweekly service events to help maintain local walking trails by cleaning up brush and helping build trails and bridges. They also continued to help Bayside Cemetery with beautification projects such as fixing broken tombstones, weeding and more.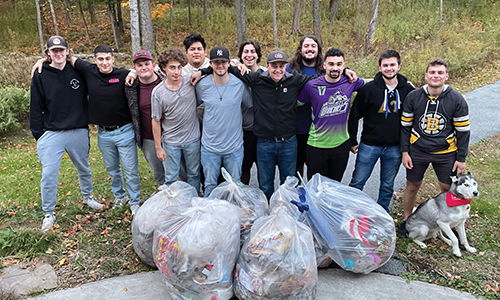 Colorado
The Colorado Associate Chapter is committed to serving its community. For example, following a heavy snowfall, the men took it upon themselves to go out into the community and shovel sidewalks for residents unable to do it themselves. To build connections within the brotherhood, the associate chapter hosted DU Olympics, a weekend of events that encouraged brothers to work together, build confidence and enhance their leadership skills.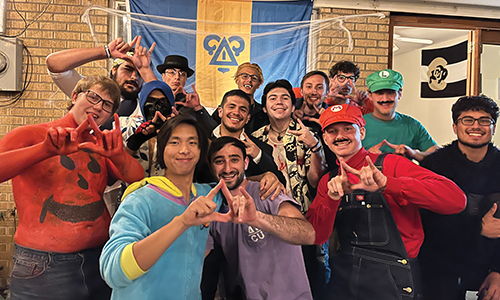 Culver-Stockton
Campus involvement is important to the Culver-Stockton Chapter. So far this academic year, the chapter has participated in Greek Week and spring recruitment, and it also hosted a campus-wide game night where those on campus could join DU members in playing video games like Super Smash Bros Ultimate. The brothers have held fundraisers selling coffee and donuts, hotdogs and smores. The chapter's Vice President of Membership Education, Riley Komo, Culver-Stockton '24, was also elected IFC President.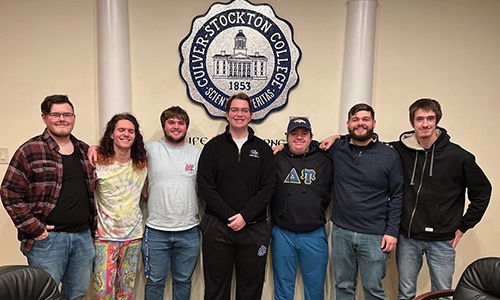 DePauw
The DePauw Chapter has had a busy year so far competing in campus events like the IFC Olympics and recruiting 23 new members. Several members of the chapter compete on university athletic teams such as football and track and field, and Brother Jacob Bailey, DePauw '23, served as the IFC Recruitment Chair. Another brother, Carlos Lara-Gonzalez, DePauw '25, started his own nonprofit in Greencastle called Star Seeds that provides a community space, clothes, food, books and more to those in need.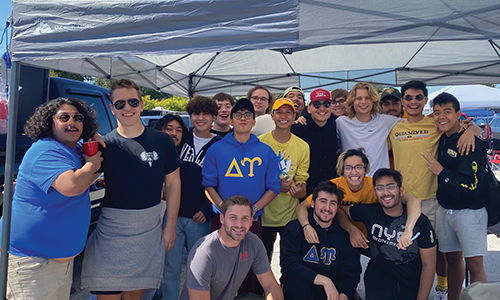 Florida
This year, the Florida Chapter has hosted a number of guest speakers on topics including resumé building, hazing prevention and more. It has also created several new committees to keep brothers engaged. The House Improvement Committee has tackled renovation projects, and the Alumni Committee has been working to schedule events with alumni. Every Wednesday, brothers get together to make sandwiches for Grace Marketplace, which serves the unhoused community in Gainesville.
Illinois
During the first week of school, the Illinois Chapter hosted a carnival event to raise money for Alzheimer's awareness. Attendees could purchase water balloons, participate in a dunk tank, pie a DU and more. The men were also happy to host alumni during Homecoming for a fun day of connecting and watching football.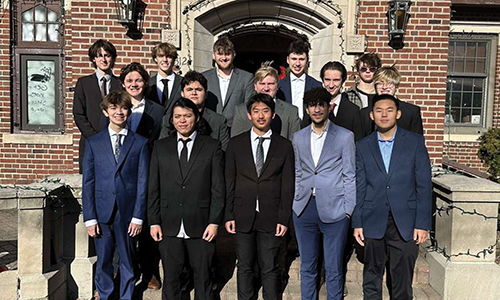 Iona
The Iona Chapter has had a busy year partnering with other student groups and hosting professional development events for brothers. Events with alumni have included a Homecoming alumni rugby game with 30 DU alumni and an alumnus guest speaker about developing professional rapport. The brothers have also participated in several diversity and inclusion events including a dance class with the Black Student Union and cultural dinners with campus sororities. Fifteen brothers volunteered with Diamond Years Adult Daycare to help feed and entertain those in their care. The chapter also partnered with Awakened Events to host a one-day professional development seminar on campus in the fall. Then several brothers participated in one of its weekend-long events in January.
Iowa State
This fall, several members of the Iowa State Chapter volunteered at a local botanical garden, Reiman Gardens, for its Spirits of the Gardens Halloween event. The men helped to stencil and carve many of the pumpkins that were on display. Brothers also participated in a blood drive with the American Red Cross, in addition to raising nearly $5,000 at the chapter's annual Delta Scoopsilon ice cream fundraiser.
After a two-year hiatus due to the pandemic, the men were excited to host their Escape to 117 Ash alumni event again this summer, as well as welcome the Kansas State DU chapter to campus during the Iowa State vs. Kansas State football game.
James Madison
The James Madison Chapter moved some of its philanthropy events online this fall as it hosted its first Delta Upsilon Pyramid for Change, and online fundraiser that raised $498 for the Global Service Initiative. The brothers also made time for in-person connection by hosting a Homecoming event with more than 25 alumni and 35 undergraduates, as well as Initiation as they welcomed eight men into the chapter.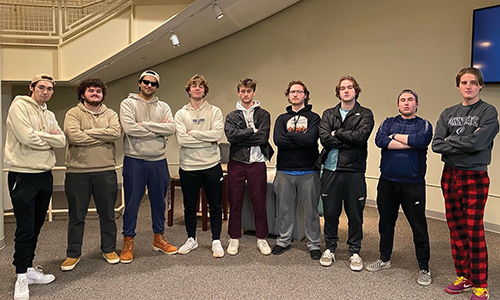 Kansas State
The Kansas State Chapter has long been one of DU's top fundraising chapters, and the men got the ball rolling on their philanthropic efforts this fall by hosting their annual Delta Hoopsilon basketball tournament. The tournament invites campus sororities to play and others on campus to come to the chapter house to watch. The chapter raises money by selling concessions and encouraging sororities to donate in order to receive better seeding in the tournament. The sorority that led in donations, Alpha Xi Delta, also partnered with the chapter on another fundraiser. Pancake Fest features late-night pancakes and sausage for purchase, as well as karaoke.
Lafayette
Philanthropy and service were top of mind for the Lafayette Chapter this fall. In October, the chapter hosted a Pizza Palooza event where it purchased pizzas from several local restaurants and handed them out to Lafayette students. In November, chapter members volunteered at the 10th annual Easton Bacon Fest by helping set up and distribute food. Some brothers also participated in Movember by growing mustaches and raising awareness for mental health. The chapter hosted a Wild West Spinning event that raised around $800 for the Global Service Initiative.
The Lafayette Chapter is also proud to have recruited 30 members this fall, the most of any fraternity on campus. It also received the InterFraternity Excellence in Recruitment/Intake and Retention Award and Diversity, Equity and Inclusion Award at the fraternity/sorority life awards ceremony in December.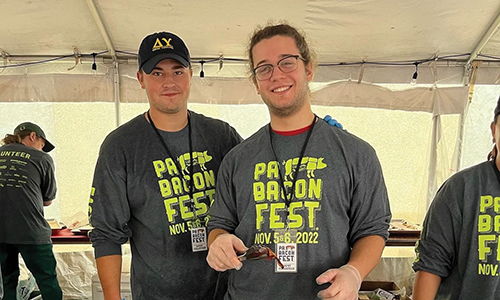 Lehigh
This fall, the Lehigh Chapter held successful philanthropy events including Hawkathon Poker Night and a kickball game with Broughal Middle School. Both events strengthened the brotherhood and allowed the men to serve others. The chapter is excited to host more events in the future.
Miami
The Miami Chapter partnered with Talawanda Oxford Pantry and Social Services (TOPSS) on three different occasions to deliver food to local residents in need. Brothers also hosted and participated in several other philanthropy and service projects in the fall. This includes hosting a car wash with Gamma Phi Beta, selling cookies and water on campus, as well participating in events like Zeta Tau Alpha's Big Man on Campus event where Brother Dean Connelly, Miami '25, was named Mr. Philanthropy by raising more money for ZTA's philanthropy than other participants. The chapter also hosted a successful Mom's Weekend and Thanksgiving dinner.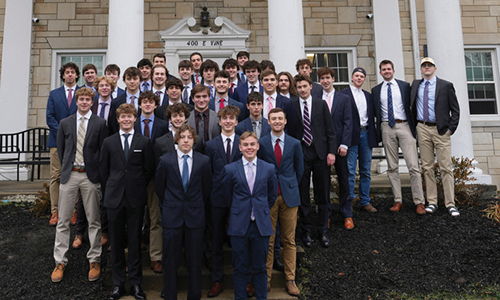 Michigan Tech
Again this winter, the Michigan Tech Chapter served the Houghton community by maintaining a local ice rink with nightly snow removal and more. As a whole, the chapter puts in about 200 hours per season on this project and is happy to constantly see kids, adults and chapter members use the rink. The chapter also had a great time participating in Homecoming this fall. In January, several members attended a Dr. Martin Luther King, Jr. vigil on campus, and Chapter President Cole Bennet, Michigan Tech '23, was featured on the local news as one of the participants.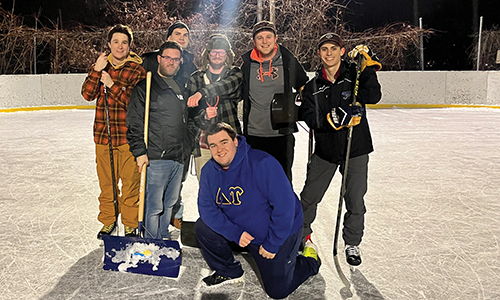 Missouri
Friendship is a DU Four Founding Principle that the Missouri Chapter takes to heart. On Oct. 29, the chapter initiated its fall recruitment class and is excited to help these men along their journey through college and beyond. Twenty-two brothers also had the opportunity to enjoy a ski trip to Breckenridge, Colorado, an experience they say they will look back on for many years to come.
North Dakota
The North Dakota Chapter had a busy fall semester. On campus, it participated in Greek Week volleyball and basketball tournaments, participated on other fraternity and sorority philanthropy events, and hosted its own Quesadilla Feed to raise money for the Global Service Initiative. The brothers also hosted an alumni formal during Homecoming weekend, a two-day recruitment seminar leading into recruitment week, and the Initiation Ceremony for nine new members. Alumnus Craig Campbell, North Dakota '76, gave The Charge Address.

Purdue
In November, Purdue Associate Chapter participated in Winterization, a Purdue initiative to give back to the community. Many brothers helped clean up the yards of Lafayette families who didn't have the means of doing so using tools like rakes, hedge trimmers and shovels. The brothers also hosted a tropical-themed semiformal in November, as well as its formal that was held over a weekend in Nashville. In December, the group initiated 15 new members into the Fraternity. Alumnus Aaron Voelker, Purdue '95, who is also the father of a current member, talked to the new members about his experiences and the journey they were about to start as a brother in Delta Upsilon.
Rutgers
The Rutgers Chapter's Homecoming tailgate was a huge success with many alumni and parents in attendance. Brothers also participated in Dance Marathon's Philanthropy/Service Week by donating canned goods and supporting local businesses. The chapter looks forward to participating in the main Dance Marathon event in April.
San Diego State
This academic year, the San Diego State Chapter has used sports to help build relationships. The chapter took part in the College Panhellenic Association's powderpuff football tournament by coaching the women of Alpha Phi. The brothers also partnered with Kappa Alpha Theta for intramural volleyball. During football season, the chapter hosted several alumni tailgates for friends, alumni and members. Each event brought the chapter closer with other groups on campus or to one another.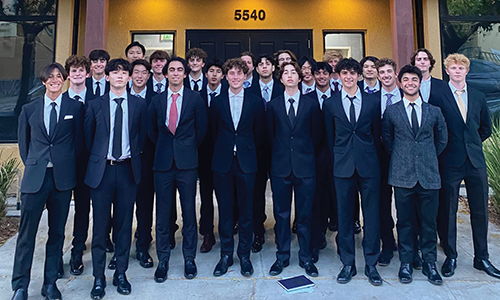 South Carolina
The South Carolina Chapter is proud of its fall 2022 recruitment class. With 31 associate members joining the chapter, it marks one of the largest associate member classes in the chapter's history.

Tennessee
The Tennessee Associate Chapter continues build its name on campus since its returning to UT in spring 2022. Brothers partnered with Sigma Phi Lambda sorority for Homecoming and won first place in the small float competition. They also hosted an alumni and family tailgate before the Tennessee vs. Kentucky game. In October, the associate chapter held its first Initiation and initiated 26 brothers. The associate chapter is proud of each of its brothers, including three who are a part of ROTC.
Western Illinois
After receiving DU's Sweepstakes Trophy at the 2022 Leadership Institute, the Western Illinois Chapter is determined to keep its success going. The chapter hosted its 9th annual Haunted Trail at Halloween and raised $3,400, a chapter record. The chapter ranked first in campus fraternity/sorority life service hours at 31.9 hours per member, and it brought in the second largest fall fraternity recruitment class on campus. This is on top of a fall chapter GPA of 3.35. The chapter continues to host a variety of guest speakers including alumnus Bruce Peterson, Western Illinois '74, who spoke about the chapter's crisis communications plan; the campus fraternity/sorority life advisor; and the interim director of the University Counseling Center.
The chapter is proud of Brother Zander Doan, Western Illinois '24, for winning the IFC Community Service Scholarship; Sebastian Sandoval, Western Illinois '26, for winning the IFC Emerging Leader Scholarship; Jacob Foldy, Western Illinois '25, for being elected the IFC Vice President of Membership; and Jospeh Cantu, Western Illinois '25, for being elected as Vice President of Academics for the Student Government Association.
Western Ontario
This fall, the Western Ontario Chapter was proud to initiate 15 new brothers into the Fraternity and looks forward to what each member will bring to the chapter. The brothers also had a successful Homecoming that connected undergraduates and alumni.
Western Reserve
This fall, the Western Reserve Chapter held its semesterly Chocolate Chips for Change fundraiser where students and faculty can pay to have freshly baked cookies delivered to them. The chapter also partnered with the Cleveland Book Bank, Coit Road Farmer's Market, and even with the Library of Congress on a project to transcribe documents to keep them preserved digitally. On campus, the brothers took part in several fraternity/sorority events and welcomed 10 new men into the chapter.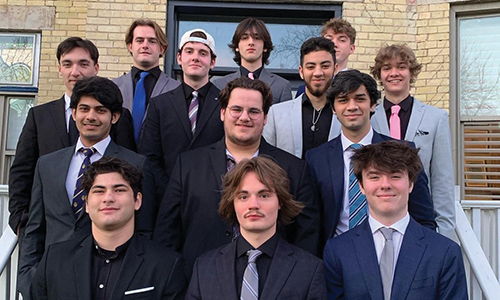 Wichita
During its 10th annual Tetter-A-Thon, the Wichita Chapter partnered with Phi Delta Theta to raise more than $1,000 for the Global Service Initiative and The Live Like Lou Foundation. In September, the chapter participated in STAG, its alumni mixer. Then, to finish out the fall semester, the brothers hosted their 93rd annual Heidelberg, which is the longest ongoing tradition at Wichita State.
The Wichita Chapter was proud to welcome six new members in the fall who completed a DU-opoly game as its Cornerstone Project. The game is set up like a normal Monopoly board but has cards, properties and game pieces related to the chapter. It is now a proud fixture in the chapter's movie room.