DUEf honored with Award of Distinction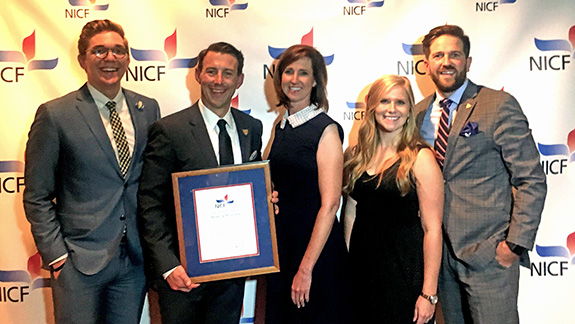 Aug. 30, 2017 - The Delta Upsilon Educational Foundation received an Award of Distinction for Best Major Gifts Development Effort during THE Foundations Seminar on Tuesday evening, Aug. 29. The award recognizes the Foundation's Chapter Legacy Plan initiative.
Chapter Legacy Plans are fundraising initiatives through the DUEF that help create and sustain personal and organizational success for members of a particular chapter. Money from these funds cover registration costs for more men to attend international DU educational programs each year. With an investment of $150,000, alumni can create a Chapter Legacy Plan that will endow 12 scholarships that will have an immediate and enduring impact on the quality of the membership experience. DU's statistics show that its highest performing chapters send, on average, more men to the Fraternity's programs. The more men with the skills learned through these programs create stronger chapters. And stronger chapters attract the type of members who seek out these types of educational opportunities.
Several chapters already have fully- or partially-funded Chapter Legacy Plans in place and are starting to see scholarships being dispersed.
To learn more about Chapter Legacy Plans, click here.
THE Foundations Seminar is an annual event sponsored by the North-American Interfraternity Conference Foundation (NICF) that provides fraternity and sorority foundation professionals and volunteers with a forum to collaborate on issues unique to advancing their organization's missions. Each year, an awards program honors foundations in seven different categories: Best Development Effort in an Annual Campaign, Best Major Gifts Development Effort, Best Planned Giving Effort, Best Communications Effort, Best Use of a Foundation Grant, Best Campaign/Program in Support of an Outside Philanthropy, and Best New Development Idea.