DU Recognized by Fraternity Communications Association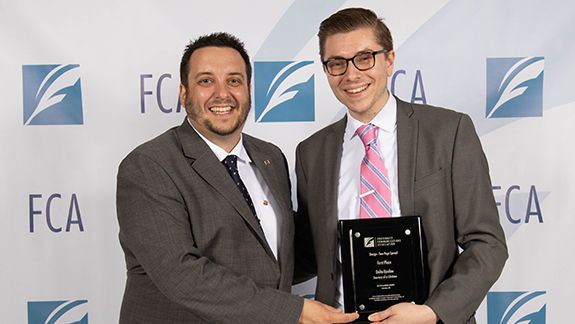 May 13, 2019 - Delta Upsilon and the DU Quarterly were recognized by the Fraternity Communications Association (FCA) during the association's 2019 Annual Conference in Columbus, Ohio. DU received first place in the Design - Two Page Spread category for the article "Journey of a Lifetime" in the fall 2018 issue of the DU Quarterly. Click here to view the spread.
DU Graphic Designer Erik Kowols, Carthage '16, accepted the award from FCA President Alex Baker from Tau Kappa Epsilon.
The Fraternity Communications Association was founded in 1923 as the College Fraternity Editors Association as an outlet for magazine editors from different fraternities to share ideas with one another. In the 1960s, the group opened its membership to sorority magazine editors. Today, the organization benefits all communications and marketing staff members for fraternities and sororities, including honorary societies, professional fraternities, and multi-cultural fraternities and sororities.
Each year, FCA recognizes the work of its members organizations through a number of awards for magazine writing and design, video production, communications/marketing campaigns, and more. In 2019, FCA received more than 800 submissions for 34 categories. First, second and third place awards are given for each category. During the Annual Conference, attendees also have the opportunity to take part in educational sessions that teach hard skills regarding, graphic design, writing, marketing strategy and more.
Delta Upsilon has received a number of awards from FCA over the years, and DU staff have held significant volunteer roles within the association. DU Executive Director Justin Kirk, Boise State '00, is a past member of the FCA Board of Directors, and Director of Communications Ashley Martin Schowengerdt is a Past President of FCA.
Delta upsilon's FCA Awards in last 5 years:
2019: First Place, Design - Two Page Spread for "Journey of a Lifetime"
2018: First Place, Writing - Greek Life Article for "To Change Students' Dangerous Behavior, Understand Their Motives"
2018: First Place, Writing - News Feature Article for "A Hero's Tale"
2018: Third Place, Writing - Persausive or Opinion Article for "From the Desk of the Executive Director, spring 2017"
2017: Second Place, Writing - Human Interest Article (Short) for "Nick Principi: Brother & Survivor"
2017: Second Place, Writing - Human Interest Article (Long) For "Remembering Will Keim"
2016: Third Place, Writing News Feature Article (Long) for "Men of Merit and Merit Alone"
2015: Third Place, Printed Materials Educational for the Global Service Initiative Workbook