Fraternity Communications Association Recognizes DU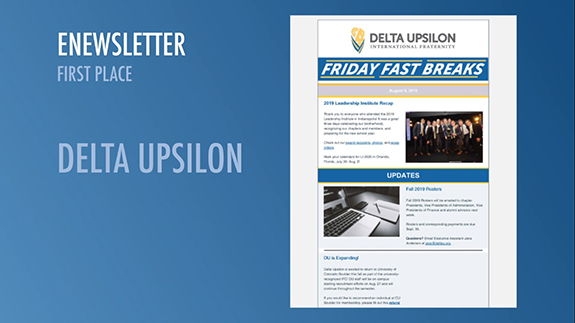 May 20, 2020 - Delta Upsilon is happy to announce it was recognized by the Fraternity Communications Association (FCA) during its virtual awards presentation on May 19, 2020, with the first place award in the enewsletter category for the Fraternity's Friday Fast Breaks enewsletter.
Founded in 1923, the Fraternity Communications Association is an organization for communications/marketing professionals at fraternity and sorority headquarters, including honorary societies, professional fraternities, and multi-cultural fraternities and sororities. Each year, it hosts an awards competition as a part of its professional development conference. With 28 awards categories, in 2020, FCA recognized the work of its member organizations with awards for magazine writing and design, video production, communications/marketing campaigns, and more. Due to COVID-19, the 2020 FCA Annual Conference and awards presentation were conducted virtually.
DU's Friday Fast Breaks enewsletter is a biweekly newsletter for undergraduate chapter officers, advisors and other DU volunteers. Its goal is to inform chapter leadership of deadlines, responsibilities, campaigns from the International Fraternity, news and resources. Regarding Friday Fast Breaks, FCA judges said, "Very well done. Great balance of content and design. Easy to navigate. Sections are broken well so they are digestible. Appropriate use of links to other tools and information."
Delta Upsilon has received a number of awards from FCA over the years, and DU staff have held significant volunteer roles within the association. DU Executive Director Justin Kirk, Boise State '00, is a past member of the FCA Board of Directors, and Director of Communications Ashley Martin Schowengerdt is a Past President of FCA. She remains a member of the FCA Nominations Committee and Centennial Committee.
DELTA UPSILON'S FCA AWARDS IN LAST 5 YEARS:
2020: First Place, Enewsletter for Friday Fast Breaks
2019: First Place, Design - Two Page Spread for "Journey of a Lifetime"
2018: First Place, Writing - Greek Life Article for "To Change Students' Dangerous Behavior, Understand Their Motives"
2018: First Place, Writing - News Feature Article for "A Hero's Tale"
2018: Third Place, Writing - Persausive or Opinion Article for "From the Desk of the Executive Director, spring 2017"
2017: Second Place, Writing - Human Interest Article (Short) for "Nick Principi: Brother & Survivor"
2017: Second Place, Writing - Human Interest Article (Long) For "Remembering Will Keim"
2016: Third Place, Writing News Feature Article (Long) for "Men of Merit and Merit Alone"