Founders Day of Giving Set for nov. 4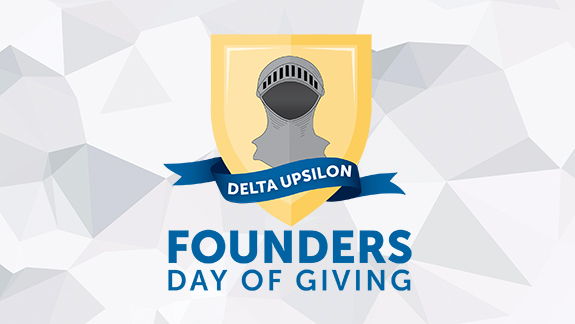 Oct. 17, 2019 - The Delta Upsilon Educational Foundation will hold its fourth annual Founders Day of Giving on Monday, Nov. 4—Delta Upsilon's 185th Founders Day. This 24-hour campaign will focus on celebrating DU brotherhood and raising money for the DUEF's Annual Loyalty Fund. The Annual Loyalty Fund is the DUEF's general fund and supports academic scholarships to brothers, provides scholarships to DU programs, sends consulting support to undergraduate chapters, funds the Fraternity's transformational educational programming, and meets the operating needs of DUEF.
"We firmly believe that the DU membership experience prepares you for life," said Fraternity and Foundation Executive Director Justin Kirk, Boise State '00, "and we have data to prove it thanks to our Membership Outcomes Assessment data. The DU Educational Foundation provides the funding to make our life-changing programs happen. I can think of no better way to celebrate DU's legacy than by supporting the DU experience on Founders Day."
Giving links will be provided on Nov. 4.
In 2018, the Foundation raised more than $35,000 during Founders Day of Giving thanks to gifts from 152 people. Alumni, undergraduate brothers, family and friends of DU are encouraged to take part in the campaign. Gifts of all sizes make a impact.
This year, the DUEF is proud to announce a $10,000 challenge gift from Brother Dave Franzetta, Michigan State '70, to encourage first-time and long-lapsed donors to participate in Founders Day of Giving. Exciting announcements and giveaways will also be announced on DU's social media throughout the day. Follow the action on Facebook, Instagram and Twitter using #Founders Day of Giving and #DU185.
As in years past, in 2019, the chapter with the most donors and the chapter with the most money raised will receive a scholarship for a member to attend the 2020 Leadership Institute in Orlando.

Honor the Past. Build the Future. Be a part of the 2019 Founders Day of Giving.
Founders Day of Giving FAQ
What is the Founders Day of Giving?
This 24-hour campaign is an international effort to inspire DU alumni, undergraduates, parents and friends to make a gift to the DUEF. Gifts of any size are welcome. The 2019 event will focus efforts on Monday, Nov. 4.
Like popular, national events like Giving Tuesday, the Founders Day of Giving is a day dedicated to raising funds for the DUEF. The Fraternity's Founder Day—was chosen as a way for brothers to celebrate 185 years of brotherhood and give back to the organization that means so much to members.
Is my gift tax-deductible?
Yes. The Delta Upsilon Educational Foundation is a 501(c)3 organization, meaning your gift is 100% tax deductible.
Our Tax ID number is: 351976226
What can I support?
The Founders Day of Giving aims to support the DUEF's Annual Loyalty Fund. This is the Foundation's general fund, and money in it can be used to support any DUEF initiative. From funding Delta Upsilon educational programs like the Regional Leadership Academy, GSI and the Emerging Leaders Experience to academic scholarships. To be successful, the DUEF must have a robust Annual Loyalty Fund.
Will I receive a receipt?
Yes. You will receive an electronic receipt after making your gift. In addition, you will receive a year-end tax mailer for any contribution to the Delta Upsilon Educational Foundation for the 2019 calendar year in January. If you need a hard copy of your receipt, please email Development Director Meghan Bender at bender@deltau.org.
If I send a gift in the mail, will it still count toward the Founders Day of Giving?
We will gladly accept checks for the Day of Giving. Please write "Day of Giving" in the memo. Any check postmarked by Nov. 6, 2019, will be counted toward the day.
Can I give a gift of stock?
Yes, the DUEF does accept gifts of stock. To do so, please follow the instructions here.
Whom should I contact if I have additional questions?
You can contact the DUEF by calling IHQ at (317) 875-8900, or by emailing Advancement Director Colin Finn, Iowa State '05, at finn@deltau.org.